A passenger has captured on video the terrifying moment a tornado begins to form between Roxburgh and Alexandra this afternoon.
Otago Daily Times photographer Linda Robertson was driving from Wanaka to Dunedin with her son when a severe thunderstorm struck after 5pm and a tornado began to form.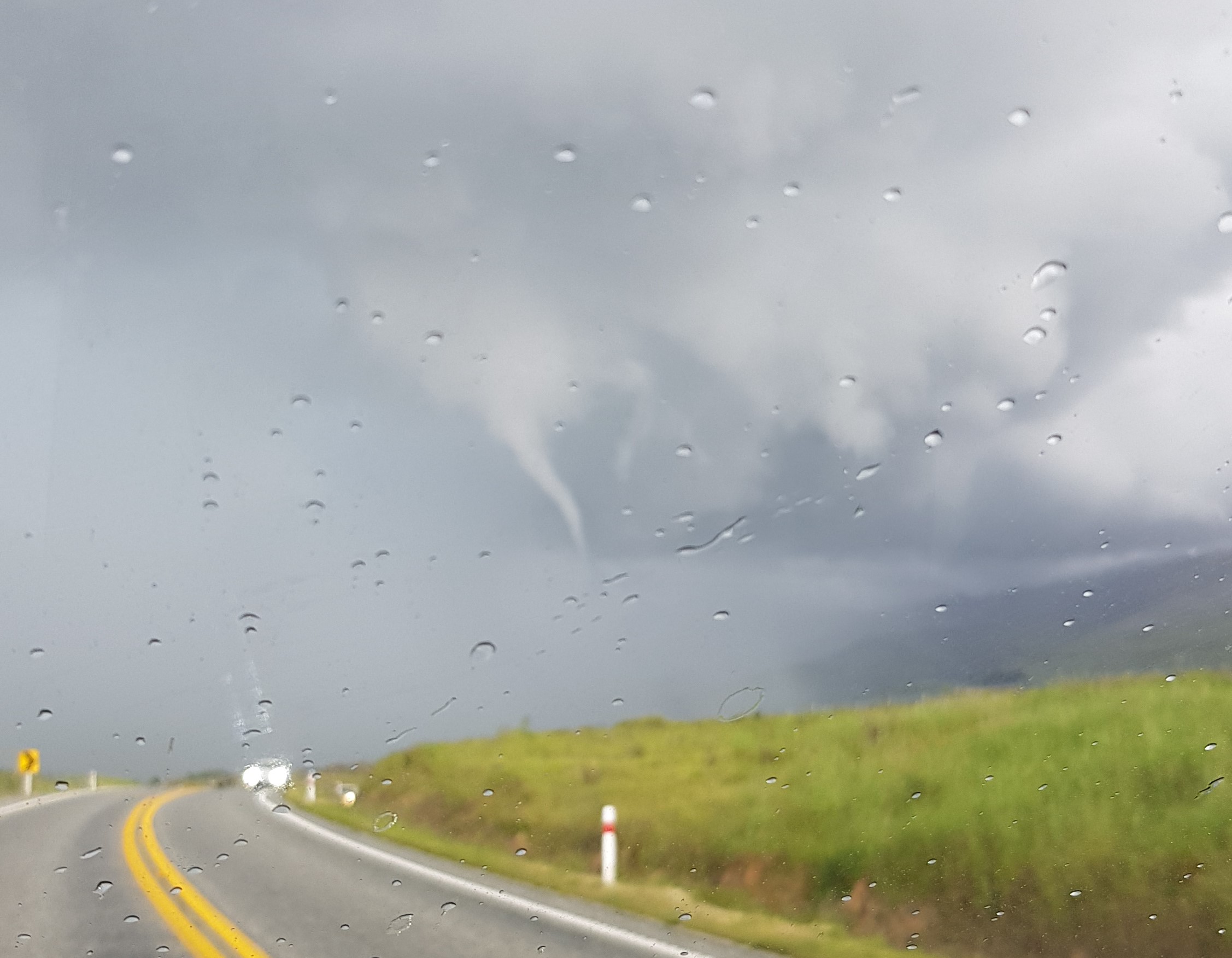 Amid lightning and heavy rain and hail a "funnel of spinning air" came down from the clouds, but dissipated before it hit the ground.
"It was coming down towards the ground and we didn't know what the hell we were going to do if it did touch the ground because we thought we would be in trouble."
"It was in the sky with a curved tail on it and you can see the wind spinning around making that twisting motion as it's coming down through Fruitlands."
The storm also brought hail and heavy rain.
"It was absolutely pouring down.
"We had to pull over because we couldn't see."
Meanwhile the MetService has lifted its severe thunderstorm warning for Southland after earlier issuing alerting residents to a series in the Winton and Wyndham areas.
During the earlier warnings it was warning of the risk of torrential rain, large hail and possible flash flooding.
The MetService earlier warned there is a chance of 'severe' thunderstorms in parts of the South today, along with periods of heavy rain and hail.
MetService has issued a severe thunderstorm watch for parts of Central Otago and Clutha, the Southern Lakes, Fiordland, and Southland.
The watches come a day after some southern areas experienced stormy weather yesterday afternoon.
The forecaster said some of these storms could become severe today, producing downpours of 20 to 40mm/hr. Hail of 10 to 20mm in diameter - "in large accumulations" - was possible.
MetService said large hail could cause significant damage to crops, orchards, vines, glasshouses and vehicles, as well as make driving conditions hazardous.
Thunderstorm activity was predicted to ease this evening.
Much of the country is in for unsettled weather, with thunderstorms, wind and rain expected to dominate the agenda this weekend
A deep low is approaching the country from the Tasman Sea today, with associated fronts moving on to the upper North Island.
Weather watches are in place and these could be extended and upgraded to warnings given the complex nature of the weather system tracking to the north of New Zealand, MetService meteorologist Angus Hines said.
A heavy rain watch was in place for Northland from 3pm this afternoon to 6am Saturday as well as a warning for Auckland and Great Barrier Island from 11pm tonight to 11am Saturday.
A strong wind watch was also in place for Auckland overnight with winds expected to gust up to 100km/h.
Looking ahead to next week, rain would ease to showers over most of the country and the low over the Tasman Sea weakened and moved southeast over the country.
"Showers may be heavy with isolated thunderstorms. On Tuesday, another front moves east on to the South Island, with further showers about the North Island,: Hines said.
"Periods of rain affect western parts of the South Island from Monday to Tuesday, with the heaviest falls about the Westland Ranges."
 - additional reporting NZME