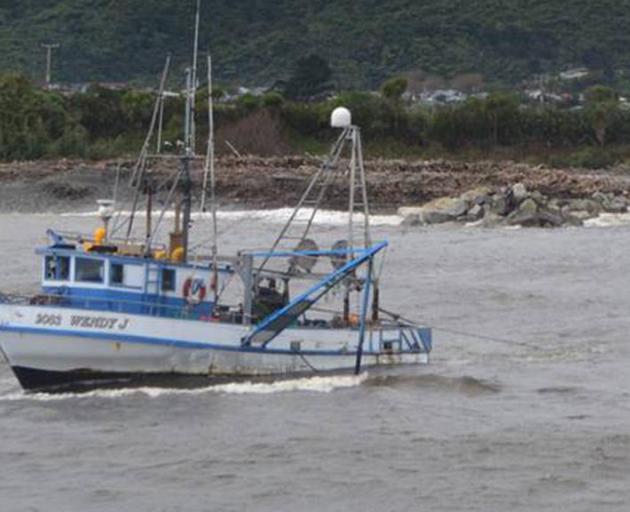 Divers have recovered the body of one of the Greymouth fishermen missing since their boat the Wendy J sank in a storm south of Jackson Bay last Thursday.
Police said today the body was recovered yesterday afternoon by the Police National Dive squad near the wreckage of the Wendy J, during the ongoing search for Jay Cairney (43) and Kieran Lynch (22).
The search was continuing for the other missing man.
In a statement, sergeant Mathew Tailby, of Greymouth police, said the body recovered had not been formally identified, and police were still in discussion with the families of the missing men around that.
"A search of other areas of interest around the bay has failed to locate the second missing man," Sgt Tailby said.
In a statement, the family of Kieran Lynch said they were thankful to the police and search and rescue teams for their ongoing efforts.
"We are still hopeful for the safe return of our loved and treasured Kieran," the statement said.
The family of Jay Cairney said Jay was a loving uncle, loved life and was going to be "missed by all who knew him"
"He's now with Mum and Dad (Linda and Tika) and looking down on us all with his cheeky grin saying 'right guys and girls party for me' so we will."
Skipper Mark Thomas was rescued from rocks in the Cascade area, about 8km south of where the boat apparently sank at Smoothwater Bay six days ago.
Further searches of the shoreline and tracks by volunteers on the ground yesterday revealed no further sign of the remaining missing crew member.
Sgt Tailby said the search until today had focused on the shoreline, using drift projections produced by the Rescue Co-ordination Centre in conjunction with local knowledge of the area.
These areas were expanded to include the remote country nearby and specific seabed areas, he said.
"Sadly, police have reached the point where the search has exhausted these areas without any sign of the missing man."
However, the dive squad would attempt to complete their search today depending on the weather.
Senior sergeant Paul Watson said the police search team was this morning assessing the viability of undertaking further diving, but with a weather change expected for the worse there might be only a narrow chance today.
"There may be a brief opportunity this morning to get the dive squad in there, but it is supposed to change again," Snr Sgt Watson said.
- by Brendon McMahon/ ODT