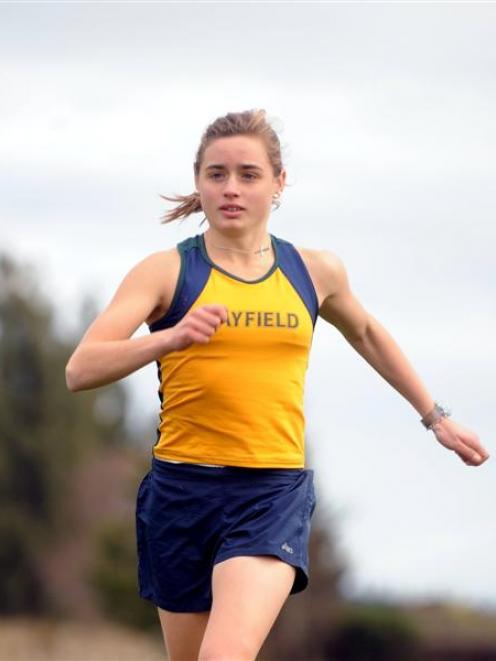 Scottish sprinter Eric Liddell, whose character featured in the movie
Chariots of Fire
, is the hero of Bayfield High School athlete Anna-Lisa Uttley.
Uttley (16) is a member of the Dunedin City Baptist Church and admires Liddell, who won the 400m gold medal at the 1924 Olympic Games in Paris.
He was scheduled to run the 100m but pulled out because the final was held on a Sunday. His religious convictions would not allow him to compete on the Sabbath. He opted for the 400m instead.
Liddell, who was also a rugby international, was the first Scotsman to win an Olympic gold medal.
"I'm a Christian and my religious faith is very important to me," Uttley said.
"That's why I am running. It is a gift I have been given and I have committed my running ability to God."
Uttley joined the training squad of former Australian coach Jim Baird last year and has already won two New Zealand titles and broken several records.
She won her first national title in the junior girls road race at the New Zealand College Games in Hamilton in December, and followed this by winning the girls aged 16 and under 3000m at the New Zealand club championships in Wellington in March.
Uttley made a remarkable improvement in all her times on the track last summer and this was demonstrated in her specialist 3000m.
She broke the girls under-16 record at the annual Otago and Southland secondary schools championships by 16 seconds, with a time of 10min 09.34sec. It was a personal best time by 12 seconds.
A few weeks later in Wellington, Uttley reduced this time by another 15 seconds when she won the New Zealand title. The time of 9min 54.06sec was an Otago record for women aged 16, 17 and 18.
Her next goal is the New Zealand secondary schools championships in Nelson on June 20.
Uttley and her training partner, Rebekah Greene (St Hildas), are both contenders for a podium spot.
Uttley was a member of the Bayfield senior A netball team and played football for Otago before committing to running.

• Uttley's stats
Name: Anna-Lisa Uttley (Bayfield)
Age: 16.
Sport: Athletics.
Record: New Zealand secondary schools junior road race champion (2008); New Zealand 16 and under 3km club champion (2009); Otago and Southland secondary schools aged 15 3km champion and record holder (10min 09.34sec); Otago secondary schools aged 16 champion; Otago aged 16, 17 and 18 record holder (9min 54.06sec).