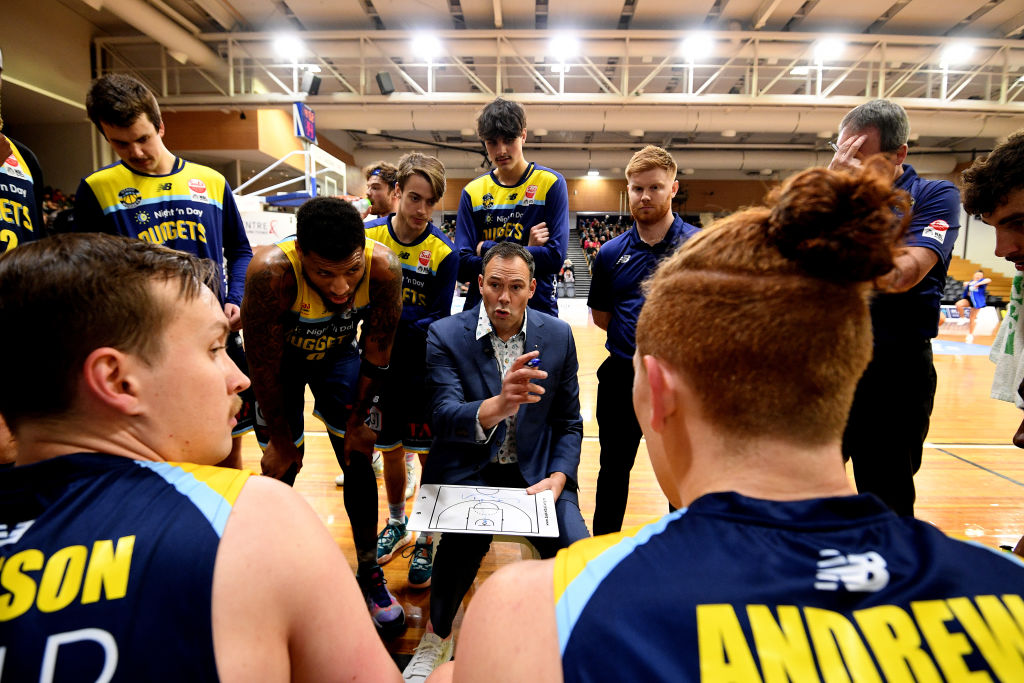 The National Basketball League has hit its halfway point. Jeff Cheshire casts his eye over how each team is tracking.
AUCKLAND TUATARA
Record: 7-3.
Key performer: Chris Johnson (19.7ppg, 10.5rpg).
Stumbled at the weekend with two unexpected losses, although have close to enough wins to make the six already. Tough to contain with their front line of Johnson and Rob Loe, while latecomer Dan Fotu will get better. Have strong two-way impact by scoring the most points and conceding the least. Should still be title favourites, if anyone can be considered a favourite in such a tight league. Rumours are swirling Johnson may leave early as he did last year, which would change things.
HAWKE'S BAY HAWKS
Record: 6-3.
Key performer: Jordan Hunt (18.4ppg, 7.1rpg).
Started slowly but have hit form. Have played a tough schedule and have shown their ability to beat good teams — notably being the only team to topple Auckland prior to this past weekend. Have a range of threats with multiple top contributors, including backcourt duo Ethan Rusbatch and Derone Raukawa and former Nuggets forward Jordan Hunt.
NELSON GIANTS
Record: 5-3.
Key performer: Trey Mourning (21.7ppg, 9.3rpg).
Overachieved so far, particularly after losing their best local, guard Tom Ingham, for the season. Have classy imports — particularly Mourning and two-way star Jarrod West — who bring energy, effort and bucketloads of talent, while the locals have stepped up. Defensively their backcourt is exceptional, while offensively Nelson operates well as a team.
OTAGO NUGGETS
Record: 5-4.
Key performer: Sam Timmins (17.4ppg, 10.4rpg, 1.4bpg).
Looked unstoppable at times during their five-game win streak, particularly when they were locked in defensively and able to get out in transition. Hit some troubles the past two games as intensity fell away, although how they bounce back will be key. Nikau McCullough has been a fantastic pick-up and he will be a big loss while away with the New Zealand 3x3 team. Have played the majority of their road games, and remain good enough to be there at the end. The lack of a genuine starting point guard may hurt.
CANTERBURY RAMS
Record: 5-4.
Key performer: Sunday Dech (18.4ppg, 3.8apg, 4.6rpg, 2.9spg).
Been up and down, but ultimately there is plenty of upside. Dech has filled the stat sheet, while the Rams have quality spread out across the court and depth within that. Taylor Britt is classy in the backcourt, while Joe Cook-Green is possibly the most under-utilised player in the league. Losses have mostly come against the top teams.
TARANAKI AIRS
Record: 4-4.
Key performer: Anthony Hilliard (31ppg, 3apg, 56.3rpg).
Putting together a handy season, and made a statement by beating Auckland on Friday to claim a third win in four games. Hilliard and Javonte Douglas are both in the top five in league for scoring and are both bona-fide bucket-getters. Tai Wynyard has been as good as any big man inside, although will be a huge loss when he leaves for 3x3. This team will snatch some more wins, but can it snatch enough to make the playoffs?
FRANKLIN BULLS
Record: 4-4.
Key performer: Corey Webster (27.5ppg, 7.5apg).
Used their physicality to steal a couple of early wins then hit a four-game skid. Became a different beast again as Webster took the court over the weekend. The Tall Blacks guard carried them to wins over Nelson and Canterbury, pushing this team back into contention. Similar position to the Airs, but with Webster now on court, this team can beat anyone.
WELLINGTON SAINTS
Record: 3-5.
Key performer: Xavier Cooks (22ppg, 4.3apg, 15.3rpg).
Dubbed themselves the "Baby Saints" early on without their stars. However, they have struggled to win since returning to full strength. Like the Sharks, there is enough talent here to make a run, albeit very swingman-heavy. Cooks was a late arrival, but he gives them a genuine world-class do-everything forward and they have now won three of their last four. Can still make a run at the title, but do need to keep stringing together wins.
SOUTHLAND SHARKS
Record: 2-7.
Key performer: Mojave King (21.9ppg, 4.1apg, 5.6rpg).
Who saw this coming? There is plenty of talent here, but the Sharks have not pieced it together yet. The lack of a genuine starting point guard has hampered a swingman-heavy team, while some of the stars have been quiet. Injury and illness have not helped either. Add to all that the imminent loss of Dom Kelman-Poto to 3x3. The Sharks are good enough to still make a run, but need to start winning, and quickly.
MANAWATU JETS
Record: 2-6.
Key performer: Shane Temara (18.7ppg, 4.5rpg).
Looked a mile behind the rest then stunned the whole league by toppling Auckland on Sunday. Maybe not playoff contenders, but definitely capable of stealing the odd win.