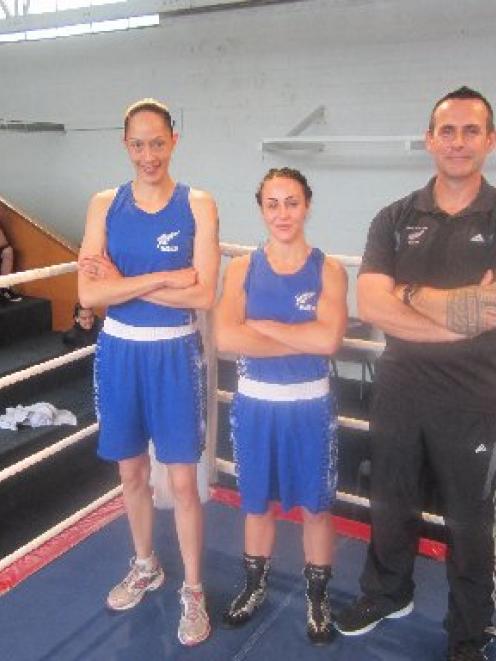 A Dunedin boxer has caught the eye of the New Zealand women's coach, who says she could be a potential Olympic and Commonwealth representative.
Bridget Morton and Cherine Henry from Dunedin club New Zealand Fight and Fitness attended a joint New Zealand-Australian boxing camp in Auckland last week, where both impressed New Zealand coach Cameron Todd.
Todd said he saw enough in the way Morton fought to think she had the potential to go further in boxing.
''She is still quite young and, with a bit of hard work and training, I think she could definitely make an impact.''
It was important for boxers like Henry and Morton, who had the skills to be good boxers, to attend events such as the camp, where they could face opposition in their own weight grades, he said.
''It's like that for most boxers outside of the North Island and especially female boxers. There is just not enough opposition for them to gain experience from,'' he said.
Both Henry and Morton fought well in their two fights against top-quality Australian opposition, Morton coming out on top in one of her bouts, Todd said.
Morton said it was great to get some recognition for all the hard work she had put in during the year.
''My ultimate goal is to compete at the Commonwealth Games in 2014 and then the 2016 Olympic Games,'' Morton said.
''I got to wear a silver fern and ... fight against two of the best Australian women in their weight divisions,'' she said.
Because the maximum age restriction for amateur boxers is 34, next year will be Henry's last as a competitive boxer.
''I am looking at having a really competitive year fighting internationally and nationally where possible,'' she said. Working with some of the best women's coaches and boxers in Australasia had not only improved her skill level and belief as a boxer but also her understanding of the sport, she said.
''For me it was great to see where the level and bar is set by training and fighting against some of the best female boxers in New Zealand and Australia.''
One goal she wants to achieve in her final year is to box on the same card as her son and with her husband in the corner coaching.
Henry and Morton's coach, and Henry's husband, Ryan Henry, said he was grateful to Todd for giving the boxers a chance to face international competition.
''The simple fact is you need to fight to get better at fighting - win or lose, it's all experience,'' he said.