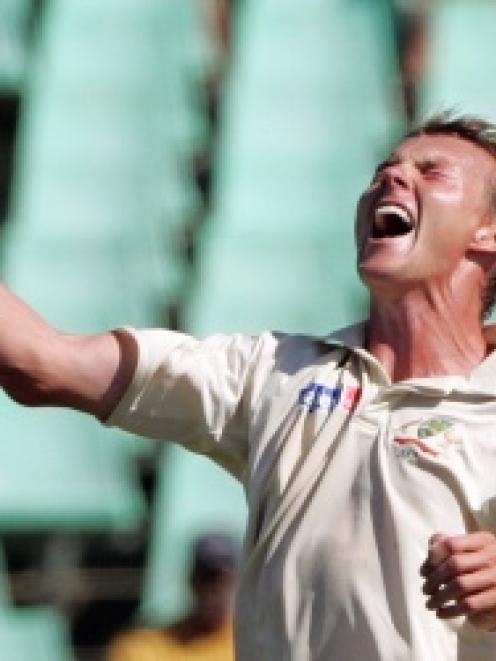 Otago's decision to fly former Australian fast bowler Brett Lee in for one match is a careful and calculated risk.
These days there is more than provincial pride up for grabs - there is big money riding on the outcome of the HRV Cup. The winner is guaranteed entry for the qualifying stage of Champions League and with it will receive a participation fee of $US500,000 ($NZ595,000).
That money is spread thinly with expenses taking a heavy toll and just about everyone lining up for a drink. But last time Otago attended the Champions League in 2009, the association ended up banking $NZ76,000, which was a significant windfall for an organisation the size of Otago cricket. The players got around $NZ6000 each.
There are no certainties in twenty/20 cricket but the Volts have played some exceptional cricket and will be favourites no matter who they meet in the final at the University Oval on Sunday.
Otago has a dead-rubber against Canterbury in Dunedin today. But that game will have no bearing on the playoffs. Wellington has secured a home venue for the preliminary final and will play either Northern Districts or Auckland for the right to play Otago in the final.
But the real prize is, of course, the Champions League in India later this year. The New Zealand champion will enter the qualifying stage alongside the two best English teams, and the Pakistan, Sri Lankan and Caribbean champion.
Last year, Auckland made it through qualifying and into the main draw where it joined the four best Indian Premier League teams, the top two Australian and South African sides and the other top qualifier.
The 10 qualified teams split into two pools of five. Auckland managed one win in the group stage and was eliminated but picked up a cheque for a further $US200,000.
Losing semifinalists bank half a million, the runner-up gets $US1.3 million and the winner gets the royal sum of $US2.5 million.
And this is where Lee comes in. Otago is quite happy to fly the speedster over for the game against Canterbury, even though the match has no significance in terms of the outcome of the tournament. Lee's appearance will mean he is eligible to play for Otago in the Champions League.
Whether a player is eligible or not, and where their loyalties belong, all gets a bit messy. Lee and fellow Otago import Ryan ten Doeschate trot around the globe playing in different twenty/20 tournaments and have a long list of teams they have represented.
But the topic was thoroughly canvassed before they signed and although they may be called on for their IPL teams, or in ten Doeschate's case, his county team as well, Otago Cricket Association chief executive Ross Dykes is reasonably confident both would be available for Otago if required.
''Both those two blokes don't believe they will be picked in the top 15 for their IPL team because they weren't last year."
James Fuller is contracted with Gloucestershire and his loyalty belongs with his county. But if it does not make the final of the Friends Life t20 then he would also be available for Otago.
And Black Caps captain Brendon McCullum, who has not played for Otago this season, would also be available for the Volts because it is the association he is registered with in the country he is eligible to play international cricket for.
So while it all gets a bit complicated, basically Otago could have all three imports available to choose from and would be bolstered by the return of McCullum.
If Otago learnt anything from its last appearance at the lucrative tournament, it was that it needs firepower to compete with the world's best twenty/20 teams.
''Twenty/20 is a fickle game and I think you can make the mistake of spending too much on overseas players,'' Dykes said.
''But I think this year we've got it pretty right.''
---
Otago v Canterbury
at the University Oval 5pm today
Otago: Neil Broom, Hamish Rutherford, Aaron Redmond, Ryan ten Doeschate, Michael Bracewell, Sam Wells, Derek de Boorder (captain), Ian Butler, Nick Beard, Brett Lee, Jacob Duffy, Mark Craig, James Fuller, Iain Robertson
---