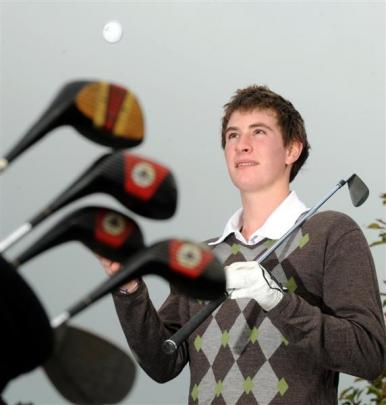 They do it for love, not money, and readers of the Otago Daily Times sports pages over the past few decades should be thankful for that. They are the long-serving ''stringers'', or contributing writers. In the first of three profiles, sports editor Hayden Meikle talks to golf guru Bill Trewern.
Hayden Meikle: Where did you grow up?
Bill Trewern: Dunedin.
HM: Born here?
BT: Born here.
HM: Educated where?
BT: Here.
HM: Specifics, please.
BT: St Clair School and Macandrew Intermediate.
HM: No secondary schooling?
BT: Well, I didn't learn anything at secondary school, ha ha. No, you know where I went to secondary school.
HM: King's?
BT: Mmm.
HM: Wait a second. Bill Trewern, Otago Boys' High School supporter-in-chief, attended King's High School!
BT: Everybody knows that. No need to publish it.
HM: What did your folks do?
BT: We lived in Ings Ave. Mum [Lilian] did the books for a couple of shops that Dad [Jack] owned. Woollen and dress shops. He had people running them for him. He was chief executive of the Wellington Woollen Company for many years, and latterly Ross and Glendining general manager/chief executive. Big company.
HM: Were you exposed to golf at an early age?
BT: Yeah, the family played. Both Mum and Dad played - Mum at St Clair, Dad at Balmac. Dad won the club champs at Balmac in 1930. His picture's on the wall up there.
HM: Was the old man a pretty good player?
BT: Oh, well, there was no coaching in those days. And when he got busy with his work, his golf slipped badly. He had a two-handed grip. No linkage, you know.
HM: Did you caddy for him?
BT: Occasionally. But where I really learned my golf was between the ages of 10 and about 13, caddying for Ron Timms, who was the Otago No 1. He later became the club professional at St Clair for many years. They'd been painting at our place, and I caddied for his father. He was a great swinger of the ball - tremendous. I started playing at 11 or 12.
HM: What were you like as a young player?
BT: I actually won my first little junior tournament on the same day, the same Sunday, that Bob Charles won the British Open in 1963.
HM: You're making that up.
BT: I am not. It was great. Everyone was talking about Bob. I was quite lucky because we had a large group of promising youngsters at the time. I was playing with good players and my game got better as a result. I got down to scratch at one stage. And I represented Otago in 10-man, 8-man and 12-man for several years. We won the South Island under-21 in 1968, I think. Brian Newall, Phil Conlon, Richie Sutherland and myself in Timaru, at Gleniti.
HM: Which club were you a member of?
BT: St Clair. But when I was at university, I played at Balmac.
HM: When did you peak as a player?
BT: Definitely 1969. I played in the New Zealand Open in December 1968. I didn't make the cut. Missed by one shot. You didn't have to qualify in those days because there were so many places for amateurs. I won the St Clair senior champs in 1969. Won the Otago foursomes. And got to the semifinals of the Otago provincial championship.
HM: Then what happened?
BT: In 1970, I did a post-grad thesis on natural radioactivity. I had to filter dust out of the air and take half-life readings. I slept some nights in the university, I was so flat out. Then I met my wife, Ann, at the end of 1970. I spent 1971 in Christchurch, at Teachers' College, and didn't play much golf.
HM: So that was it, in terms of your golf playing career?
BT: My technique wasn't that good. And then it was a lack of practice. I remember coming out in a tournament at St Clair in 1973, and I was going to make a comeback. I think I shot 68 in the first round and 83 in the second. I was digging clubs in the ground. I was so bloody frustrated. And the one thing I'd always been strong on was the mental game, and course management.
HM: How and when did you get the job covering golf for the Otago Daily Times?
BT: 1971. Geoff Adams, the future editor, was the features editor. I did a full page article on statistics, because I was into maths and physics. I did it to make some money, because we were skint, coming out of varsity. About two weeks later, (then sports editor) Dudley Manning rang me up.
''Oh, Bill, we need a golf correspondent. You're not playing at the moment. Would you be prepared to do it?'' I started with a weekly column, ''Golf Gossip''.
HM: And you've been the ODT golf writer since that day.
BT: Apart from when I was overseas, in 1979. Even then, I sent back some stories from the British Open.
HM: How do you cover a golf event? What's been your approach?
BT: Normally, you just keep your ear to the ground. Talk to people. I'm lucky here, because I'm right in the swim. I like to get a cart and follow the whole final if it's a matchplay event. In strokeplay, you can go out and watch someone, and you find out someone else is running hot on another hole. You're almost best to stay in the clubhouse. Get copies of the best scorecards. Then look for an interesting angle.
HM: Have you ever really annoyed somebody with something you've written?
BT: Oh, yes. I had a nickname, Poison Pen, for a while. That was my pseudonym at the St Clair club. Another year, they had the South Island champs at Oamaru and I wrote that it was a bit of a disaster. The loudspeaker was going when guys were teeing off. They wrote a big letter to the editor. Another one was in Lawrence. I wrote about ''tinpot country clubs''. A player had been given an ultimatum to play in the club championships, not for Otago, or he would forfeit. He won the club title 14 and 13, over 36 holes, and we had to do without him in an Otago team that got beaten by a point.
HM: What do you consider to be the heyday of golf during your years?
BT: The decade immediately after I stopped playing. That sounds good, doesn't it? From 1972 to 1982. Otago had three Freyberg wins - 1973, 1978 and 1982. And you won't find any coverage of the 1978 tournament in the ODT because there was a massive strike. I came in and there was a picket line on the street.
HM: And the Charity Classics?
BT: They were great. Having pro tournaments here really boosted golf in Dunedin, just like the New Zealand Open at The Hills boosted that area. I can't remember how many Charity Classics we had, but it was the best part of a decade, and it finished with the New Zealand Open at St Clair in 1979.
HM: You saw some pretty good golfers?
BT: Yes. Interviewed Seve Ballesteros. He was very reticent, quiet. But we were so lucky to get him. They'd signed him up eight or nine months before, and then he won some big tournaments. Sam Snead came out. Papwa Sewgolum, the South African with the two-handed grip. Johnny Miller. Thomson, Nagle, Charles - all those guys.
HM: Must have been fun.
BT: One memory stands out. They'd put on some beer for everyone. Someone rang and told the ODT that me and Ken McLean, who would come out and do the results, were boozing up and the copy hadn't arrived. But Johnny Miller had been forced into a playoff. There was a delay, then the playoff. I couldn't start writing the story, as you can on laptops today. It was just on hard copy. I had my Imperial typewriter with me.
HM: Have you also coached over the years?
BT: Not really. I use the word ''mentor''. There are professionals to do the coaching, and we've been lucky to have some very good ones.
HM: And your teaching career? Where did you start?
BT: Otago Boys' High School.
HM: Did you look after golf at the school straight away?
BT: They had a golf master. Ray Smith. He was quite ill, so I basically took over straight away.
HM: Have you enjoyed working at Otago Boys'?
BT: I've been lucky. I was an assistant teacher, had a position of responsibility in the science department, year 11 dean, ran the hostel for five years, and then assistant principal for 17 years. The school has done a lot for me.
HM: What have you taught?
BT: Physics, mathematics, science.
HM: How would you describe your teaching style?
BT: Traditional.
HM: Stern?
BT: No, I'm very friendly, ha ha. I actually got a shock when I first went teaching. We were the new brigade with the coloured pants and the leather jackets and the wide ties. The fifth formers taught me an early lesson that year, and every class I've taught has suffered since.
HM: You're retired now?
BT: Part-time. My main interest now is the school lodge, which is an amazing facility up the West Matukituki Valley. For many of the kids, it's the highlight of their years at the school. I didn't have much to do with it in the early days but I've looked after it since 1994. I go up and handle the management side of things.
HM: We have to mention Richie McCaw in here.
BT: Yes, taught Richie. I sent him out of class for talking.
HM: But he might have been talking about rugby, Bill.
BT: He could have been. Bad luck, ha ha.
HM: Back to golf. You're still enjoying being involved?
BT: Oh, definitely. It gets hard when the kids play other sports and they get in the way of golf. To really succeed these days, you need to focus on one. That's sad, in a way.
HM: Greg Turner was your best golfer?
BT: He just had that special something. He actually left school at the start of the sixth form. The pro at Balmac offered him a job. I cornered Turner at school and let him have it. Told him he was leaving school to be a shop assistant. But Greg saw out the year, then came back to school, got his qualifications, and went to college in the States. He was the first of my guys to head over there. Since then, we've had Thomas Campbell and now Duncan Croudis.
HM: What are the highlights of your time with Otago Boys' golf?
BT: Winning two New Zealand titles and going to St Andrews for the world schools final in 1992 and 1994.
HM: How many of your boys have turned professional?
BT: I've produced about 14 who have made their living out of the game, either by playing or by working as a club professional.
HM: What roles have you held with Otago golf?
BT: I've managed a lot of junior teams. And my new role is called convener of teams. I look after uniforms and finances while we're playing.
HM: And the golf writing? You'll be sticking with it for a while yet?
BT: Day by day, ha ha.
---
Bill Trewern
ODT position: Golf writer.
Held since: 1971.
Age: 63.
Occupation: Teacher.
Family: Married to Ann.
---
Bill Trewern's dream Otago golfer would have:
The X FACTOR of Greg Turner.
''He could have played any sport.''
The BALL STRIKING of Mahal Pearce.
''So pure. Best I've seen, by a long shot.''
The MENTAL GAME of Duncan Croudis.
''Very intelligent golfer. Great course management.''
The DETERMINATION of Thomas Campbell.
''Really driven to succeed.''
---