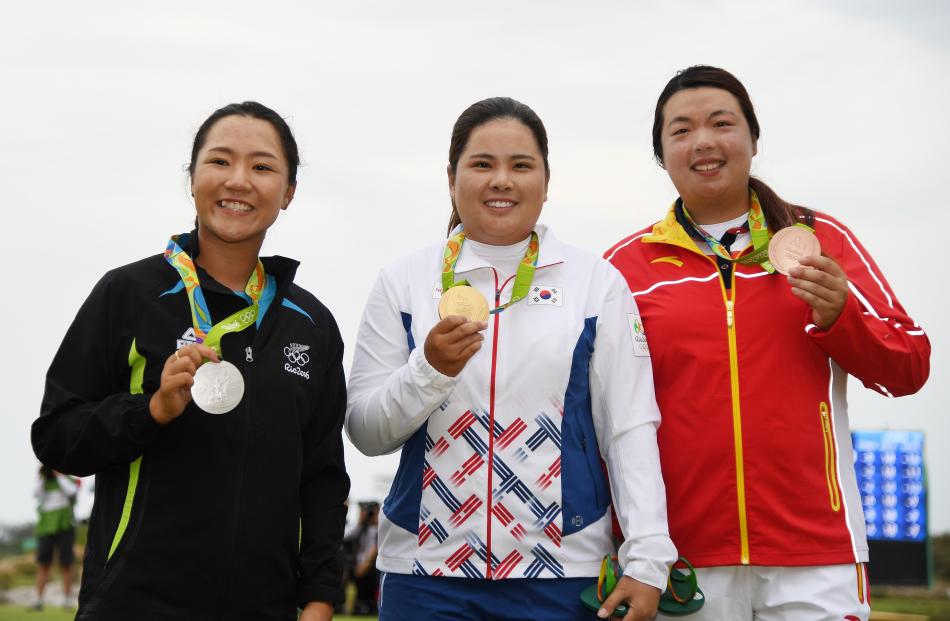 A chip and putt for birdie on the 18th hole stood between Lydia Ko and an outright silver medal as women's golf completed its Olympic return after a 116-year hiatus.
Ko obliged by easing her ball to within three metres of the pin and sinking a putt which teetered like a funambulist in a gusty southerly on the cup rim a the course in Rio on Satuday (local time).
A miss would have seen Ko enter a three-hole play-off with Chinese bronze medallist Shanshan Feng at the Marapendi course.
Regardless, the world No.1's effort earned New Zealand a record 17th medal at a Games.
South Korea's Inbee Park won gold with a final round five-under 66 to finish five shots clear at 16-under. She seemed an appropriate winner given her country holds 20 of the current top 50 places in the women's rankings.
The seven-time major winner birdied four of her opening nine holes.
Ko could not match that. Several birdie putts failed to drop as she recorded a two-under 69. She had moved into medal contention after a third-round 65 left her two shots off the lead.
However, Ko was celebrating winning silver rather than commiserating a lost gold.
"You win a gold, silver or bronze medal this week. Sometimes people get carried away and say you 'lost' to someone but, no matter the result, you won. You've done great.
"Seeing athletes with these medals on tv affected me more than I ever imagined. Seeing other New Zealanders winning on social media made me want to make my contribution to the tally."
Ko appreciated the support on course.
"Seeing athletes like [rower] Eric Murray or the women's sevens team out here has been great. I feel like I played better hearing their support coming down the stretch. It felt like I was playing back home."
Ko joined sevens player Terina Te Tamaki (silver) and pole vaulter Eliza McCartney (bronze) as New Zealand's third teenage female medallist at these Games.
Te Tamaki became New Zealand's youngest women's medallist at 19 years, three months and seven days; Ko was 19 years three months and 27 days; and McCartney was 19 years, eight months and eight days.
The youngest New Zealand medallist at a Games was Danyon Loader when he earned silver in the 200m butterfly at the 1992 Barcelona Games aged 17 years, three months and nine days.
The youngest New Zealand gold medallist was coxswain Simon Dickie in the coxed four at the 1968 Mexico City Games at 17 years, six months and 19 days.