Another year (nearly) done. Still no Ranfurly Shield, but that does not mean it was a disaster. The Otago Daily Times sports department reviews the year in Otago sport.
Sportsperson of the year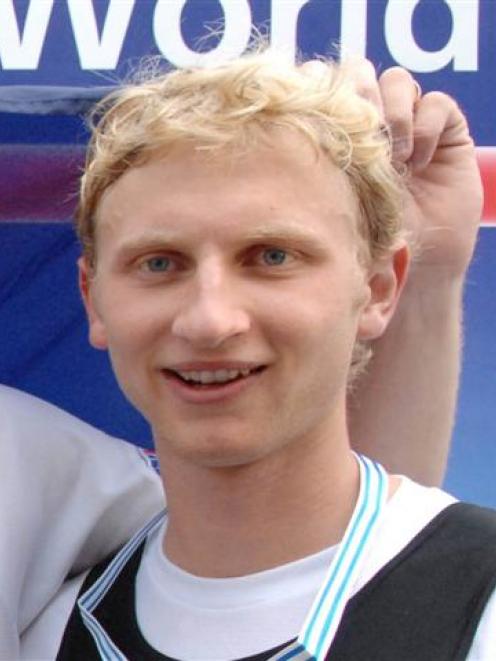 HAMISH BOND
(rowing)
The icing was put on Bond's great year when he and pairs partner Eric Murray were named world rowing's crew of the year. Bond underlined his credentials as one of the all-time greats of New Zealand rowing when he won his fourth world title in September, with he and Murray claiming a third consecutive title in the men's pairs at Slovenia. The pair are the heavyweights of world rowing and have been unbeaten internationally for the past three seasons. Bond also made his mark on the domestic scene when he won three more red coats at the national championships at Lake Ruataniwha to take his tally to 14. He has been unbeaten in New Zealand for the past three years.

The next nine
•
SHAUN SCOTT (bowls):
Won the national singles title in Dunedin in January, then made his international debut in the transtasman series against Australia in Invercargill.
Scott virtually cemented his spot in the Black Jacks for next year's World Bowls in Adelaide with consistent performances at the Asia-Pacific championships.
He reached the quarterfinals of the singles and was a member of the triples team that won a bronze medal.


•
ALISON SHANKS
(cycling): Her event was dropped from the Olympic programme but Otago's golden girl of the track responded by riding more quickly than ever.
She is still a medal chance, in the team pursuit rather than the individual pursuit.

•
BRENDON MCCULLUM (cricket):
By his own high standards the explosive opener did not have a great year in whites, but he remains one of the most destructive limited-overs batsmen in world cricket.
He is also incredibly athletic in the field and a real asset whenever he plays for Otago.
•
ADAM THOMSON (rugby):
Still the golden boy of Otago rugby.
Thomson had another superb season for the Highlanders and was understandably named in the All Black squad for the Rugby World Cup.
Injury rather spoiled his tournament but the gold medal made up for it.
•
CRAIG CUMMING (cricket):
The 36-year-old might be in the twilight of his career but he is batting as well as ever and holds just about every major Otago batting record.
He overtook Bert Sutcliffe as the province's leading run-scorer and century-maker in first-class cricket, and is also Otago's leading one-day run-scorer.
•
NEIL WAGNER
(cricket):
The South African-born left-armer grabbed international headlines and created history in one stunning over during a Plunket Shield game against Wellington in Queenstown in April.
He became the first player to take five wickets in a six-ball over in first-class cricket.
•
BLAIR TARRANT AND HUGO INGLIS (hockey):
No longer ex-Otago men, Inglis and Tarrant returned to play for the Southern Men in the national league.

They were also regulars in the Black Sticks, helping them make the top four of the Champions Trophy.



•
SUZIE BATES (cricket and basketball):
The dual cricket and basketball international had another busy year.
The all-rounder is a key member of the White Ferns and Otago Sparks squads, and helped the Otago women's basketball team win the national title.
---
Best of the rest:

Craig Bradshaw (basketball), Nathan McCullum (cricket), Neil Broom (cricket), Derek de Boorder (cricket), Aaron Redmond (cricket), Casey Lockwood (basketball), Daneka Wipiiti (basketball), Samara Gallaher (basketball), Kane Russell (hockey), Te Paea Selby-Rickit (netball), Shannon Francois (netball), Katey Martin (cricket), Gina Crampton (netball), Aaron Burgess (football), Tristan Prattley (football), Mike Cunningham (football), Joe Chapman (cycling), Brad Evans (cycling), Katie Schofield (cycling), Kat Jones (cycling), Jossi Wells (freeskiing), Adam Hall (skiing), Ben Smith (rugby), Nicky Samuels (multisport), Tony Dodds (multisport), Cherine Henry (boxing), Marshall Hall (athletics), Roseanne Robinson (athletics), Hannah Blair (athletics), Steph and Carla Laughton (surf life-saving), Lucy Strack (rowing), Fiona Bourke (rowing), Sarah Lindley (rowing), Damien Burdon (touch), Sean Becker (curling), Ben Watts (softball), Anne Mitchell (archery), Mikaela Walsh (gymnastics), Gino Paris Heyd (ice hockey), Jessica Todd (wrestling), Katie Kenneally (swimming), Rory McSweeney (AWD), Andrew Moore (athletics), Daniel Balchin (athletics), Kieran Fowler (athletics), Anna Smythe (athletics), Rachel Kingsford (athletics), Dean Bond (motorsport), Allan Dippie (motorsport), Brydie Donald (curling), Natalie Campbell (curling), Tim Cafe (skiing), Adam Barwood (skiing), Taylor Rapley (skiing), Leighton Winsloe (skiing), Janina Kuzma (skiing).



Newsmakers

• The Highlanders switch to a green jersey and the decision does not go down well. But the signings of a swag of All Blacks for next season make up for it.
• Carisbrook is finally (finally, finally) farewelled, and a new era begins with the opening of Forsyth Barr Stadium.
• Dunedin hosts four games in the Rugby World Cup and does a superb job.
• Taieri wins its first premier club rugby banner since 1955.
• The Otago Rugby Football Union establishes a hall of fame and inducts its first 10 people.
• The Otago Nuggets break a three-year, 33-game losing streak, bring Mark Dickel home from the United States, sign Breakers and Tall Blacks pair Leon Henry and BJ Anthony, and let Craig Bradshaw go.
• The Otago Goldrush wins the national women's basketball title.
• Otago cricketer Neil Wagner takes a world record five wickets in one over in a Plunket Shield game in Queenstown.
• Craig Cumming breaks the great Bert Sutcliffe's record for first-class 100s and runs scored for Otago.
• Molyneux Park loses a provincial cricket match for a second time in four summers, and the decision is not taken well in Alexandra.
• Janine Southby is appointed co-coach of the Steel following the controversial departure of Robyn Broughton.
• Otago reaches the final of the national provincial netball championships, and wins the national under-21 title.
• Wanaka-Queenstown host the Winter Games for a second time. 


---
So long . . .

• Alando and Debbie Soakai: Former Otago rugby captain, and Otago netballer and volleyballer, move to Japan.
• Sarah Tsukigawa: Otago cricketer retires.
• Clare Taylor: Otago cricketer retires.
• Richard Reid: Otago rugby boss leaves to run football in Wellington.
• Phil Mooney: Otago rugby coach returns to Australia after two seasons.
• Mike Hesson: Otago cricket coach takes up post in Kenya.
• Glenn Turner: Otago cricket great jettisoned from Black Caps selection panel.
• Don Jowett: Former Commonwealth Games running gold medallist dies in July aged 80.
• Harold Nelson: Former Commonwealth Games running gold medallist dies in July aged 88. 


---
Distinguished service award

JOHN PAUL
There are long-serving coaches, and then there is John Paul. The great Otago basketball identity has been contributing to the province for over half a century. At school, club, provincial and national league level, "JP" has helped guide the careers of hundreds of men and women, boys and girls. Paul received the services to sport honour at the Otago sports awards in May, and we have decided to make it a double. Sport needs more people like him.
Previous recipients: Kereyn Smith (2010), Eion Edgar (209), Dave Gerrard (2008), Fred Strachan (2007), Duncan Laing (2006), Lois Muir and Glenn Turner (2005).
---