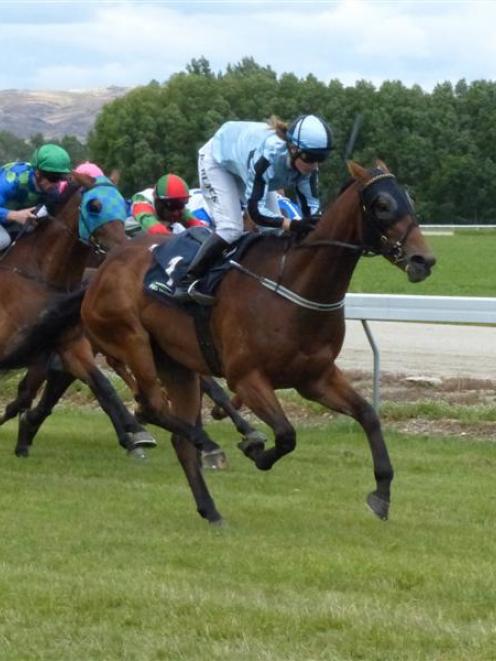 Ascot Park trainer Sally McKay is hoping Lord Yarborough gets more of an inside run than he did last start when he lines up in a rating 65 race at Riverton today.
McKay said Lord Yarborough, who was successful at Omakau on January 3, never saw the rail at Gore.
''He was caught wide the whole way, and hit the wall late,'' she said.
Jockey Rebecca Black was unable to slot in early on in the 2000m race and the rest of the run did not get any easier for the son of Kingmaker as he faded in the straight, finishing 11.9 lengths behind the winner, Kina Win.
Today's distance is 2147m.
McKay is sticking with Black for the ride on Lord Yarborough, but was holding off on declaring a jockey for Irish Wit in the same race, due to doubt over the state of the Yamanin Vital gelding's feet. Irish Wit was reshod after running second at Gore on January 19, and had been sore since.
''I won't start him if it's not going to be a benefit to him,'' McKay said.
She had hoped to get Irish Wit into the Invercargill Gold Cup on February 16, but time is running out to get him above his current rating of 63.
''Missing that run at Wingatui leaves him pretty low in the points for the Invercargill Cup.''
If Irish Wit does start, he will be looking to go one better than his second placing at Gore.
Irish Wit was held up with 350m to go, and McKay said he did not handle the track at one point.
Another of McKay's runners who did not cop the track at its last start is Uncle Jim. The Montjeu 9yr-old has run his best races on good to dead tracks, and was not entirely comfortable on the slow (8) surface at Gore. McKay expects him to go a ''super race''.
Trainer Terry Kennedy advised punters not to be put off by Robert Brook's formline in race 5, a 2147m maiden. Robert Brook was ninth at Gore on January 24, and had restricted room in the straight.
''He went really well last start, but the form didn't show it,'' he said.
''He didn't really get off the bit much.''