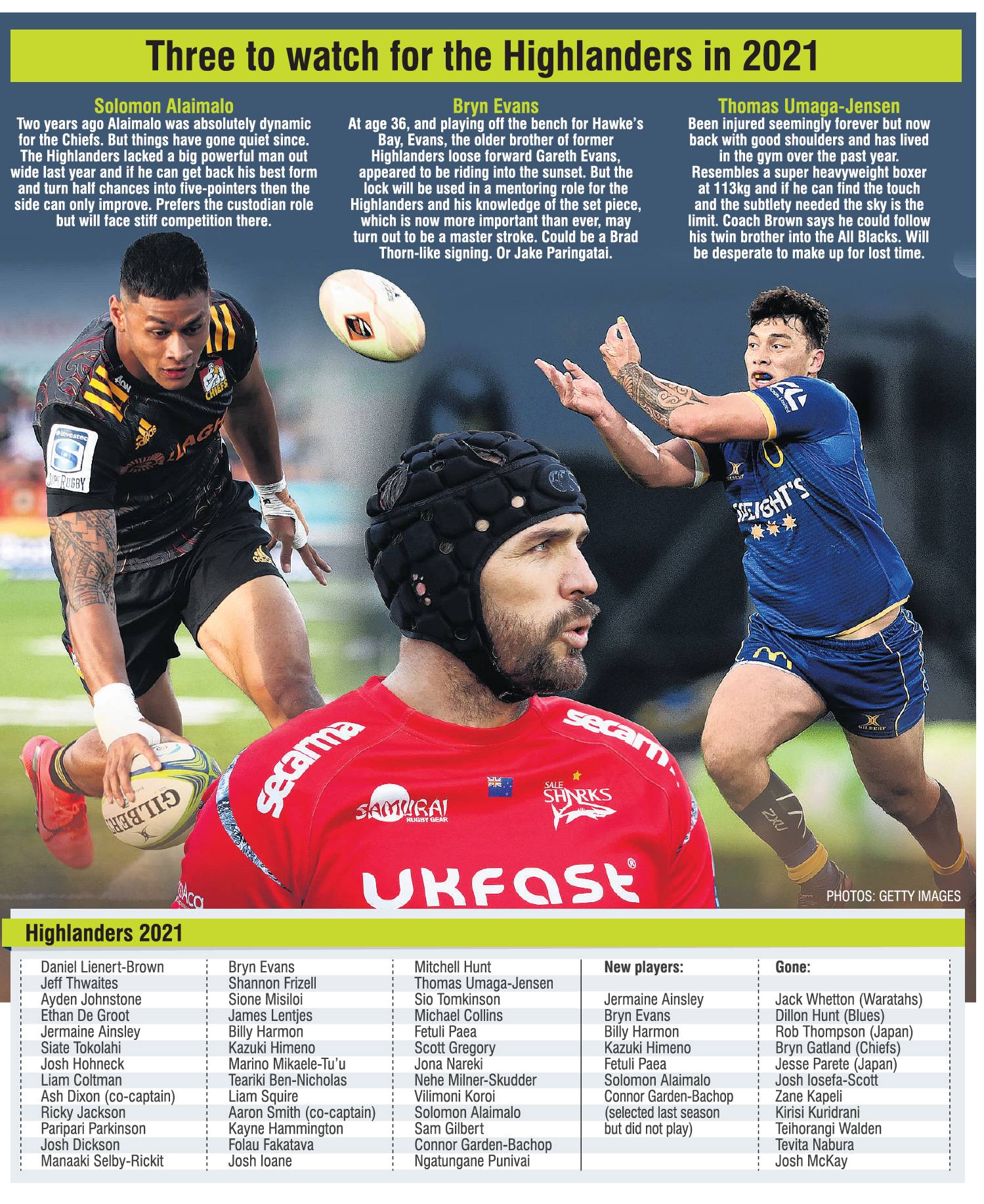 The Highlanders have brought back some veterans as coach Tony Brown looks to get back to the Highlanders way in 2021.
The side for the 2021 season includes six new caps and two players — Liam Squire and Josh Hohneck — who have come back to the franchise after stints away.
The team has let 11 players leave from last year, but the biggest change is off the pitch, as new head coach Tony Brown looks to set a new path.
"I think it is really important to create an identity that is the Highlanders. We have lost a bit of that over the last few years," Brown said.
"Just to understand what the environment is about, about playing good footy and entertaining the fans. That is about [being] willing to sacrifice for the team, loving the team, coming to work every day with enthusiasm, competitive in everything they do and [wanting] to win every game."
Brown has made some intriguing selections. Veteran forwards Josh Hohneck and Bryn Evans have joined the team, while Mitch Hunt is picked as a first five-eighth. The side has seven props and eight loose forwards.
"We had a lot of young guys last year and we didn't have a lot of experience especially at Super Rugby level, around what it takes to win games, especially in the dying moments of games.
"We've got a lot more experience ... hopefully in the key moments of games with a bit more experience we can hopefully execute better so instead of losing by a couple of points we can win those games."
Evans (36) had been playing in England for Sale and returned home to get some time for Hawke's Bay. He was barely seen in the Mitre 10 Cup but that did not faze Brown.
"With Bryn Evans we have a guy who is a bit of a lineout specialist. He is very sharp around the lineout. He can bring a bit of the UK mauling aspect to our game."
The side will be captained by Ash Dixon and Aaron Smith,who led the team in the Super Rugby Aotearoa competition.
Brown said former captain James Lentjes was in a challenge with new signing Billy Harmon to get the starting openside flanker role and match fit so simply had to focus on those.
The emergence of Hawke's Bay halfback Folau Fakatava as a real option at halfback was something that excited Brown.
"I know we've got Aaron Smith as our All Blacks and starting nine but the way Folau is playing he is going to put more pressure on Aaron and will get some time in the back end of games."
Hohneck (34) has been playing tighthead prop for Otago after returning home during the lockdown period after playing in England.
He signed up for Otago and played well for the side in its provincial campaign. He was a member of the Highlanders in 2015-16, forming part of the front row which won the title in 2015. The side has four tighthead props in Hohneck, Jermaine Ainsley, Jeff Thwaites and Siate Tokolahi, but Hohneck and Thwaites have the ability to play on both sides of the scrum.
Outside back Vilimoni Koroi is involved in the sevens programme for the Olympics and may play a limited part next year, while Scott Gregory is no longer part of the All Black sevens programme.