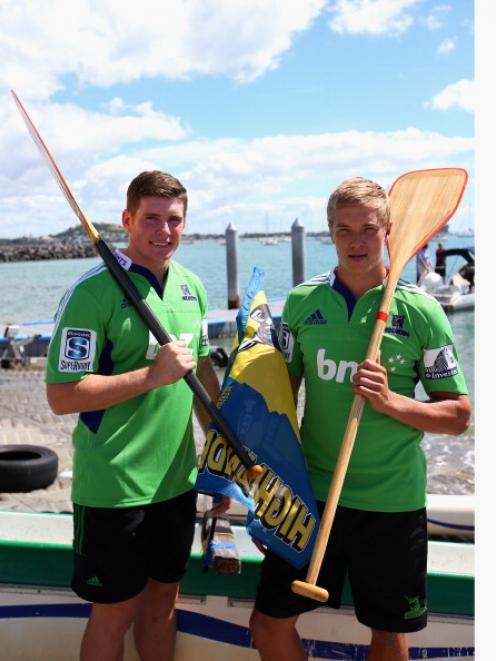 A year ago, Tony Ensor was sunning himself on the Gold Coast and playing for the Highlanders was the last thing on his mind.
But roll on 12 months and he is on the franchise's payroll, and looking to make an impact at Super 15 level.
It has been a quick trip from the outhouse to the penthouse for the Balclutha product.
''It has been unbelievable, really. To make it into Otago was great and the to get into the Highlanders and be surrounded by all those All Blacks, it really is hard to believe,'' he said.
''My first crack was to try and have a go with Otago. I didn't think I would make this.''
Ensor was a speedster at fullback for Otago, showing some lightning pace at the back which helped the side make it all the way through to the ITM Cup championship final.
Those quick legs of the past 12 months though did not come about by accident for the former South Otago High School pupil.
''I bought a speed sled and did a lot of work on that over summer. I did a few more weights, got a bit stronger and tried to keep it on.''
A speed sled is tied on to the player by a rope and trails him as he runs. Weights can be positioned on the sled to build up speed and strength.
Ensor (21) had an impressive club season for Kaikorai but did not make the Otago squad at the start of the ITM Cup season.
He trained with the squad but failed to make the initial cut.
''Then I went along to training one day and Browny [coach Tony Brown] rocked up to me and said he had managed to get a contract for me ... It was an awesome season. The guys really stuck together and that made a big difference for the team.''
Despite some fine efforts for Otago, Ensor never thought he would come into consideration for the Highlanders, thinking he may need at least another year at least of first-class rugby before he could consider playing at the next level.
''I knew I went all right for Otago but I never expected I would get anywhere near here.
''It is way more intense, way more professional. Training is a lot harder and a lot more work, just in everything you do. You always have to know your roles. Everyone is on your back and putting pressure on you, which is the way the game is played at this level.''
Despite the increased intensity, Ensor was enjoying the work, although he is laid low at the moment, having been concussed at training last week.
''I ran into Paul Grant's head during a bit of contact training. So I didn't play last week and I don't think I will play this week either.''
Ensor is studying for a physical education degree at the University of Otago but will only do one paper this semester as rugby takes priority.