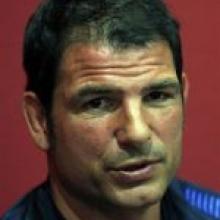 From his coastal Auckland eyrie, All Black coach Graham Henry could train a high-powered telescope on the French hotel.
Not that the Tricolores are his immediate focus but they are the All Blacks' third-round foes in the World Cup and Henry's bete noir. Not just in the World Cup quarterfinal four years ago where that 20-18 defeat is writ large in every New Zealand rugby recollection.
Two years later, there was the 27-22 loss against France at Carisbrook before the All Blacks squeaked home 14-10 against the same foe at the Cake Tin.
Losing at home is rare for the All Blacks, something they have suffered just three times since Henry took charge in 2004. He and his teams avoided domestic defeat in their first four-year term and have lost just three times since - against the Springboks at Carisbrook in 2008 and in Hamilton a year later, and against France at Carisbrook in 2009.
The All Blacks sit in pool A at the World Cup where their rivals, in order, are Tonga, Japan, France and Canada. The only serious obstacle to the All Blacks qualifying top is France.
Les Bleus are talking about resting some of their leading players for their September 24 clash against the All Blacks at Eden Park.
"We have to play Japan and Canada and we need to involve the maximum of our players in those games," France coach Marc Lievremont said.
"After the Canada game we will decide what kind of team we will put out for the All Blacks, knowing that after that match we have to play Tonga which could be a final to decide who makes the quarterfinals."
Henry will want the All Blacks to face a French side of serious strength otherwise they will go into a quarterfinal on a six-week diet of modest opponents since their loss to the Wallabies in Brisbane.
An insight into the French bunker on the North Shore might give him an answer and maybe not. Trying to find the French can be a mission as they were diverted from their planned training session yesterday.
Trying to nail down their thoughts is also like grabbing mercury as No 8 Imanol Harinordoquy underlined.
"It depends," he said about his side's approach to the All Blacks.
"If we win the first three matches you are sure to be in the quarterfinals. I think we have to play this match against New Zealand to win it but, if we don't, it will be a very hard challenge to beat Tonga and make the quarterfinals," he said.
Henry has spent this week re-evaluating his plans for the All Blacks' opening test next Friday against Tonga. Henry and his selection cronies face a number of critical debates this week. Before Brisbane, the coach talked through his view that Dagg was a fullback and not a wing option.
That concept should get plenty of round-table talk this week because it seems a waste not to have Dagg in the team somewhere. If Henry and his mates cannot bring themselves to cast aside Mils Muliaina from fullback, then Dagg has to be used on the wing.
Zac Guildford needs a rest, so there is an immediate vacancy, while Jimmy Cowan should win back the starting role at halfback.
Up front, Victor Vito will get straight into work at No 8 because of the injuries to Kieran Read and Adam Thomson, while there will also be debate about starting Ali Williams at lock or using him from the bench.
The loose forward dramas probably mean Sam Whitelock will be used as back-up so that should assist Williams' cause.