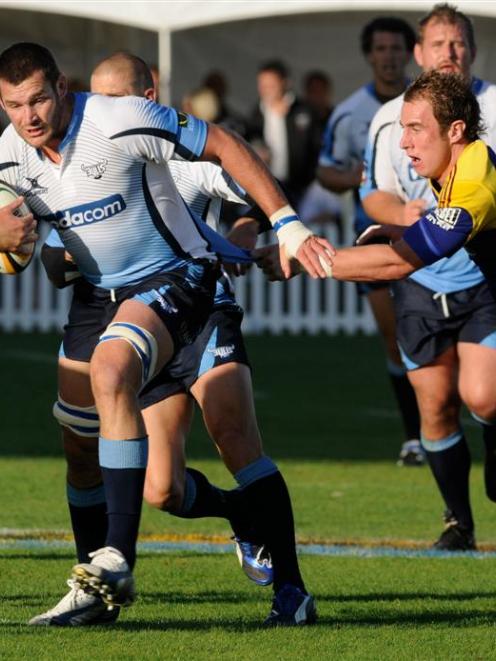 Home is where the heart is but the Highlanders saved their very best for neutral territory, hammering the Bulls 36-12 in a major Super 14 rugby boilover at Palmerston North today.
A boistrous crowd at Arena Manawatu carried an inspired Highlanders to a memorable win, scoring five tries to two against the only unbeaten team heading into round seven.
The Bulls lose their competition lead and will leave Palmerston North muttering about the howling wind and manic supporters wearing blue buckets on their heads.
In contrast, New Zealand's southern-most franchise will surely want to return to Palmerston North, producing one of the best performances in their history and announcing themselves as playoff contenders.
"When you win like that, there's no reason we won't come back," a beaming Highlanders captain Jimmy Cowan said.
"It's been a great week, we've been up here since Wednesday and thoroughly enjoyed it.
"The crowd got right in behind us, a big thanks to them."
The Highlanders forwards grabbed control of the game from the outset, dominating the breakdown in particular and not letting their powerful Bulls opposites settle with possession.
Cowan and fellow-All Blacks Adam Thomson and Jamie Mackintosh were all outstanding but nobody let the Highlanders down in a performance packed with accuracy and resolve.
"These boys (Bulls) are known to be big bullies, they want to boss you around the field but our boys were up for that," Cowan said.
"Our structure was there and on defence we were going in in twos and threes.
"We were disappointed against the Chiefs in Invercargill (two weeks ago), we felt we let ourselves down.
"We reassessed our season and we're taking stepping blocks on our way forward."
The bonus try win lifts the Highlanders into the top four, at least momentarily but they will drop following the remainder of this round and next week's bye.
Bulls captain Fourie Du Preez admitted his side were rocked from the start.
"First up into the wind they really put us under pressure," he said.
"At ruck time they were quite physical and put us under pressure there, and at scrum time and lineout time.
"You're going to lose a few games in this competition, it's just the way it is, so we have to get together on Monday and see what happens."
A Bulls side that had conceded just 16 points a game before today were opened up early through a try to centre Jason Shoemark after some concerted pressure.
The Bulls struck back into the wind through a try to winger Gerhard van den Heever but they spent most of the first half defending from then, conceding tries to second five-eighth Daniel Bowden and the inspirational Cowan.
At 5-21 down, the Bulls turned with the wind at the back but quickly saw the game slip away from them courtesy of a try and penalty to first five-eighth Matt Berquist, who scored 16 points.
Morne Steyn responded with a Bulls try but the final say went to young Highlanders fullback Israel Dagg, who capped another assured performance with a try.
The Bulls next face the Crusaders in Christchurch on Friday.
Highlanders 36 (Jason Shoemark, Daniel Bowden, Jimmy Cowan, Matthew Berquist, Israel Dagg tries; Berquist pen, 4 con) Bulls 12 (Gerhard van den Heever, Morne Steyn tries, Steyn con) . Halftime: 21-5.