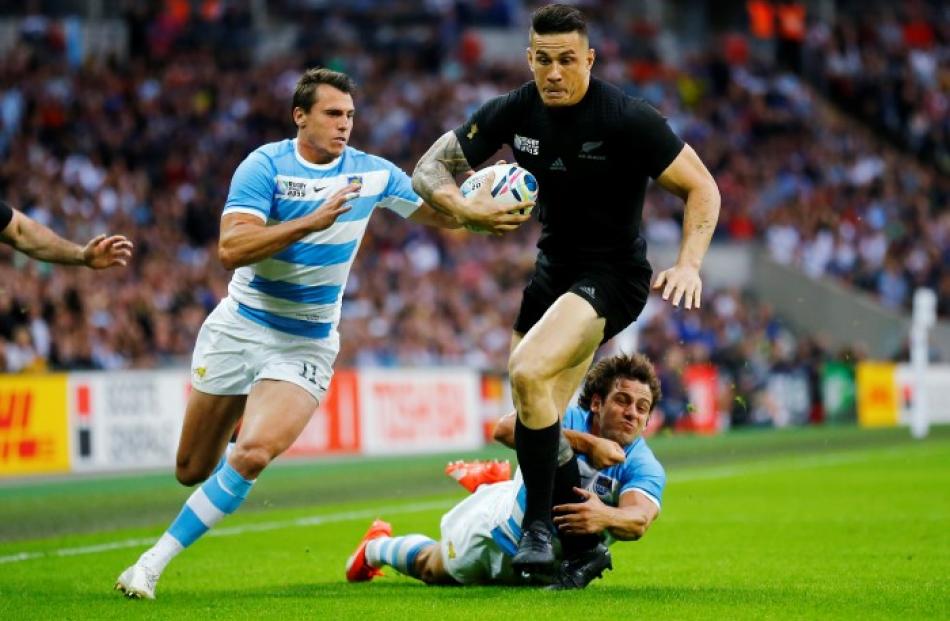 ODT Online rugby writer Jeff Cheshire identifies some key points from the All Blacks' win over Argentina at Wembley this morning.
Last 30 minutes, again
In an inevitable fashion, the All Blacks powered past their opponents with a dominant final 30 minutes. That has become the pattern in All Black games in recent times. Their outstanding fitness level sees them wear teams down and continue to play at a high intensity while their opposition is tiring. That was the story here. After being in a scrap for 50 minutes, the All Blacks began to get front foot ball, had more room to work with, found a few gaps and dominated territory and possession.
More open game
Whereas many teams thus far have looked to use the maul as their primary attacking weapon from the lineout, the All Blacks opted for a more open game. They used off-the-top ball regularly, before crashing in the midfield through Ma'a Nonu or a forward runner. From there they would go a couple of phases of pick and go, then look to go a couple wider again towards the opposite sideline.
Attacking with width
The midfield crash was the favoured tactic off the lineout, but that did not mean the All Blacks were limited to just that. They were happy to play with width and did so to great effect at times. The second try came from going wide from set-piece, bringing the defence across to cover. Then they used a couple of runners coming in on narrower channels to draw the defence in, creating the space out wide which allowed them to score.
Argentina line speed
Argentina defended well in the first 40 minutes and while they gave up a lot of penalties, they were able to limit the damage they had. They slowed the All Blacks ball down well and gave the defensive line time to set, which gave them the chance to get up fast and shut down the All Blacks space. The All Blacks struggled to break through this, as their runners were chopped down early and the threat Ma'a Nonu can pose off second and third phase ball was effectively negated.
Slick lineout
Of the positives to come out of the All Black performance, the lineout was surely close to the best. It operated well, as they kept it simple, got the jumpers up quickly and the hookers found their targets. That gave them a stream of possession, which allowed them to either play the crash ball game to launch from midfield, or to use the lineout drive.
Pumas' attacking threat
Argentina's backs showed that this is not a team solely revolved around a big forward pack. They ran dangerously and exhibited good footwork when running at the bigger All Blacks, trying to unbalance them to force either missed tackles or at least gain some go-forward. The All Blacks, for their part, defended poorly at times. That led to Argentina making some easy metres up the middle and their backs making some good breaks out wider.
Discipline needs to be better
The Richie McCaw foot trip was dumb and he has acknowledged that himself. Conrad Smith meanwhile may have believed he was legal in what he was doing when he was yellow-carded, as pressure can do that. That pressure came from some average defence, which saw the All Blacks end up well and truly on the back foot. They have to cut these instances out of their game, as in the knockout stages you cannot afford to be a man, or two men, down for that long.
Impact players
You could say that the reserves came on when Argentina started to tire, but you cannot deny the impact some of them had upon their introduction. Sonny Bill Williams was outstanding, offering more than Nonu on this occasion with his ability to offload accurately adding a dimension that was missing to the All Blacks game. He ran into gaps well too and would have set up a try had Nehe Milner-Skudder not put down a simple catch after a piece of individual brilliance from Williams.
Out the back Beauden Barrett got involved and had some nice touches, while Charlie Faumuina added some spark in the forward pack and Victor Vito looked good in his limited minutes.