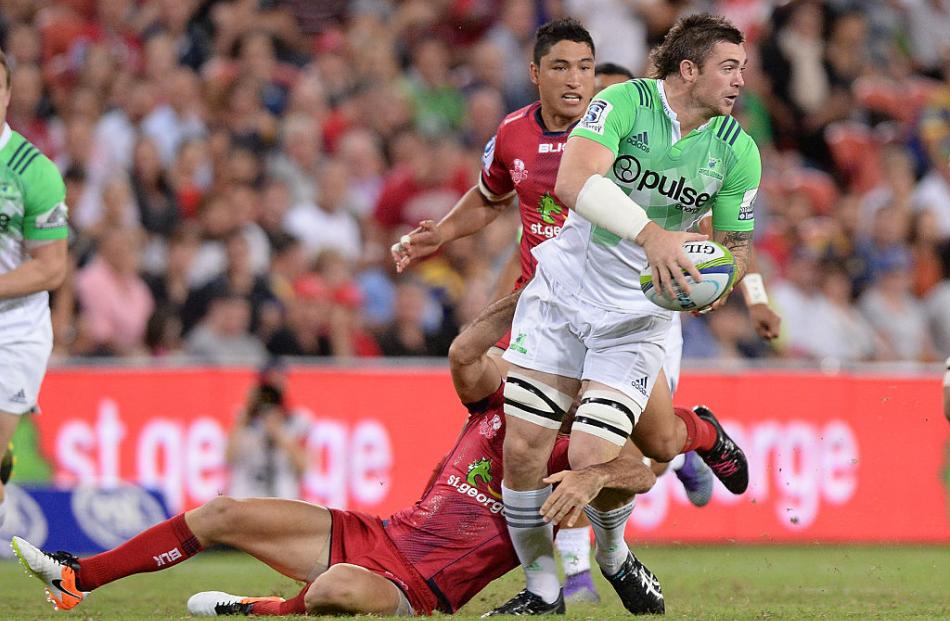 Last year four Highlanders went to the Rugby World Cup with the All Blacks. Otago Daily Times Online rugby writer Jeff Cheshire looks at five more who could be in with a chance to make the step up to the national squad.
Lima Sopoaga
Lima Sopoaga made one very good appearance for the All Blacks last year. Now not only is he knocking on the door of the squad, he is in the conversation to be a starter. A first five-eighth who brings an all-round game, Sopoaga can run, pass and kick at the highest level. He is capable of taking a gap to threaten himself, but is equally capable of putting someone away outside him. His kicking game has been good the past two years, while he is possibly the best goal kicker of the options at No 10. On defence he is versatile, with his ability under the high ball giving his teams the option to play him at the back and bring someone stronger into the one-off channel. Aaron Cruden is putting up a good case, although his goal kicking ability since his knee injury is still unproven. Beauden Barrett will likely be used as a utility. If Sopoaga is not picked in the squad it will be big surprise.
Liam Squire
New Zealand has some good loose forwards at the moment, but Liam Squire is looking as good as most. A dynamic No 8 who is outstanding in the open-field, Squire has been key to the Highlanders' success this year. With ball in hand he is fast in the open, while he always goes forward in contact. His offload allows him to make use of support players, often drawing two defenders. On defence he is active and gets around the field well, although is capable of tightening up when needed. Breaking into the All Blacks starting XV will be tough, as Kieran Read not only plays the same position, but also the same role in the All Blacks set up as Squire has excelled in for the Highlanders. That said, his ball running ability is as good as most and if he keeps playing well, it will be hard to pass over him for a place in the squad.
Patrick Osborne
Like Squire, Patrick Osborne has some good players to beat on the wing. But if things fall into place he might just get a look in. Nehe Milner-Skudder won't be back for June, while Waisake Naholo's selection could be dependent on his form after his return. That leaves some spots vacant and Osborne must be in with a shout. A strong runner who can break tackles, offload and find his way to the line, Osborne is as dangerous as most with ball in hand. His defensive game has improved out of sight, as has his ability under the high ball, where he is safe in receiving and contests well after chasing. In an All Black team with threats all over the park, he would only have more space to attack and his ability to play the physical game could see him transition well.
Elliot Dixon
Elliot Dixon's name has been mentioned in these types of conversations for a while now. A multi-dimensional loose forward, Dixon can fill different roles and does so well. His speed in the loose allows him to be a threat in space, while his strength can make him tough to bring down. The Highlanders make use of this regularly make use of this, using him in the ranging role. He has a high work rate though and makes a lot of tackles and gets to a lot of rucks on his side of the field. When used in a tighter role, he is just as good. He brings physicality in contact, gets through a ton of work and is fast around the park. Those points are crucial, as it is the increased physicality and pace of test rugby that makes it a step up. He is good in the air too, providing a target and contesting well towards the front and middle of the lineout. He might have a tough time beating out the incumbents, but Dixon were to play for the All Blacks he would not let them down.
Liam Coltman
In the years leading up to the last World Cup the most talked about position was hooker. Dane Coles has claimed the first-choice role, but after that the spots remain wide open. Liam Coltman's name was one that came up regularly in those debates and had it not been for some average lineout throwing, he possibly would have gotten a crack. That cannot be used as an excuse now though; his lineout throwing has been accurate to all areas for the past two seasons. Around the park he is a hard worker and is strong going into contact, while being part of a very strong Highlanders' scrum. That provides contrast to Coles and Codie Taylor, both of whom excel in the loose. At 26 years old age is on his side and if he can keep playing well, he surely must not be far away from getting a chance in the black jersey.