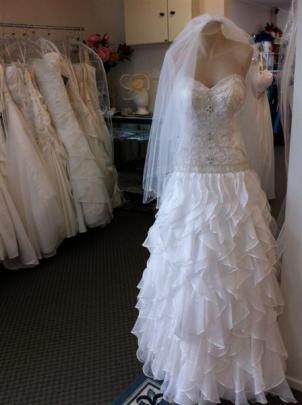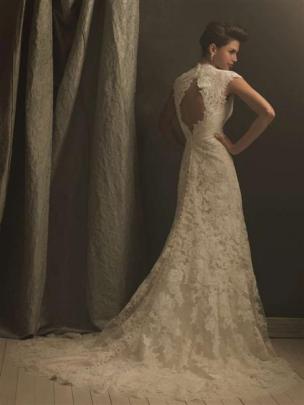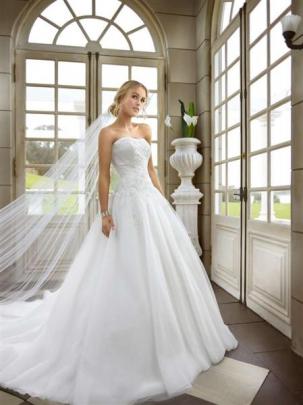 ODT fashion contributor Jennifer Hughson takes the pain out of choosing the perfect bridal gown.
As you float down the aisle, happiness bubbling up inside you like a freshly poured flute of champagne, you suddenly stumble, trip and before you can say "as long as we both shall live" you are flat on your face.
You inwardly curse your choice of fairy-princess-beaded-rouged-pleated-it-has-everything meringue teamed with sky-high stilettos and wish you had opted for simple elegance. Luckily, nothing is broken due to you softly landing on the 23 layers of tulle and net, except perhaps your dignity...
This, and many others, is a normal foreboding vision for your everyday bride-to-be. But, never fear, a vision it will stay!
I've been there, I know those panicked thoughts and I'm here to help you get through. This month, I will advise and guide you through the fluff, flounces and ruffles of arguably the most important dress of your life: the bridal gown.
After talking to experts of the wedding dress world and searching the vast interwebs (as well as being a recent bride myself), I'm going to share with you some very interesting slices of trend and information cake.
Let's start with style of dress. While there will always be a place for the strapless A-line gown, many brides are opting to have their shoulders covered. Lace straps, cap sleeves and illusion boat necks with lace motifs have been a dominant trend of late. Whether this is due to a more modest view coming into fashion or the simple practicality of having straps, we don't know, but it is classy and a great way of adding in a piece of the biggest bridal trend at the moment: lace.
Gone are the days where a mere mention of 'lace' brings to mind your nana's crocheted doilies or thick, curtain-like fabrics - this year's lace trend is delicate and subtle.
Use of lace is restrained, with motifs a more popular option than full length all-over lace fabric. Lace covering a bodice might ease off to disappear around the hips and turns into sheer, soft georgettes. The very knowledgeable Hilary Samuelson, owner of bridal specialist shop
House of Kavin
a, says a trend she has noticed lately is brides choosing to flatter their shape rather than hiding it. Silhouettes of nipped in waists which show off one's curves are popular.
I was pleased to hear that celebrating healthy figures is a trend as perhaps we are becoming more proud of our curves and femininity, rather than trying to dramatically lose kilos to fit the super-thin image we are faced with daily in the media to end up looking nothing like our usual self just for one big day.
Colour is another decision you will be faced with - who knew there are so many options for a 'white' wedding dress? Fifty Shades of White anyone? Ivory, cream, silk white, oyster, champagne, diamond white, egg shell, vanilla, ghost white, smoke white, dirty white, clean white, needs a soak white...
The most popular choice by an avalanche is ivory and off-white. This still gives the bride a 'white' dress but seems to suit more people's colourings than a white-white. The coloured option of the year is blush, a very pale pink, which has over taken last year's champagne option. Of course you get the odd bride who wants something super unique and adds a touch of bold red or blue with a coloured sash and sometimes a bolero. Often this is an older than the average bride (or a second wedding) who has the confidence to stand out completely. Good for her I say!
A sneakier way to stand out is brightly coloured shoes. Having bright red, pink or blue shoes on under your white gown is not unusual at the moment. It's a fun way to link in with your colour theme, your bridesmaids or just show off a little more of your personality. Plus it's always a bonus being able to wear them again too! I've also eyed up some that are completely covered in rhinestones. Absolute girly decadence!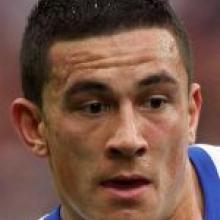 Moving on from feet to heads, let's not forget veils. You might be thinking "I'm not going to wear a veil", but seriously, make sure you try some before getting too set on not having one. So many brides try one and love it - it's the one day of your life you are going to get away with wearing one, so why not?? This year it's all about floor length, single layered, translucent veils. Elegant yet subtle, and easily removable for the reception should you wish.
You can team your delicate veil with a gorgeous sparkly comb or a small feathered fascinator so your hair is still dressed once you whip it out. There are so many options for head wear, as the lovely Lana Marston from Je T'aime Bridal Boutique pointed out to me. Recently she has noticed a trend of embellished vintage style headbands (think Downton Abbey) with brides quoting celebrity looks and movies. Just remember, veils don't have to be over the face or heavily embellished, just keep it simple. You want it to complement your dress, not fight for attention with it.
Well I've mentioned style, colour and accessories but you might be thinking where and how do I get my dress? How do I go about making my dream gown a reality? So many options, so many to-do lists... I see it in three realistic options so let's break it down: 1. Buy from a bridal boutique, 2. Buy online, 3. Get one created for you.
Bridal boutique
Visiting bridal boutiques and trying dresses on is a great way to find out what really suits you as well as gaining advice from the experts there to help. You need to allow a minimum of 6 months for this option as once you've decided on your dress, they will order in a brand spanking new one for you in the correct size. If you are doing wedding planning over the Christmas period just be aware that some shops (and the factories producing the dresses) may shut down for a holiday, so just allow extra time. These boutiques usually have dresses for every budget but be realistic in your expectations.
Remember, it is often said 'you get what you pay for'. Good starting places for bridal ready-to-wear gowns are Dunedin boutiques House of Kavina, Je T'aime, Dal Vivo and Elite Bridal Wear. These bridal wear specialists are just that, specialists. They have years of knowledge and experience up their lacy sleeves so don't be afraid to use it! "We are not just selling dresses, we are selling dreams" as Hilary (House of Kavina) put so nicely.
Buy your dress online
Another option is to buy online. Now this is an all-round risky operation in my opinion. While it may seem a more affordable option, you just don't know what you are buying. You can't see the dress in person, can't feel the fabric, can't try it on. People often end up spending more on alterations to fix it than what they did buying the dress! Purchasing online from a well established business may be a bit safer as you have the protection of using a known company who are generally pretty good at sorting any consumer issues, but you are still missing out on the whole exciting process of see, touch, discuss, feel - basic human interaction!
Have a dress made for you
A lot of brides want something completely unique and personalised for their magic day, so getting a gown custom-made for you is a great option. A lot of the bridal boutiques offer a made-to-measure service (as well as buying off the rack) so be sure to ask about it, particularly if you haven't got 6 months. Local fashion designers will sometimes create one-offs for people, budget allowing, so ask around.
There are made-to-measure specialists in Dunedin too, such as Pansy Couture, who are hands-on and personable, who will spend one on one time with you to create exactly the dream dress you haven't be able to find in the shops. There are options out there for every bride and every budget - don't be afraid to look around, ask around, be pro-active about getting exactly what you want.
I'll leave you with some advice from some experts in bridal wear:
"Wear what's best for you and your shape, not necessarily what's the latest trend." - Hilary Samuelson (House of Kavina).
"Be true to yourself, listen to yourself and be confident. Feel it in your heart." - Lana Marston (Je T'aime)
And my advice to you, glowing bride-to-be? Remember you don't need everything on this one dress! There is plenty of time and other occasions to use details you've come across in your planning, don't be tempted to go too far. Use your nightmarish visions to rein things in. Simple is beautiful, simple speaks. Breathe. Gut instinct is a wonderful thing. Except if it's grumbling, that's just snack time.
(See this Pinterest link for images of what we have discussed... http://pinterest.com/pansycouture/)