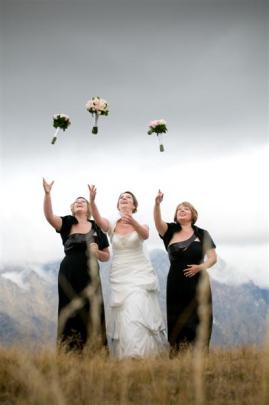 A bride chooses her attendants because they are important enough in her life for her to want them close by on her wedding day. To be asked is a privilege.
With the bride now often playing a major role in the organisation of the wedding, the help of her attendants beforehand can be really appreciated.
The chief bridesmaid has clear responsibilities.
She is the bride's right-hand lady, assisting her with her gown and in many other ways to ensure her day goes smoothly. It is the chief bridesmaid's duty to see that the veil and train are in place for the bride's entry into the church.
She holds the bride's bouquet during the exchange of rings and is normally one of the two witnesses to sign the register. At the end of the ceremony she leaves after the newlyweds on the arm of the best man.
Her duties to see that the bride is looked after continue throughout the reception. Other bridesmaids share the duties of the chief bridesmaid and might be assigned a special duty, such as compiling a bag of just-in-case requirements that may come in handy during the day.
Some chief bridesmaids also give a speech at the reception, but this is not mandatory.