Like us Southerners, Saudi Arabians enjoy hunting, but rather than pig dogs they use high-priced falcons, writes former Otago man Peter Heron.
Coming to the Maniototo from Auckland we were introduced to the realities of the hunting world, we would see bloodied hogs on ute bonnets and on one memorable occasion a dead deer in a front garden prior to Christmas.
This worried some of our younger students who were scared that Santa was a reindeer short!
The Saudi Arabians also enjoy hunting, but rather than pig dogs they use falcons and these may sell for NZ$10,000 to NZ$100,000, although the most prized ones can be over half a million dollars.
We had the chance to handle falcons at a local cultural event. As we were obviously foreigners our group was pulled into a tent for mint tea and dates and given the chance to nervously handle the birds.
As always the Saudis were very hospitable and I don't think that people outside the country really appreciate how pro-western the kingdom is.
There are also unexpected contrasts, from Waipiata the nearest McDonalds is an hour's drive away in Alexandra, in Riyadh there are three branches within ten minutes of our home and a New Zealand Burger Fuel at the compound gates.
The majority of the falcons used each year in the Arabian peninsula are imported from overseas. As you would expect they fly in, surprisingly they use the passenger cabins of commercial airliners to do so.
The local airlines accept falcons as passengers and on the way back from the Dubai Sevens my wife got to meet some.
Their handlers were really friendly and like any hunter they were enthusiastic about their sport.
The peregrine falcons were quieter and took up less space than the usual neighbour on a flight, but you made sure you kept your fingers safe.
Qatar airways allows a maximum of six falcons in the main cabin, a remedy for any "Snakes On The Plane".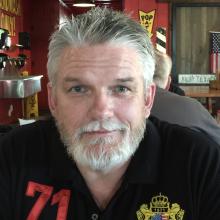 - Peter Heron was principal of Maniototo Area School from 2007-2010 before moving to become Head teacher of an Auckland high school. After this post he left New Zealand in 2015 to become the high school principal of one of the most prestigious schools in Riyadh, Saudi Arabia. This school has 1600 students from 70 nationalities aged 4-18 and has over 20 New Zealanders in its staff including its principals and owners.
Peter and his wife Deborah have a home in Waipiata and in this blog he aims to contrast life in Saudi Arabia and Central Otago.