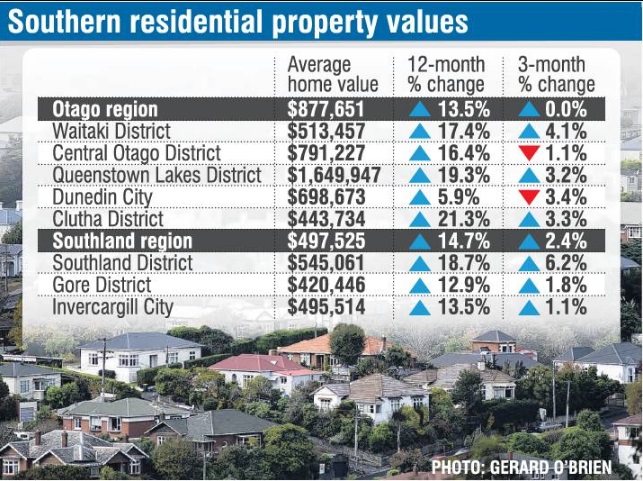 Increasing interest rates and tighter lending rules have caused Dunedin's house prices to take a sharp fall and a mortgage broker is warning worse is yet to come.
QV released its latest monthly house price index today which found Dunedin's residential property values fell by 3.4% in the three months to April, to an average of $698,673.
The city joins three others nationally — Palmerston North, Wellington and Hastings — which experienced drops of 5.4%, 3.6% and 3.4% respectively.
The biggest drop in Dunedin's market occurred within the first-home buyers' segment.
Local QV registered valuer Rebecca Johnston said the city's northern and southern suburbs had posted falls of 4.6% and 5.5% respectively over the past three months.
Given the greater proportion of first-home buyer properties in both areas, the fall was expected because of rising interest rates and tight lending criteria affecting that part of the market most.
However, the amendments to the Credit Contracts and Consumer Finance Act, set to come into force next month, would be positive news for that market.
More properties were being listed with a sale price and fewer were being auctioned or sold by negotiation, Miss Johnston said.
Whereas last year it was tough for prospective buyers to find houses, the easing market and a greater number of listings meant properties were taking longer to sell now and vendors were having to reduce their price expectations.
Dunedin's MortgageMe director Daryl Taylor said there was a ''hangover'' of possible buyers who could not get approved after banks tightened monetary policies last year.
A group of those buyers, mostly first-home buyers, had seen the market slowing and thought they did not have to rush anymore, Mr Taylor said.
The Reserve Bank was ''pretty keen'' to keep raising interest rates to help get inflation under control.
Interest rates had not been above 4% since about 2009 and as rates went up it would come as a shock to buyers between 20 and 35 years old who were coming off fixed-term rates later this year.
''It doesn't matter how much you pipe interest rates it isn't going to bring down groceries and petrol prices. The worst is yet to come,'' Mr Taylor said.
It was a different story in the Queenstown Lakes district area, the region recording the second-largest capital gains in New Zealand last quarter.
Home values increased by about 3.2% in the three months to the end of April to an average of $1.649 million.
The average price was 19.3% higher than this time 12 months ago, but it has only increased 4.9% in the past six months as the market slowed.
The Waitaki district's average price was up 4.1% in the three months to April to $513,437.
In Clutha, its average rose 3.3% to $442,734.
Invercargill has experienced a marginal increase in values for the quarter, up 1.1% to an average of $495,514.
The average price in the Southland district, which covers Winton, Lumsden and Te Anau, increased 6.2% in the quarter to $544,061.
Nationally, the average home decreased in value by 2.2% over the quarter, the average now sitting at $1.04 million.