He has worked in children's television, done computer graphics for live sport and helped construct the simulator used to train New Zealand's air traffic controllers.
Now Sam Barham is focusing on the gaming industry through his latest venture, Balancing Monkey Games.
About 18 months ago, the Dunedin man started working on a computer game, now called Before We Leave, as a hobby.
He submitted it to the Kiwi Game Start competition at the New Zealand Game Development Conference in August last year, where it was one of four finalists.
That led to him being noticed by a successful New Zealand game developer who funded him to work full-time on the game for a year, starting in December.
Mr Barham recently announced the game publicly, including a trailer video, and the response had been ''absolutely amazing'', he said.
Mr Barham has been a software developer for more than 20 years, having completed a computer science degree at the University of Otago.
His lecturer in computer graphics was also a director at Animation Research Ltd and needed someone to run the animation for the Squirt children's television show.
He was involved with the animation for cricket games, travelling around the country and to India and Bangladesh.
He also worked at ADInstruments and other places in Dunedin and spent several years, about a decade ago, working at game development studio Straylight Studios, making computer games.
The inspiration for Before We Leave was one of the floats at the midwinter carnival in Dunedin a few years ago - a whale with a building on its back.
Before We Leave is a non-violent city-building game set on multiple planets. After a disaster, the inhabitants emerge from a long period hidden underground and have forgotten the world above. It is up to the game player to guide them back to prosperity.
Even though he was often described as a solo game developer, it was very rare that a developer did everything themselves, and he had an artist in Poland, and someone else doing sound.
Access to the game had not yet been provided, apart from the trailer, but he hoped to start that process this week so people could give it a go, even though it was not close to being finished.
Things had changed since he was a boy and games came on a disk and could not be changed; now they could be released and go into early access while it was being improved. He hoped it would be finished next year.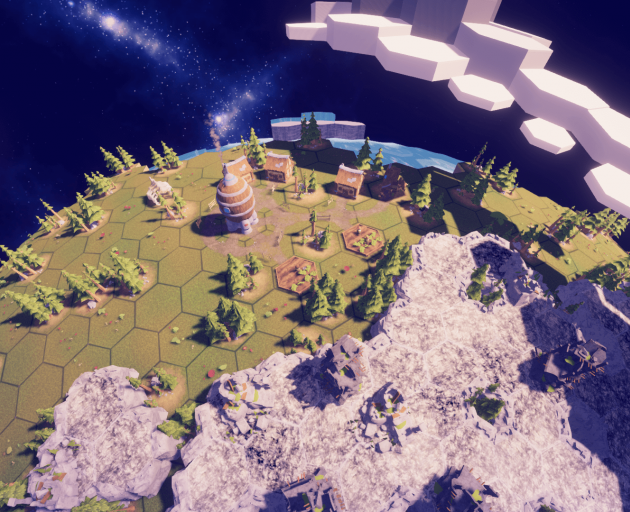 Gaming was a big industry; the global industry was worth $US139billion ($NZ206billion) and, in 2018, New Zealand game development revenue hit $NZ143million, a 43% increase on the previous year.
Initially, Mr Barham was a little worried about working by himself from home, having previously always been part of a team. But it had worked out fine.
Creative journeys had their ''ups and downs'' but the game development community was ''amazing'' in that everyone was so open, helpful and kind.
That, possibly, was a reflection that it was not an easy area to be successful in.
While people heard about the 'big successes'', what they did not hear about was those striving away in their basements ''never making a dime''.
''Being successful in this is not easy. We're all in it together, to a certain extent,'' he said.
The response to Before We Leave had been better than he could have hoped for but exactly how the game would go, once it was released, was an ''enormous unknown''.
Any game had a shelf-life and Mr Barham had lots of ideas - ''far too many'' - for other games. He already knew what the sequel would be to Before We Leave, if there was one.