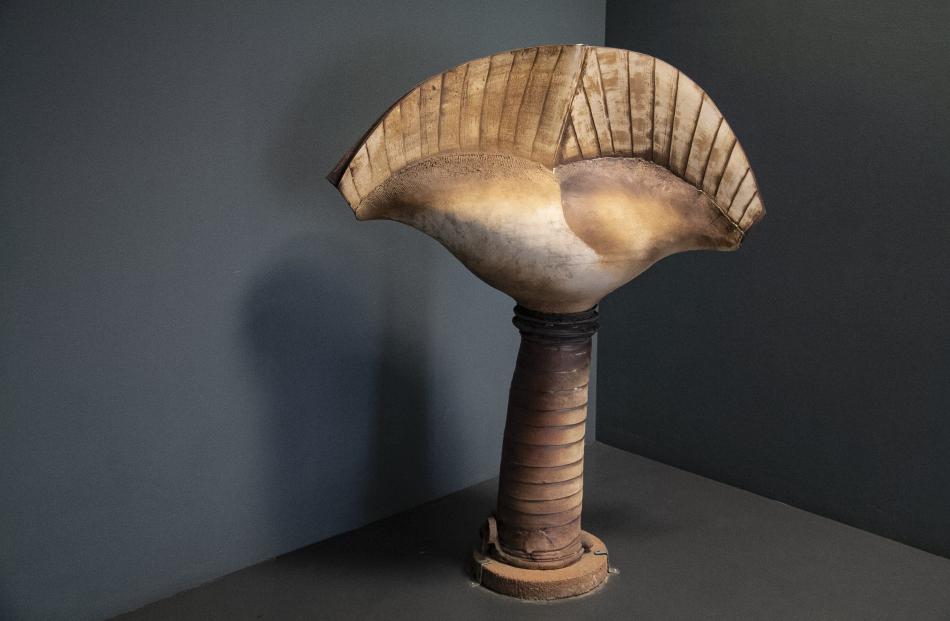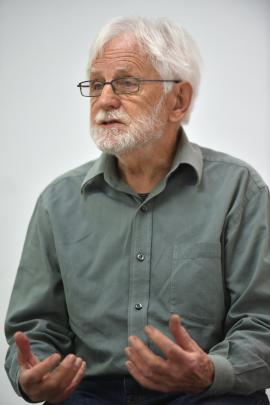 Tribute is being paid to long time Dunedin potter and educator Neil Grant with a survey exhibition and book on his life's work. Rebecca Fox talks to author Peter Stupples about Grant's extensive career.
Always striving towards the unreachable, searching for elusive satisfaction.
This is how artist and ceramicist Neil Grant describes his passion — ''pottery is my challenge striving toward the unreachable — creating something which I cannot define, probably will not attain, yet which compels me to turn and assemble and glaze and fire ...''
It is a quote which begins his story in the book Neil Grant Master Potter, by Peter Stupples, to be released to coincide with a survey exhibition of his work at the Otago Polytechnic this month and the 60th anniversary of the Ceramics' Association of New Zealand, of which he is a founding father.
Unfortunately Grant, now in his 80s, declined to do interviews, so Stupples provides the insight into the widely respected potter.
Stupples worked with Grant in the Dunedin Art School's ceramics programme for 12 years.
''I'd often walk down to the studio where Neil and Lawrence [Ewing] would be working as I was enamoured of their work.''
So he was delighted to be invited to write about Grant, visiting from his home in Wellington to talk with Grant and sourcing archival materials from his family, the art school, New Zealand Potter magazine and other institutions.
On his visit he discovered Grant's home to be like a museum of ceramics.
''Every single room is full of his work, his garden and garage — you can't get away from it.''
This passion for ceramics began for Grant, surprisingly enough, after he completed his fine arts degree at Canterbury University.
He did his degree in sculpture — mostly plaster, clay and stone-based modelling and carving — but had a strong focus on drawing.
It was not until he began secondary teachers training in Auckland that he was introduced to the practice of pottery by his principal lecturer, Peter Smith, who promoted teaching of ceramics in schools.
''The hands-on aspect of working with clay appealed to the ever-practical Grant.''
He became involved with the Auckland Potters Group and ceramicist Len Castle, often working at his studio at weekends mixing clay and grinding pots out of the kiln.
Grant began teaching art at Mount Albert Grammar School and built his first oil-fired brick kiln in the backyard of his rented cottage.
He also got involved with the Auckland Studio Potters and was a founding member of the New Zealand Society of Potters established in the early 1960s. He took part in many of their exhibitions and by about 1963 had enough pots to begin selling his domestic wares, supplying work to the New Vision Gallery in Queens St, Auckland.
''I was lucky to have their support and encouragement. Kees [the owner] had been taught in Europe in the Bauhaus style and occasionally took classes lecturing us in those methods and aesthetics of design which I still use myself and is also the methods I teach to my students ... [At that time] I liked the salt glaze ware and the stoneware glazes [that] were mature with a nice range of colours and wax resist decoration and some simple brushwork,'' Grant told Stupples.
However, Stupples says Grant was never drawn to popular tastes for their earning value.
''His work was avant-garde in the sense that his own choices of forms for function, domestic or decorative, shifted the parameters of the public's own discriminating taste for well-designed and crafted ceramics.''
A significant moment in Grant's career occurred in 1965 when Shoji Hamada, a Japanese master potter, visited New Zealand.
He had heard of him and his work through Bernard Leach, who regarded Hamada's work highly.
Grant got time off from his teaching position to go to Christchurch to attend workshops with Hamada.
''He was only a young man in his 20s and Hamada was in his 50s or 60s but they hit it off.''
So Grant became Hamada's ''electric boy'', kicking the pottery wheel when instructed to by Hamada as he demonstrated techniques in demonstrations and workshops.
That gave him a unique view of Hamada's hands as he worked, enabling him to watch closely how the potter's fingers moved over the clay to produce his pots and cups and his throwing technique.
''From then on Neil concentrated on making pottery in a Japanese and Chinese manner and he stayed with that right up to his latest works, such as the copper red pot on the cover of the book. It's the most perfect work Grant has ever made.''
When Hamada left Christchurch he gave Grant the decorating brushes he used in New Zealand as well as a pot. Grant still has those brushes and also made more in the same style himself.
Hamada also visited Grant's studio in Auckland, where he selected a pot to take home with him.
''The quieter gradualism of Hamada particularly suited Grant's natural temperament.''
In researching Grant's career, Stupples found he could see a line in Grant's development as he became more and more skilled.
''He is a thinking potter.''
Grant's other great skill was teaching, whether in classrooms or in demonstrations, often travelling overseas to visit potters or give demonstrations. He was also a Government-funded art teacher in Fiji for a few years.
''He was very generous with his time and with his students. He's always willing to give a hand.''
During his time in Fiji he learnt a lot about the island nation's own clay pottery traditions, rare among Pacific Islands.
In the late 1960s he became a star performer at annual exhibitions and provincial pottery shows around the country.
Even though he is now retired from his position at Dunedin Art School after more than 40 years, Grant still turns up to the ceramics studio to teach anyone who is interested, Stupples says.

Grant juggled his own work with teaching, often working until 3am in the morning on his pottery after a full day at school.
''He needed to do this in order to earn money. He had a commercial arm to his pottery, teapots and mugs and things which he sold around Auckland shops and studios to supplement his income as he had three children by this stage.''
By the 1970s Grant was recognised as a notable potter on the international stage, showing work at the World Expo Exhibition in Osaka, at the QEII exhibition in Fiji and his work ended up in the International Museum of Ceramics in Geneva.
Grant also visited Japan for the first time in 1984 as part of a group of craft artists who visited pottery sites across the country, including Hamada's Mashiko pottery, where he paid reverence to his mentor who died in 1978.
For all the travelling he has done, Grant has never been influenced by the works he saw, remaining true to the Japanese and latterly Chinese styles he favours.
''While there was a time when you could not tell a Neil and a Hamada apart, he moved on.''
He occasionally did one-off works, like the mural at the entrance to Dunedin Hospital or the Nikau piece in the Otago Polytechnic occupational therapy foyer.
Grant became the course supervisor for the ceramics courses at the DSA, emphasising to students that it all began with drawing, urging students to draw every day.
''You can't draw if you can't see,'' Grant would say.
He was involved in the expansion of the DSA's ceramics courses and was instrumental, along with Ewing, in developing the school's distance learning ceramics courses.
''Grant was almost obstinately non-academic. He refused to read books. He was a hands-on person who knew a lot more than he let on. He pretended to be a bumbling potter but he was by no means that.''
Stupples saw the '''bumbling'' as a shield for Grant's modesty, but his work showed he was more than just a potter.
''It shows a great deal of knowledge. He is very skilled and has a great deal of passion. Work of the quality of his is rare even amongst potters.''
TO SEE
Neil Grant Survey Exhibition and Public Programme, Dunedin School of Art, October 8-28
City of Literature book event, An evening with the Author and Artist, October 20, 6pm - Dunningham Suite, Dunedin Public Library (alternative venue at Level 2 is O Block Hub, School of Art and Architecture, Anzac Avenue, Dunedin)
Neil Grant - meeting the potter, DSA, October 24, 10am-4pm.