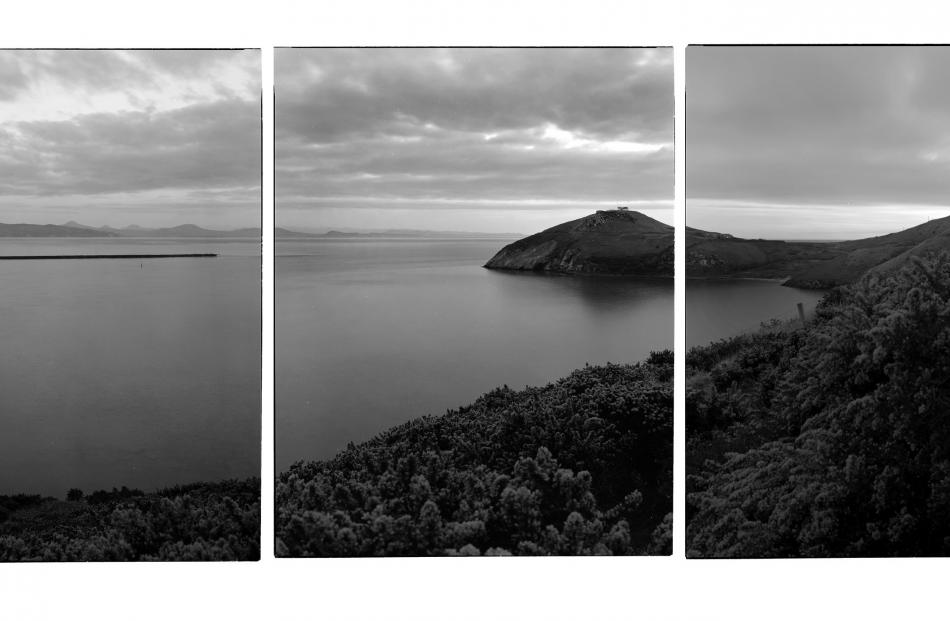 Mark Adams looks through his camera lens with a Pakeha view while his wife Areta Wilkinson looks at her work with a Maori point of view. They tell Rebecca Fox how they meet in the middle.
One is a photographer, the other a jeweller, but over the years their work has taken surprisingly similar paths despite their different viewpoints.
Areta Wilkinson (Ngai Tahu) creates silver and gold jewellery reflecting her culture's past while Mark Adams uses a 19th-century camera to capture images of New Zealand's past.
Both are long-term practitioners of their crafts and their latest exhibition, opening at the Dunedin Public Art Gallery tomorrow, features work from their past and present, created individually and together, about the South Island (Te Waipounamu).
''Our works in this show are talking to each other.''
Their latest project was part of Dr Wilkinson's PhD studies looking at early Maori adornment in the South Island.
''We have our own design language which is different from other parts of New Zealand. It's always important to acknowledge what has gone before, and as a contemporary practitioner it has made me rethink my recent work.''
She received permission from museums and galleries for the couple to handle early Maori taonga, the earliest known objects made by Maori in the South Island from between the 13th and 16th centuries.
''It is a once in a lifetime opportunity to be handing this cultural material. It was quite special,'' Dr Wilkinson said.
''Our Maori ancestors made them, wore them and they've travelled through time.''
When most think about Maori adornment, the tiki comes to mind but the couple discovered a variety of necklaces and pendants made of shell, shark teeth, moa bones and even fossils.
''Some pieces are iconic to Ngai Tahu. Some might not have been seen before.''
Talking to Maori elders about taonga and what it means to them had been a big learning curve for her, she said.
They took the pieces into a dark room, placed them on photographic paper and exposed them to light for the length of time they wanted before developing the picture.
''The object leaves an imprint. The eye registers a white object but it is the object's shadow. The light has gone around and bounced between the object and the paper so it is giving you a false 3-D image,'' Mr Adams said.
The process had inspired Dr Wilkinson to create a collection of jewellery featuring her own take on the adornments, with a ''smoky'' finish referencing the shadow in Mr Adam's prints.
''We've got shadows of the earliest cultural production and the most recent cultural production which are our own works.''
They were displayed for the exhibition on a group of life-size plywood figures - based on her Ngai Tahu artist whanau - painted black that would greet visitors to the gallery.
''Again, it's bringing people into the gallery and into the conversation.''
The idea for the work came out of visiting museum collections in Cambridge, England, which featured Maori taonga.
''We didn't know exactly what we were going to do. I started making cyanotypes and then moved on to silver bromides.''
Dr Wilkinson was intrigued by the objects, wondering how they got there and what they were doing there.
''When working with taonga objects abroad, you are bringing a shadow home, which is significant from a Maori point of view.
''This is what is cool about this exhibition, as you can share the material with people back home.''
To look deeper at the origins of the adornments, Mr Adams went back to where the items were discovered, taking images of those landscapes such as Moa-Bone Point Cave (Te Ana o Hineraki) in Sumner, Christchurch, where adornments had been discovered by Johann Franz Julius Haast, who began archaeology in New Zealand and established the Canterbury Museum.
''So it's a crucial site for what came out of there, who took it out of there and what they did with it,'' Mr Adams said.
Dr Wilkinson said, ''By putting things together, situating the objects within the landscape and with people, it builds up a picture that is at the heart of cultural identity.''
It was not their first collaboration. That involved Mr Adams taking a photograph of a dead albatross he discovered on the beach one day and Dr Wilkinson crafted a 19th-century-style round locket to hold it, transforming it into a memento.
She went on to create other similar lockets featuring Mr Adams' photographs taken of early Maori sites around Wanaka.
Mr Adams uses the large ''ungainly'' 19-century field camera because he believes it takes the best pictures.
''It makes the best images in terms of their quality. It's the nearest thing to the naked human eye there is.''
He based his work on doing the opposite of 19th-century Dunedin photographer Alfred Burton, who photographed the colony and its inhabitants as it developed.
''He had his headquarters about 100m from here [DPAG]. I'm his descendant in a sense as a fellow photographer but I'm undoing what he did. I'm Alfred Burton in reverse.''
Instead of photographing Maori and Pacific Islanders, Mr Adams said he was turning his camera 180 degrees and pointing at ''us whities'' and their relationship with Maori.
''I'm consciously using Burton's camera, although with modern film, using the same techniques as him. I'm not running around with a digital camera to do this as it wouldn't work.''
The exhibition featured a photo series on Dusky Sound based on a painting by William Hodges created in 1773, of a Maori standing on a rock challenging Captain James Cook and his crew as they rowed towards him from HMS Resolution.
''I wanted to make a response to this really important moment in our history, so what this isn't is Hodges' view of what was there, but the man-standing-on-the-rock's view - a complete 360-degree view of the sound in that first crucial encounter that was the beginning of everything.''
The silver bromide prints used by Mr Adams were reflected in the silver and gold jewellery Dr Wilkinson created.
''I like that the silver bromide has a genealogical relationship with silver,'' she said.
There was also a connection with gold in the exhibition as some of the prints were gold toned in a process to make the images last longer.
One of the ''quintessential'' pieces in the exhibition for Dr Wilkinson was a gold tiki she had created from West Coast gold.
''Gold has a life essence because it comes from the land and Maori view gold as quite special.''
The exhibition had been titled ''Archives'' because it reflected the knowledge all around - in the landscape, in the museums and libraries and in people, she said.
It also pulled together historic work including a series of botanical-themed brooches created by Dr Wilkinson many years ago.
''I'm really pleased to see them. They're like old friends.''
They also contrasted with her more recent work, which she described as ''smoky and kind of grungy''.