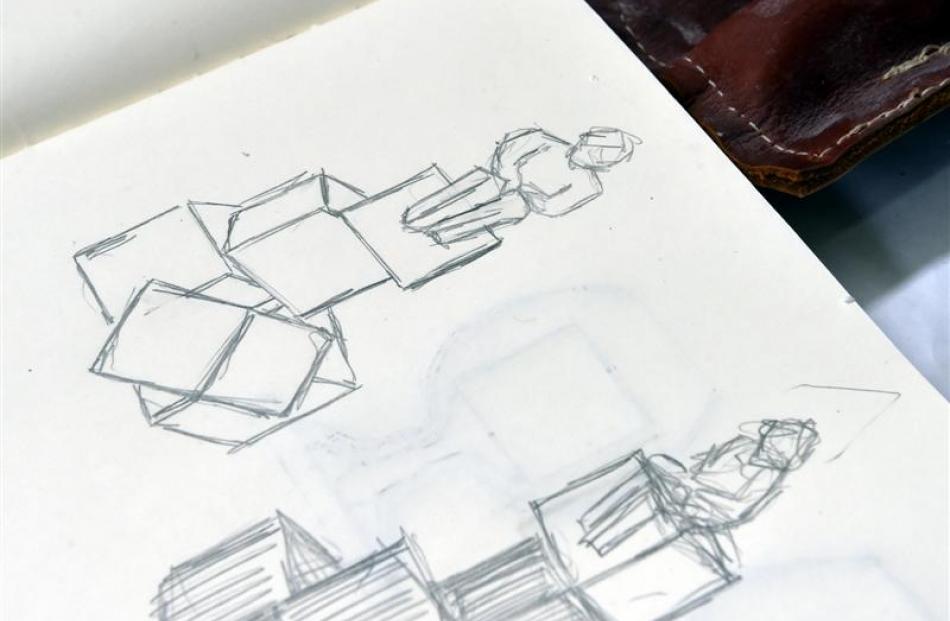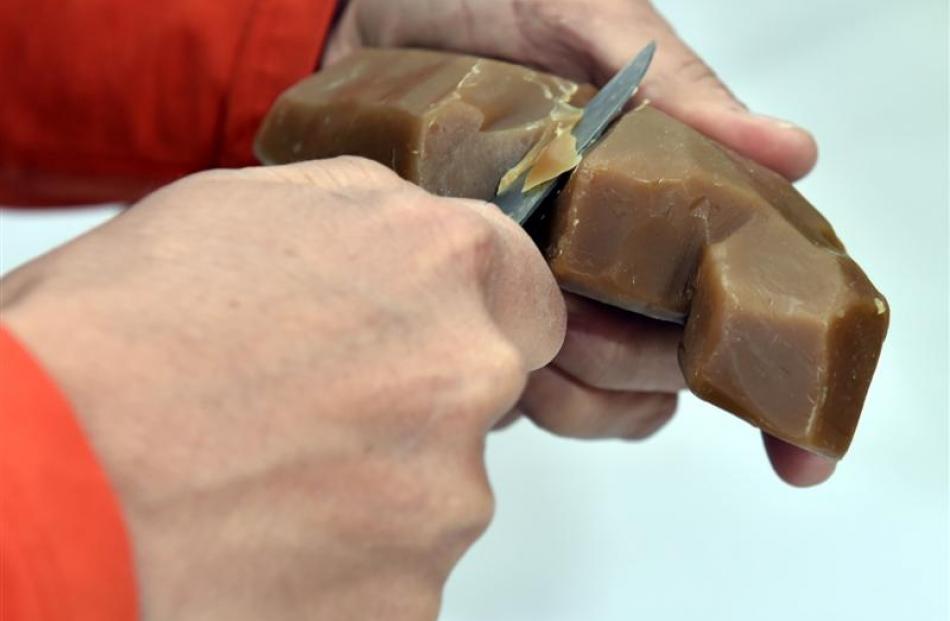 Patience and practice are the two key things to casting glass art. Rebecca Fox talks to Di Tocker in her borrowed studio space at Dunedin Art School about her journey with glass.
Waiting days if not weeks to find out if a piece of art you have created is successful or not is not everyone's cup of tea.
But Waikato artist Di Tocker would not have it any other way.
She knew as soon as she picked up a piece of glass, aged 18 at a leadlight night class, she'd found her niche.
It led to years finding her own way with leadlighting and working in the industry in Melbourne before she committed to studying glass art at RMIT in the city.
There she discovered glass casting, something she had never heard of before and the same thing happened, she said.
''With that first piece I thought, what a cool process this is. This is me.''
So she fought to major as a glass caster rather than a glass blower as the rest of her class did and graduated in 2002.
Glass casting involves a long process, from making a wax model of a piece, casing it in clay and then steaming it to a point the wax ''drips'' out.
The glass is then inserted into a crucible (terracotta pot with a hole in the bottom) and heated to melting temperature, allowing the glass to drip down into the mould.
It is left to sit in the kiln to slowly cool down before it is taken out and the mould removed, revealing the glass sculpture, which has set solid in the void left by the wax.
''It is a very laborious process.''
While she can make 150 glass pieces a year, a small piece could stay in a kiln for seven days cooling down, while a larger piece could take a month to anneal.
But it was that process which attracted Ms Tocker, as she described herself as very ''process orientated''.
''One day I'm wax modelling, another day doing moulds then another finishing and polishing, so every day is different, which is part of the attraction.
''I'm a typical mum, a multitasker, with several different processes on the go.''
However, it had been a rocky road to where she was, as she became very disillusioned with the glass and art scene in Melbourne, so when she moved back to New Zealand her glass work and supplies stayed in boxes.
''I had a full body of work in those boxes but I had babies and then went back to leadlighting.''
A chance meeting with another glass caster in Hamilton convinced her to get back into it.
''I said to her, no way, it's so hard no-one does that, but it turned out she did.''
Ms Tocker joined the other artist, working out of her studio in her garage.
''We shared a studio for four years.''
Having a body of work in boxes meant Ms Tocker was able to exhibit her work quickly and get back into the work.
''My littlies were babies so they went into day care and I played about and got work out there, slowly building up a business.''
She started teaching glass casting to help bring in some money and realised her practice was growing, as was demand for her work.
So she took a leap of faith and had a purpose-built studio erected at her home and revelled in having power points and water where she needed them.
She worked five days a week creating her art and commissioned pieces, as well as glass trophies, and also ran an online shop for glass-casting supplies.
''I got really stuck in that first year and had a fantastic year, but six months later ended up quite depressed, to the point I could not enter the studio without bursting into tears which was quite scary for someone so confident and full-on.''
It forced her to re-evaluate her life and work.
''I had an amazing job I loved, a great family, husband and kids but realised working by myself I had become disconnected and hadn't realised it was happening.''
So she got herself an assistant, a ''stress saver'' to work with her two days a week who helped her accomplish more and gave her another reason to turn up to work.
Her helper was able to do some of the simpler work which she enjoyed, but which had become boring to Ms Tocker, freeing her up to create.
Her experience in Melbourne led her to import black lead crystal because of its clarity and softness, enabling it to be polished.
She imported 250kg of glass three times a year, with it arriving in large buckets. It costs about $41/kg.
''It's a lolly shop I have all for myself to choose from.''
Some of it came coloured and she had a palette of about 25 colours she used.
The cost of glass alongside the investment in kilns - she has three - meant it was an expensive craft.
''It has taken me a long time to be able to build up to make large pieces. There can be thousands invested.''
It was also expensive to make a mistake.
Recently she pulled one of her rectangle sculptures out of the kiln to discover it had a crack in it - it had 18kg of glass in it.
''It was a mistake on my part with the kiln settings. I said one very strong swear word and then moved on. I try to learn from it.''
Quite often it was ''up to the kiln gods'' as to how the glass came out, she said.
The kilns were fired up to 850degC for about 24 hours before being cooled down over days or weeks to avoid the glass going into thermal shock.
Sometimes it was just ''magic'' how the glass and colour merged together to create an effect she had not anticipated, but the process was also the result of ''years and years of experience'' of how glass behaved.
In her rectangle works if there was 10kg of glass, she would use 3kg of colour and 7kg of clear glass.
''I know my colour palette really well. There are no books on this. It's all up here [she points to her head] and in copious notebooks.''
It was only when she took the mould off she truly knew how a work had turned out.
The glass is quite rough and sometimes she used a grinder to polish the work and other times she might just polish the base to help direct the light through the piece.
Her work always featured figures and usually involved groups of figures and how they related to each other, but in the past few years she had shifted to a stand-alone figure and its relationship to the place or objects around it.
To make it all work she contracted out tasks such as photography, graphics and websites.
''All I want to do is make glass and there is just not enough hours in the day. So her visit to Dunedin and a residency at Dunedin Art School was a welcome relief, she said.
''This is thinking time.
''I'm flying a bit solo, hence the exhibition name.''