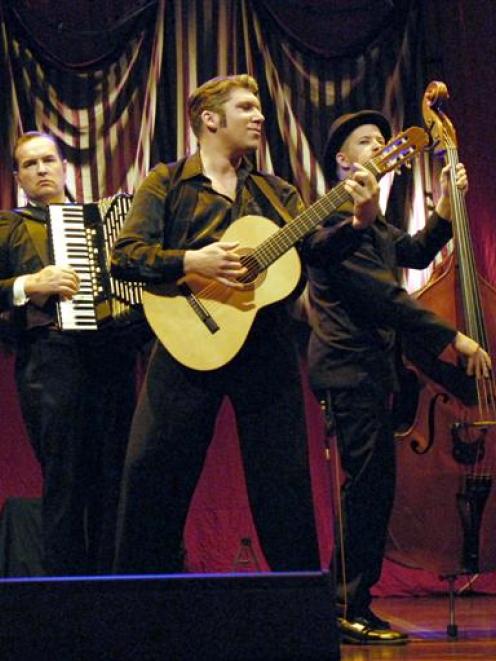 Mikelangelo and the Black Sea Gentlemen bring the dark and mysterious art of kabaret noir to the Glenroy Auditorium tonight.
Described as "part-crooner, part-beast possessed", Mikelangelo is joined by Rufino the Catalan Casanova, The Great Muldavio, Guido Libido and Little Ivan.
For the uninitiated, what is kabaret noir and why are you drawn to it?
"I dreamt up the term 'kabaret noir' to describe the style of Mikelangelo and the Black Sea Gentlemen, as we have always fallen between cracks of existing genres.
"I like the sound of the two words together as they roll off the tongue.
"It's a nice compliment that that other groups now use the term `kabaret noir' and that it is referred to as a legitimate genre."
Sounds like there could be a touch of Transylvania in there; what is it about Eastern Europe?
"My father was born in Croatia, and he taught me the important foundations of the accent and schooled me in the modes of melodramatic temperament and wild gesticulation.
"My mother, who is English, rounded this out with her eccentric intellectualism and healthy servings of Blake, Coleridge and gunfighter ballads at bedtime."
You've been described as part-crooner, part-ringmaster, part-beast possessed; which part do you enjoy the most?
"Well, Mikelangelo is a man of many moods and tastes, but I must say I have a soft spot for crooning, it is the incurable romantic in me.
"I could happily coo love songs like a nightingale from sundown to sunrise."
Tell me about the crooning; how did that develop and where did it take you before you took up with the Black Sea Gentlemen?
"Crooning has taken me . . . from garbage dumps to opera houses and everywhere in between.
"My baritone vibrato saved my skin in the Philippines many years ago. I was stranded for a week in Manila without a penny to my name, but was able to sing for my supper, a roof over my head, a marriage proposal and a ticket home."
Your performances have a huge accent on fun; has anything ever got out of hand on stage?
"It's true, our performances can get rather excitable.
"Though no-one has ever been hurt at one of our shows, I no longer smash glasses on stage, I thought it would only be a matter of time before someone lost an ear or an eye.
"Now I keep my antics to grandstanding and to sitting on the laps of audience members.
Tell me about the light and shade of The Black Sea Gentlemen?
"The first show we created was entitled Songs to Illuminate the Dark and that overarching concept continues to inform our work.
"Much music and culture today only deals with the surface. Mikelangelo and the Black Sea Gentlemen plunge into the metaphysical depths and come back to surface with little shining jewels to display to those who are willing to look and listen."
You travel with Guido Libido and Rufino the Catalan Casanova. Sounds like life on the road could be interesting if somewhat compromising at times?
"If I am to be compromised by someone, as inevitably we all are in life, I am happy for [it] to be by the Black Sea Gentlemen.
"We all live in cities and towns far flung from each other, so when we catch up to tour it is a pleasure to see one another and journey together."
You are in Dunedin for a few days. No doubt you'll be on the look out for the dark spots?
"I must admit that once I am done singing about decomposing skeletons, sodomy and tormented souls, I am quite happy to settle with a peppermint tea or go for a stroll in the forest or splash in the sea.
"That said, this is my first time in Dunedin, so if you know of any local haunts with low lighting, good brandy and comfortable armchairs that one can disappear into, listening to the strains of Dean Martin on the stereo and conversing with an incredibly interesting, ridiculously beautiful woman, I am open to suggestion."