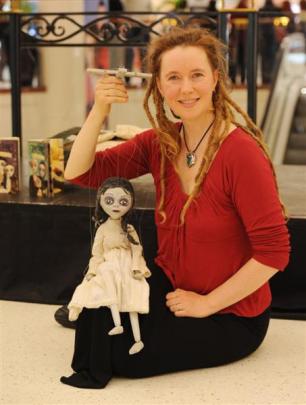 Wow.
Billy Bragg.
But, I defer to reviewer Ian Chapman's more informed opinion.
The confetti from the seventh Otago Festival of the Arts is still being swept up this morning.
The event has certainly had some highs.
The festival has been bringing truly world-class artists to Dunedin since 2000 and it has done that again this year.
It also puts Dunedin on the world map. I'm still in contact with artists from the 2006 festival who will never forget their time here.
We are an attractive proposition to international performance artists. An exotic badge of honour. The Vienna Boys Choir was fair chuffed to perform so far from home.
The Otago Festival of the Arts was launched in 2000 to celebrate the excellent and extraordinary.
New director Alec Wheeler always had a tough act to follow in founding director Nicholas McBryde.
The festival had some tough breaks this year, too, not least with the unco-operative weather. Many evenings I had to reluctantly drag myself out into a wintry night.
And, with the Dunedin Town Hall and Glenroy Auditorium out of action, alternative new venues had to be drummed up.
The Dunedin Public Art Gallery lift breaking down on the eve of the Late Night Festival Club was also unfortunate. It resumed its ups and downs on Friday but, by then, the damage was done.
It not only denied access to many older people and those with mobility issues, but prevented artists from using instruments like pianos.
It was a shame slow initial ticket sales made the trust board blink and pull the pin on Carnival of Souls.
Festival tickets are not cheap and our innate Presbyterian parsimony runs deep. But, you would pay three times as much to see some of these acts overseas. Try getting a Vienna Boys Choir concert ticket for 40-odd bucks anywhere else in the world.
To grow, the festival has to be accessible and the free Fortune Theatre production Play was a wonderful initiative.
Traditional favourites, such as St Paul's at One, also once again proved popular.
I'm not a religious person, but I love going to concerts at St Paul's Cathedral. I always seem to travel to a very special place when I'm sitting in there.
It is a precious gift from our forefathers.
We do have an amazing arts culture here and the Otago Festival of the Arts is the pinnacle of that.
But, it is vital that there is a very clear delineation between the arts festival and the annual Dunedin Fringe Festival, which is on again in four months.
Otherwise, they will inevitably end up competing for the same acts.
If that happens, the format is doomed.
The secret to a great festival is to be constantly striving to up the ante. To make each and every festival a little bit better and more polished than its predecessor.
That has to be the goal.
The test now, after the bills are paid and numbers counted, is to concentrate on the 2014 festival.
This is, after all, our celebration of the excellent and extraordinary.
---
Nigel Benson's pick of the crop
Sexiest act: Revolver by Fuse Circus was both risky and risque.
Star of the show: Hahn-Bin, Amadeus Leopold ... call him what you will. The Korean violinist was simply world class. 
Best set: Hard to go past Revolver at Sammy's, but Play in the London Blitz rubble of the Standard Insurance Building pushed it close.
Biggest smile: Singer Whirimako Black after being given a couple of muttonbirds at the end of her performance.
Second-biggest smile: Vienna Boys chorister Felix (13) after being given an All Blacks poster.
Long way from home: Dunedin was the furthest the Vienna Boys Choir had ever performed from Austria and they were pretty proud about that.
Funniest moment: Festival director Alec Wheeler trying to drag trust chairman Malcolm Farry into a broiling mass of half-naked Brazilian dancers. Never. Going. To. Happen.
Biggest regret: Not seeing Amadeus Leopold's Till Dawn Sunday. I sat through a rehearsal and spent a bit of time with old Amadeus, so skipped off to another show that night. I deeply regret it. By all accounts his concert was a festival highlight. Here are just a couple of comments I heard:
"The performance of the decade. I was moved to streaming tears" - violinist and Dunedin City councillor Lee Vandervis.
"Without any doubt the best violin performance I've ever seen" - art critic Peter Entwisle.
Surprise hit: The Fortune Theatre production Play was a very clever and skilful piece of theatre. And it was free.
Could do better: The kapa haka welcome for the international guests at the Dunedin Public Art Gallery was lame.
The festival is all about celebrating culture and we should be proudly showing off our own.
Waiter outfits just didn't cut it in this company.
It was hard not to compare it with the stunning, costumed kapa haka which greeted the All Blacks at Dunedin airport last month.
Most embarrassing moment: In a story on Samoan play Where We Once Belonged I wrote the Samoan name for Europeans in my notebook as palagi, but managed to type it into the computer as pagali. Where do you hide?
Most inspirational: Hatched. A beautiful, talented, deaf woman is rejected by the Australian Ballet and becomes a puppeteer.
Melbourne performance artist Asphyxia is a special person and Hatched was a special production. The final show yesterday afternoon was a sellout.
Biggest disappointment: I was woolgathering in a wonderful place at poet Brian Turner's reading at St Paul's Cathedral. THEN A CELLPHONE WENT OFF BESIDE ME. The moment was instantly lost. Cheers for that.
Most colourful: Tumbling, spinning, jumping. Ho hum. But Bahia of All Colours by dance troupe Bale Folclorico da Bahia was simply stunning. The Brazilians were quite incredible. Fearless, exuberant and all the time with big, genuine smiles on their faces. These were incredibly gifted people doing something they adored. Excellent and extraordinary.
Best festival moment: The spontaneous dance party created by the Brazilian dance troupe and Samoan performers from Where We Once Belonged at the Dunedin Public Art Gallery after the kapa haka welcome.
Most touching moment: A woman with an intellectual disability was so excited by the dancing Brazilians that she joined in. She was immediately swept up into the arms of a broadly grinning Brazilian dancer. 
---