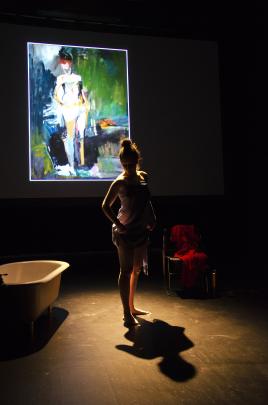 What goes on in the mind of a nude model while she poses for a painter? Quite a lot, Charmian Smith discovers.
A naked person can be very powerful, Harmony Stemple says.
Having worked as an artists' nude model and now playing one in her one-woman play Human Fruit Bowl, the American actress is probably more experienced than most of us at appearing in the nude before others.
She premiered Human Fruit Bowl in Prague and toured it to the Amsterdam Fringe and to Hong Kong, as well as winning the Fringe New York City Excellence Award.
Now she is bringing it to the Dunedin Arts Festival, as well as playing in Wellington, Queenstown and the Nelson Arts Festival next month.
However, her on-stage nudity is completely contextual, as she plays an artist's model and it is part of the story, she explains by phone from New York where she lives.
''It's definitely different doing it for an audience because it's not a controlled environment [as it is in an artist's studio]. I'm a bit more aware of it when I'm on stage because I don't know who these people are and I don't know what could happen but every experience I've had has been very positive.''
After a Prague performance, one of the director's friends said that throughout the show he had felt very self-conscious of his own body and felt as if he had to stay still, either in solidarity or that he felt he was modelling as well, she said.
Part of the play is inspired by her time working as an artist's model when she was a student and a struggling actor trying to make her way in New York.
She did not enjoy waitressing, a common way out-of-work actors earn a living, and modelling was a good niche for her.
Working regularly for a year and-a-half was therapeutic and meditative; there was plenty to time to go over what you needed to do throughout the day and figure out life, and some of that came through in the play, she said.
''I thought it a good way to get in with people who were creative. It's an interesting job because you are sitting there doing nothing, literally, but at the same time you are really important to a whole bunch of people, the thing they are trying to get inspiration from.''
Having been galvanised by a one-woman show she saw in Prague, where she lived for a time, she asked her friend Andrea Kuchlewska to write the play for her.
It includes many themes to do with art and artists' models.
''Part of it is inspired by my time when I was a nude model, but it's not biographical in any way, but some of the things are illuminated in the play. It also looks at other artists' models and the myth of Pierre Bonnard and his model, and the relationships between artists and their models. It's a sort of stream-of-consciousness text.''
It also includes a slide show, as part of an amateur art lecture, and is set up like an art class, with four poses of 20 minutes then a five-minute break.
The audience was encouraged to draw her during the modelling sessions and a few did, but most stopped because they could not concentrate on what she was saying as well, she said.
''When we were working on the piece, Andrea and I talked a lot about the power of the naked person and, while you feel you are doing nothing, the artist is really dependent on you and we talk little bit in the show about the importance of the model's mood. My boyfriend is actually a painter and we've had discussions about how if I come in and I'm not having a great day and I model for him, he can tell and it really affects the work he does. It's an interesting relationship you have with your painter, trying to be as energised as possible and as present as possible, as it can really affect the art.''
In the play she also delves into the mystery of French painter Bonnard (1867-1947) and his model and mistress Renee Monchaty. Monchaty allegedly killed herself in a bath when Bonnard suddenly married Marthe de Méligny, who had been his mistress, life companion and model for many years.
Legend has it that because of this Bonnard subsequently painted numerous versions of Marthe in the bath.
''When Andrea delved deeper into the research, she realised that every single source she found that said anything about Renee Monchaty differed from the last one about when it happened chronologically. There's no real reliable source and we weren't able to find any primary sources - she didn't write a note or anything. She is mentioned in all his biographies but that's all there is about her. there no information about how old she was or where she grew up.''
Some people think the paintings of the nude in the bath are of Monchaty, but they are actually of Marthe, she said.
''He was painting in his home and she happened to be there. Such a lot of paintings are of rooms he lived in and the fact that she had a skin condition and was often in the bathtub - he painted what he saw.''
---
See it
Human Fruit Bowl by Andrea Kuchlewska, featuring Harmony Stemple, is at the Playhouse Theatre from October 17 to 19 at 8pm.
It is also at the Queenstown Arts Centre on October 22 at 7pm.
---