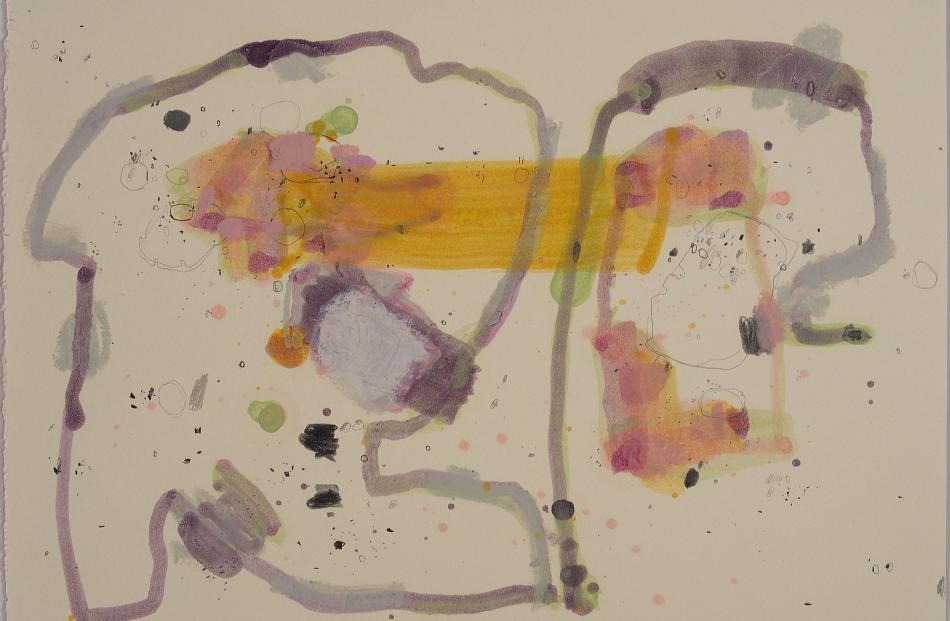 Having won the National Contemporary Art Award this year, Dunedin artist Kim Pieters is looking forward to showing in her home town, she tells Rebecca Fox.
Artist Kim Pieters never knows what she is going to end up with when she starts a drawing or painting.
''It's a stranger to me.''
She has certain criteria and experiments with that criteria, and it plays itself out in series - in the past few years it's been eight.
''It always surprises me. There is a lot of chance involved. That's exciting.''
There are decisions at each stage, which are not arbitrary.
''Each mark is necessary,'' she says.
While described as an abstract painter, Pieters now calls herself a nonrepresentational painter, as she believes it better describes her process of creating art.
''The way I work is quite emergent or adaptive or even evolutionary.''
The word abstract had ''nuances and meaning'' that does not fit her work, she says.
''I have an image but it's not a representation of something already there, that's quite specific and distinct within the discourse around abstraction.
''I'm not expressing my feelings, I'm dealing with the material and that's a very particular space - a very interesting space for me and hopefully for the viewer as well.
''As it's a relationship with the non-human world.''
As far back as a survey show at Art Space in 2012, when there were discussions around abstraction, she felt there needed to be a new language for it.
''The general public has a problem with abstraction. It doesn't have to.''
She found the language she needed more in science and philosophy, than in art history.
''I'm a big reader of philosophy and poetry so that is thrown into the mix.''
Pieters describes herself as an ''autodidact'' (self-taught), as she did not go through art school.
''I've made my work instinctively for 30 years. When people have talked to me about art history it hasn't made any sense to me. I'm using art history's or art's frameworks - I'm working on a square or rectangle, I'm making images but my instinct towards it is very aligned towards the cells of the body.
''It's very interesting to find out linear systems were very much living systems and biology knows about them.
''As a human body I felt a great sympathy for those systems. So I felt my work came from there.''
While Pieters produces paintings as well as drawings, she considers herself a drawer first.
''One ends up on paper the other board.
''I'd love my painting to be as free as my drawing. I'm getting there - it's a great aim of mine.''
Working on board is also a lot slower for Pieters.
The title of each work and her shows are important to her as it starts the conversation with the work.
''They all have different characters and different energies about them.''
It has taken 10 years of research for Pieters to get to the point of realising why she makes work as she does.
''I have come out the other end doing exactly the same work as I did 20 years ago but I know exactly what I'm doing now consciously. It took a long time.''
Pieters said the past 10 years had been a ''hugely worrying'' time, which led her to look at the biographies of other painters to work out if they also hit the impasse she had.
''I had to work through a whole lot of things. I couldn't understand why I didn't get this as it seemed quite simple but that was because it was quite complex.''
One of the reasons the process took so long was her fear that she might lose the ''intuitive space'' she works in but discovered putting a little ''order into the chaos'' was all she needed. ''I'm over it now, thank God.''
It also meant she had chosen not to be photographed anymore as she finds it ''damaging'' and a violation of privacy.
''It is the work that I make public not myself.''
She works every morning - no ''machines'' are turned on in her house until after noon.
''It's my sacred time when I paint. It's really intense and takes a lot of energy. I'm exhausted by 12 and need my lunch. The afternoon is for computer work and reading - it's good, I get a lot done.''
Pieters has now reached a point where she is very happy with her work. ''I'm looking forward to the next 10 years. I'm at a point I'm doing really good work and I want to consolidate that in the next 10 years.''
Winning the Waikato Museum National Contemporary Art Award this year with her work The Meaning of Ethics ''completely surprised'' her.
''I was really honoured. I felt very moved by it. I think it honoured my 35 years of practice, not just the painting itself. It acknowledged all that work.''
Pieters does not usually enter competitions but was urged to do so this time by a friend and was encouraged when she heard the judge was City Gallery Wellington director Elizabeth Caldwell, whom she knew was aware of her work.
''My work is very particular. It has a very particular look.''
Caldwell described Pieters' winning work as ''stylistic, technical and conceptual excellence, as well as originality'' and showing a ''deft command of the abstract painting tradition''.
''It is a painting which asks for an intellectual and emotional response.
''The title and catalogue statement provide clues to the concepts being explored, such as the role of an individual in the community, and that experiences from the past aren't lost, 'beauty is alive in memory'.''
Pieters openly acknowledges that while her work is ''critically positioned'' in the New Zealand art world, the general public are mostly unaware.
''I'm quite happy with that.''
For her, the 2014 survey show ''What is a life'', held at the invitation-only Adam Gallery in Wellington, was the most important recognition of her practice. ''It's highly prestigious to be there. It's a very intellectual gallery.''
To assist with selling her work she recently signed on to be represented by Bowerbank Nino in Auckland and is represented by Nadene Milne Gallery in the South Island. In Dunedin she ''has'' Inge Doesberg Gallery and holds an annual drawing exhibition with the gallery at which she offers her work at half the market price.
''I like that gesture for locals. It means they can have works in their home and it builds an understanding of my work - it is not easy work to understand.''
In her latest exhibition she is showing two sets of new drawings - ''share'' and ''capacity'' - and within each set is eight works. The eight works are numbered from one to eight.
''There is a unity in a set, which is quite important to the way I work.''