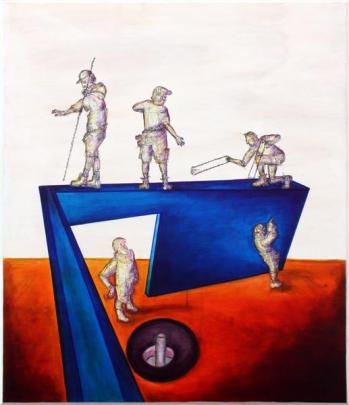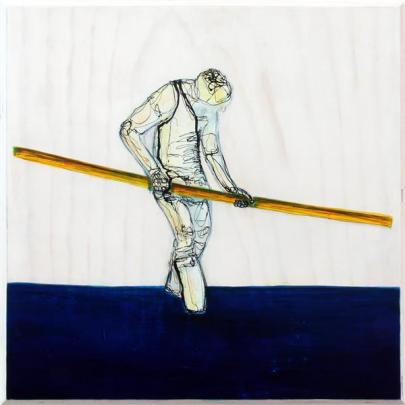 As a ''mature'' emerging artist, Aucklander Teresa H.R. Lane is keen to get her career started. Rebecca Fox talks to her about taking the big step of her first solo exhibition here in Dunedin. 
Telling her builders they were going to be her ''muses'' got Teresa H.R. Lane laughed at.
They would have laughed even harder if they knew she described their work building her family's concrete home as ''modern dance''.
But that view helped her develop her idea for a series of artworks based on their work and has ultimately led to her first solo show, ''Men At Work'', being held in Dunedin at Milford Galleries.
''I's really exciting.''
It is only her second trip to Dunedin after an earlier group showing at Milford and she was looking forward to returning.
''It's a wonderful opportunity. As a mature emerging student I'm not 20, with 20 years to develop my practice and succeed at it. I'm 45, so I have to get out there and push as much as possible.''
It means a lot to the artist, who spent nearly 20 years in the wine industry before taking up the paintbrush.
''I was passionate about wine. I taught it and sold wine but then I had kids and thought perhaps I did not want this life.''
While she had always wanted to pursue a ''creative life'', just what that meant had never been cemented in her mind, she said.
''I grew up in a very artistic world in Northland in the '70s ... When I was 18 I spent a summer with the late Yvonne Rust, who taught me painting.
''I had a lot of women artists in my life that influenced me.''
It was when she was pregnant with her second child that she decided she wanted to go to Elam art school.
Once her youngest was at school she fulfilled that dream, studying painting, photography, sculpture and, disastrously, she said, screen printing.
''It's a funny thing how you rapidly learn what you're good at. I loved sculpture and, as my practice develops, I think I'll bring sculpture in.''
After a ''lifetime'' working, ''the world opened up'' when she went back to study.
''The perception I had of art going in was not the perception of art I had when I came out four years later.''
Her graduation from art school with a bachelor of fine arts (hons) degree in 2014 corresponded with the start of her family's building project, so her husband insisted she take on the day to day project management role.
It was a ''serious concrete'' construction project.
''I knew nothing about building. Here I was, after four years at art school, sitting here with steel capped boots on and shorts, having a cup of tea with the boys.''
So she decided to get out her camera and document the process.
''I told the boys, 'You'll be my muses.' They laughed at me. But, as they built the house, I took thousands of photos of the men working.''
Once the house was complete, she was left with the photos but no idea what to do with them.
''I sat for days and days looking at them, not knowing what to do.''
She had always drawn people, as she liked their form and loved their expressions and gestures and watching how they behaved.
So she drew 400 pieces based on the photographs, thinking she would see where that took her.
''I spent the next three months drawing religiously every single day. Then I wondered what to do with them.''
She decided to upload them to a social media site to get some feedback, wondering if anyone would pay for one.
''I got the most incredible response; people wanted to buy them. That's when Milford saw them.''
From there, her first series of work developed, which was shown last year in Auckland.
For her Dunedin show, she ''upped the ante a bit'' and, with her understanding of sculpture, looked for what material would best suit the work.
''All our ceilings are whitewashed plywood and I thought that would be really beautiful to paint on. It's a big waste product in concrete builds and it all gets discarded, so I thought I'd use that - it has a relevance to the project too.''
It was a vigorous process and if something did not work the first time, she could sand it off and start again.
The sandwiched edges were mitred to celebrate the material and the grain was allowed to show through the colour wash of the art.
A palette of earthy orange - the vibrancy of the clay foundations - and cobalt blue, which was reminiscent of the plastic wrap used to ''cure'' the poured walls, was used in the works.
The building scenes she painted became more ''whimsical, kooky'', developing a life of their own, she said.
''There is a sculptural energy to how many men it takes to pour a concrete floor - you could have 10 people pushing it into corners and carrying heavy hoses. It's like a dance: not ballet, more modern dance.''
While some could see the construction references, others think it could be dancers or acrobats.
''It's about capturing the movement and essence of how men work. It's beautiful to watch.''
Milford Galleries' Lisa Wilkie said they were looking forward to showcasing Ms Lane's first solo exhibition.
''The roles of the workers who populate the paintings are unspecified, but Lane's vigorous line drawings suggest a robust, physical dynamism.''
---
See it
Emerging artist Teresa H.R. Lane's first solo exhibition, ''Men at Work'', opens on Saturday and runs until May 8 at Milford Galleries Dunedin.
---