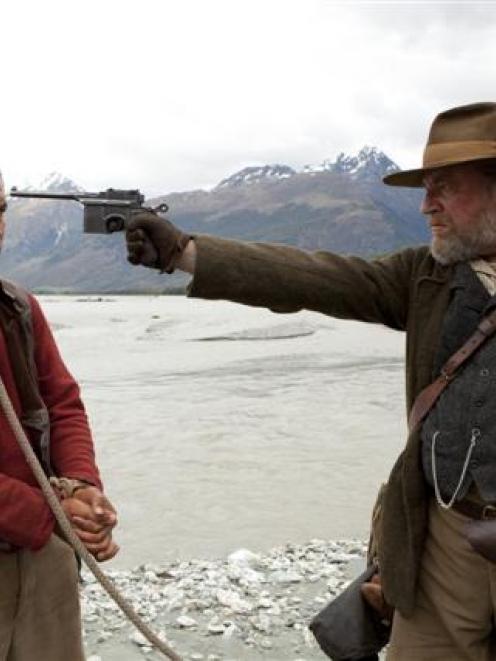 > Tracker

2 stars (out of 5)

Director: Ian Sharp
Cast: Ray Winstone, Temuera Morrison, Andy Anderson, Gareth Reeves, Mark Mitchinson, Tim McLachlan, Daniel Musgrove, Steve Reinsfield
Rating: (M)

Kind of like a 100% New Zealand commercial with stylistic elements borrowed from The Piano and Utu, Tracker visually ticks many of the right boxes but fails in one vital component - dark, brooding suspense. It has all the potential to be an invigorating cat-and-mouse chase through the back country, but Tracker ultimately suffers through poor direction.
Temuera Morrison is Maori seafarer Kereama at the turn of the 20th century. Taking a portside break, Kereama is framed for murder and quickly scarpers. By strange coincidence, an infamous refugee from the Boer War has arrived in town, Arjan van Diemen (Ray Winstone), who happens to have learned tracking skills from the Hottentots.
So far not so good.
Anyway, Kereama takes off and heads up the coast to Karekare Beach where he gives everyone but Arjan the slip, emerging in the Queenstown Lakes district.
The two leads eventually arrive at the glaringly obvious understanding that both The Maori and The Boer have suffered at the hands of The British.
Caught somewhere between wry pastiche and serious thriller, you are never sure whether to laugh, or grip the armrests. Given an idiosyncratic "cinema of unease" treatment, Tracker might have been an entirely different prospect.

Best thing: Ray Winstone not only nails an impenetrable Afrikaans accent, he is pretty mobile for a 54-year-old.
Worst thing: The continuity, just how is an Auckland West Coast beach suddenly sandwiched next to Central Otago?
See it with: Biltong.
- Mark Orton