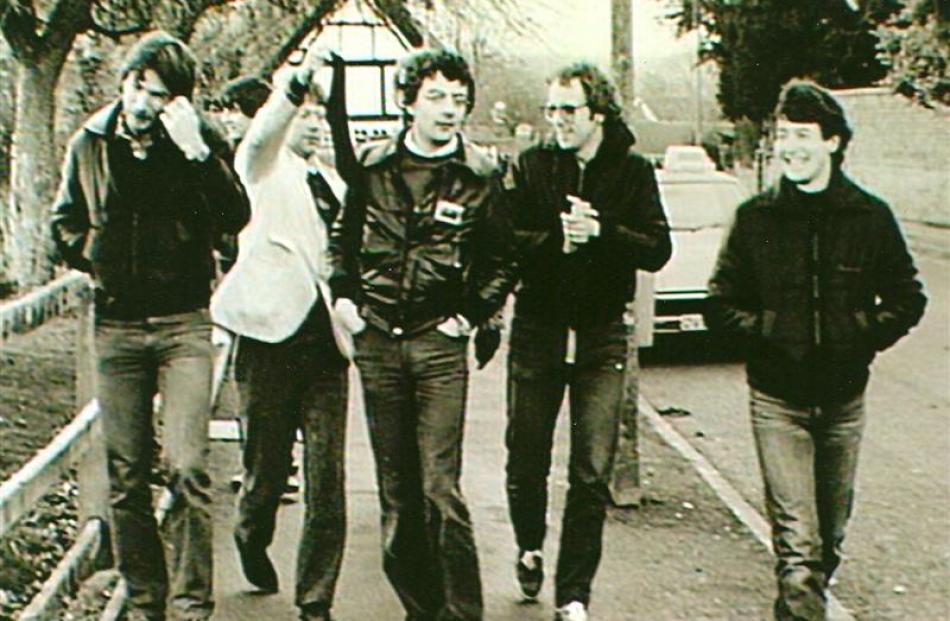 They provide the rock-steady heartbeat at the centre of so much music. But what do we really know about the bassists? Jeff Harford talks to Dr Rob Burns.
There's not much about Rob Burns that hints at a rock 'n' roll past. His sandy, collar-length hair, perhaps? It could do with a trim.
In every other respect, Burns presents as your garden-variety academic - affable, measured, and "on the right side of 55". But then, there are the stories of him hanging by his ankles from fourth-floor balconies . . .
London-born Burns is a senior lecturer in contemporary music at the University of Otago and last year completed a PhD on revivalism in English folk-rock.
He is also one of those quiet men of rock - a bass player.
"Quiet achiever" might be a more apt description of Burns. Besides developing the university position he has filled since moving to Dunedin in 2001, raising two sons and regularly stepping out with local pianist Trevor Coleman's jazz fusion outfit Subject2change, he's been working on his studio tan.
"In the last year, I think I've played on six commercially released albums," he says. "I had no idea that was going to happen."
From the age of 18, Burns fast-tracked a freelance career in session playing that saw him share the stage with American soul legends Sam and Dave and Isaac Hayes, record with rock heavyweights such as Deep Purple's Jon Lord and Ian Paice, and tour with prime Animal Eric Burdon.
Jamming with the likes of Pink Floyd's Dave Gilmour added more notches to the in-demand bassman's belt.
"Everybody wanted to play lead guitar," says Burns, reflecting on his early decision to swap trumpet for bass after hearing the Spencer Davis Group's bass-heavy hit Keep On Running. "Lead guitar, drums, or singing - they were the chick magnets - whereas bass for me was much more visceral.
"It was so fundamental. It didn't take me long to realise that bass kind of anchored everything."
A couple of Burns' early semi-pro prog-rock bands reached the brink of signing with major record labels without ever crossing that elusive line. Tours, BBC broadcasts and session work then became the logical staples for a "rock-oriented bass player who could read music".
Television work and jingle writing filled the gaps between Burns' touring and recording stints. His credits include Not the Nine O'Clock News, Red Dwarf and French and Saunders, - work that stemmed from contacts made during a six-month stint alongside one of rock's superstars.
Burns' successful audition for the 1979 West End production of rock opera Tommy "opened a lot of doors". It all began with an ad in music magazine Melody Maker.
"I've forgotten how they worded it, but it was 'major guitar player seeks band for West End project', or something like that," says Burns. "It turned out to be Pete Townshend. Through two or three quite tortuous auditions, including quite a long interview with him, I got the job."
One subsequent assignment would deliver all the highs and lows of the rock 'n' roll lifestyle. Touring the world with Eric Burdon, of the Animals, between 1984-86 "was the most fun I've ever had in my life", says Burns. "But it came at a cost."
"It broke up my first marriage, though I have to say I was one of the cleaner-living ones. For some of the guys in the band it was a different port in every town, as it were. Obviously, there was drink, seas of drink . . . We lived a very false life of luxury.
"I always feel that I stepped back from an abyss. I made a lot of friends who are no longer with us."
Burns might himself have met an ugly fate if a couple of war stories are to be believed. One saw him pull the trigger on a security guard's pistol in the back of a tour bus in Israel. To everyone's relief, the weapon wasn't loaded. Another found him dangling from a hotel balcony in Zurich after band members decided to swap rooms - from the outside of the building.
"When I woke up in the morning I was four floors up with jagged ornamental rocks all sticking out, and the only safety net I had was that the guitarist was holding my ankle."
With that, Burns blows a sizeable hole in the stereotype of the bassist as the cool, quiet one among rock's guitar slingers. This is not the sort of thing we expect from our Wymans or our Entwistles, is it?"
Actually, I think it's true - that quiet man thing," says Burns. "Most of the bass players I know are a bit quiet and happy to get along.
"I think we're the more profound members of the band. Maybe guitarists and singers are meant to be the stars?"
However, most bass players I know are loud on stage, desperately trying to make their own statement. And it's as true of me as anyone else - I rarely get told to turn up."
Whatever else might be true of Burns, his treasure trove of musical experiences would set most rock aficionados salivating. An early-to-mid-'90s stint with a gentlemen's club jam band that regularly featured Pink Floyd's Dave Gilmour in its revolving guitarist spot provided many of Burns' "pinch myself" moments.
"That was certainly an experience," Burns recalls, "though my favourite guitar player for that gig wasn't actually Gilmour; it was a chap called Clem Clempson from a band called Colosseum. He, for me, matched [Eric] Clapton in terms of blues players.
"But there was one night where not only did we have Gilmour, we had Mick Ralphs from Bad Company. And they were duelling. I stood there that particular night thinking, 'I quite like this job'."
Burns' transition into academia began with a phone call in the late '80s from a friend who had recently graduated from the Guitar Institute of Technology in Los Angeles and was aiming to start something similar in London. Burns was a natural teacher, having travelled the country sporadically as a clinician for the musicians' union, and the pair soon established a school.
Now at the University of Otago, he's charged with moulding a new generation of musicians, though he demurs at the suggestion he's part of some establishment rock 'n' roll factory.
"I don't think you can actually teach rock, as such," he says.
"Rock means a great number of things to a great many people. What we can do is say, `It took me 10 years to learn how to play this or write that. We can show you in a much shorter space of time'."
Burns' own cross-genre wizardry is still in high demand. He plays bass on recent releases by local acts Dr Glam, Subject2change, John Egenes and Knives At Noon, is working on an album of Latvian folk music with fellow academic Dan Bendrups, and features on upcoming albums by the Verlaines and Low Speed Bus Chase.
As for promoting the notion of bass players as frustrated guitarists ("not a fallacy") or quiet-spoken background-dwellers ("bookish, perhaps"), Burns prefers to focus on the positive.
"I've always seen the bass player as the hinge between what goes on musically and what goes on harmonically. I think we generally talk the same language.
"You can always stand at a bar with a bass player and guarantee you'll have a really interesting conversation. We have our own little world in which we live."