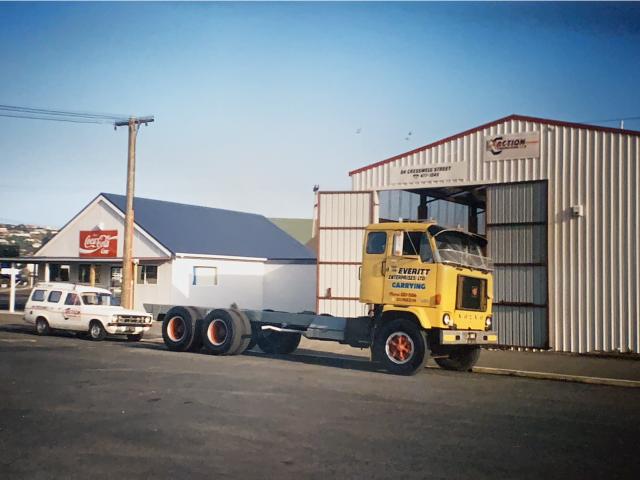 Action Engineering
Inventive Dunedin company Action Engineering celebrates being a business success story for 30 years.
Action Engineering opened its doors on August 1, 1991, and has since become a New Zealand industry leader in technically complex engineering projects.
Mark started Action Engineering with the support of his late father, Barry Cameron, and mother, Sandra. Initially Action started with just two engineers, and has now grown to employ around 40 staff. Mark still heads the business as CEO, co-owning the business with Dave Crosland and Allan Golden. Sandra also still has shares within the business.
Their extensive premises on Dunedin's waterfront at Fryatt Street are made up of three workshops. Covering more than 4500sq m, the workshops are all serviced by overhead cranes with up to 10,000kg capacity.
Action Engineering's services cover an extensive market. Projects include industrial systems and structures, road transport, marine, three waters infrastructure, transportation, and logistics, general and industrial engineering, and these projects have been undertaken all over New Zealand.
Their portfolio of services includes (but is not limited to) concept development, shop drawings, fabrication, installation, and commissioning of projects for both municipal and industrial clients.
As part of the Christchurch infrastructure rebuild, Action Engineering was proudly involved with construction of over 20 new water and wastewater pumping stations to help the city get back on its feet.
Action Engineering has an ongoing association with the Youth Employment Success programme in Dunedin, employing and supporting local young people as they begin their engineering careers. In the past, Action Engineering has helped over 20 individuals through their apprenticeships.
CEO Mark Cameron started his working life as a mechanical fitter on New Zealand Electricity Department (NZED) power stations in the lower South Island. When leaving the NZED, Mark moved to Dunedin after gaining his trade certificate in fitting, turning, and machining. He started working as an engineering contractor, before forming Action Engineering two years later.
Thirty years in business is a major milestone, and it's something Mark and the team are extremely proud to have accomplished. Integrity and determination have been the drivers of their success.
"I have been very fortunate to have been surrounded by great mentors over the years, and I have really appreciated the wisdom and guidance offered by some amazing people."
"The simple message is to be real, work hard, and celebrate success!"
Effective governance is critical to success, and Action has recently created a new-look board, with three new independent directors working alongside our three Dunedin-based executive directors.
The directors and management of Action Engineering would like to acknowledge the invaluable input from all past and present staff in helping shape the company into the successful business it is today.
The Action Team also extends a big ''thank you'' to all of the advertisers who have supported this feature, and is honoured to have such an outstanding level of support.
Intelligent solutions
Since Action Engineering was founded in 1991, the company has earned a great reputation for completing major projects in the water and wastewater sector.
Specialising in complex treatment plants for both the New Zealand and international markets, Action Engineering strives to deliver high quality infrastructure on time and on budget.
Civil and mechanical projects involving treatment processes for both potable water and sewage have formed the foundation of the company's workload since it began 30 years ago.
Today, Action Engineering extensively uses the sophisticated AutoCad and SolidWorks 3D computer-modelling software to design components for project concepts and to produce accurate drawings for staff to work from.
''We try to exploit the benefits of 3D modelling in most projects we undertake,'' Action Engineering founder Mark Cameron says. ''We work hard to keep learning, and to integrate new technology both within our team, and with our supply chain.''
The company has completed work on over 80 plants of varying configurations for both the domestic market, and also for export to countries including Indonesia and Taiwan, and to the Pacific Islands.
 Mark and his team have spent a large amount of time pioneering new technology and treatment methods involving anaerobic bacteria and biogas.
''Usually this involves a degree of 'imagineering', where we have to develop new methods of treatment without any real reference points,'' he explains.
''We often work with clients and scientists to take these projects from pilot plant trials right through to full-scale treatment processes.''
Over the past few years, Action Engineering has been involved in major water and wastewater treatment plants and pumping stations New Zealand wide.
These projects have involved fabrication and on-site erection steel building structures, gantry cranes, pipe systems, access platforms and ladders, odour-control systems, and also the fabrication and installation of many smaller aspects, including hatches, handrails, pipe supports and access ladders.
"We are currently building relationships with European technology partners to introduce cutting-edge products for the Pacific market to be manufactured under licence right here in New Zealand... exciting times ahead!"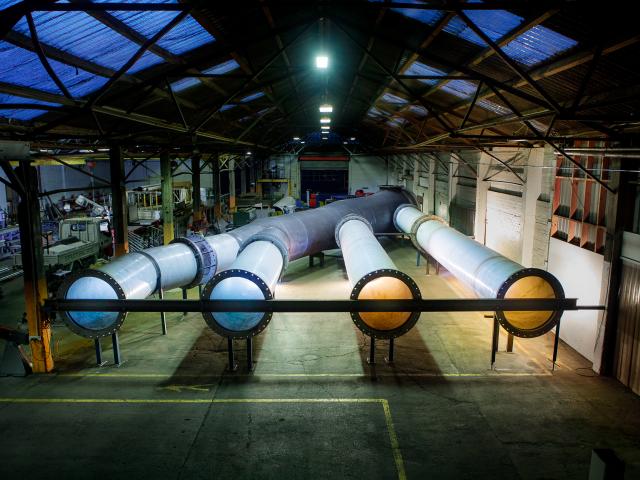 Engineering a safe work environment
Ensuring that the team is kept safe at all times is of paramount importance to Action Engineering.
''On any one day our team could be repairing ships, working at great heights, or working around large machinery,'' the Dunedin company's founder, Mark Cameron, says. ''So I am totally committed to ensuring they get home safely every day. Safety underpins everything we do.''
Evidence of this is that Action Engineering has achieved a perfect 100% score in their annual Site Safe audits for the last six years. Only 360 organizations in New Zealand have achieved 100%, out of around 8000 audited annually.
Action Engineering is proud to be a member of Site Safe, a national organisation developing health and safety practices to reduce construction-site injuries and improve levels of training and competency. All of the company's staff complete a minimum of the Site Safe ''Building and Construction Passport'', and then receive further training in specialist areas to NZQA standards.
The team at Action is committed to taking safety even further, and is currently preparing to be audited for ISO 45001 accreditation of their Health and Safety management system. ''From the board down, the wellbeing of all involved in our projects is of the highest priority, and this is something I take personally,'' Mark says. "Life comes at us very fast, and Covid is a fundamental reminder to all of us of the fragility of everything we create, and reinforces that without our people, we have no business…"
He aha te mea nui o te ao What is the most important thing in the world? He tangata, he tangata, he tangata It is the people, it is the people, it is the people
Turning vision into reality
As engineering contracts become more complex, great workmanship is always a fundamental element.
Action Engineering realised that to continue their success into the future, clients needed more from them.
What if they were to deliver the highest standards of Environmental Performance, Health and Safety Management, and Quality Management, all supported with an ISO framework?
This concept became the Action Engineering vision: to continue to provide the highest standard of workmanship and products, surrounded by formal ISO accredited management standards, which ensures their delivery will meet or exceed the expectations of clients. They are now turning that vision into reality.
While continuing to deliver great workmanship, in recent years they have worked very hard behind the scenes to create new internal systems that allowed them to achieve ISO 14001 accreditation for Environmental Management, and ISO 3834 for Quality Management in steel fabrication.
This momentum continues, and the team is currently striving to achieve ISO 45001 accreditation for Health and Safety.
All of this work leads toward their next objective of achieving ISO 9001 accreditation, which is the international standard for a quality management system.
Achievement of ISO 9001 accreditation will help to ensure that Action Engineering's clients receive consistent, high-quality products and services, which in turn offers many benefits to both clients and to their own team. It will also make them very proud, and that is an achievement in itself!
Investing in the future
Action Engineering has long been supportive of apprentice training, with the variety of work undertaken key to attracting and retaining their skilled team.
All of the apprentices at the company are working towards a New Zealand certificate in the trades of heavy fabrication and mechanical engineering.
Company founder, Mark Cameron, says ''Currently, we have four apprentices working towards their trade qualifications, and this continued investment in youth training helps to ensure our company will continue to develop and grow in the future.''
Mark's own apprenticeship included time working on the construction of the mammoth Clyde Power Station. His early career involved maintaining hydropower turbines, generators, and associated equipment at various power stations in the lower South Island.
Action Engineering is a proud member of YES (Youth Employment Success), a platform which supports local youth (aged 16-24) on their journey to employment by offering industry-based opportunities which include everything from mentoring, business walkthroughs, to mock interviews. Opening doors for youth that may not normally have access to industries can be pivotal to their long-term success because if you can't see it, you can't be it.
So, if you are good with your hands, have an eye for accuracy, and love putting things together, then mechanical engineering could be the career for you.
For more information on apprenticeships in engineering, please send Action Engineering an email with your details.
Celebrating retirement
Reaching the age of retirement is a cause for celebration, especially after working with a team for 15 or 20 years. It's a special occasion that the Action Engineering team marks with the presentation of a symbolic gold watch.
For some, retirement is the chance for some well-earned rest and recreation. However for many others the sudden transition can be very difficult and confrontational.
Being "valued" is an important quality to nurture and encourage, particularly as people can find their social networks suddenly decrease after retirement.
We know that staying mentally, socially, and physically active promotes good physical and mental health.
There is increasing evidence that the pay off of working past age 65may go beyond income.
Some studies have linked working past retirement with better health and longevity.
Action Engineering encourage retiring staff to stay on with them on a part-time basis - not only to make use of their skills, but also to offer people the support of the team environment.
"At Action we strive to offer a genuine sense of purpose for our team when they start work each day,'' founding director Mark Cameron says. ''And we aspire for them to feel a sense of reward and fulfilment at the end of each day."