Returning for its fourth year, Women You Can Bank On is an evening of entertainment, sumptuous food and thought-provoking discussion designed to empower and inspire attendees.
This year, the evening will explore The Change Revolution. This revolution of constant change represents a transformation unlike anything we have experienced before. The fusion of technologies is blurring the lines between the physical, digital, and biological spheres fundamentally changing the way we live, work and connect with one another. The Future Is Here, and we must be ready for it.

Talks from Alexia Hilbertidou, Founder of GirlBoss NZ; Ian Taylor, Founder of Animation Research Ltd; and Chelsea Herbert, V8 driver will entertain and inspire before a panel discussion from a powerhouse of Dunedin women featuring Cheryl Adams, CEO Animation Research Ltd; Dr Sue Bidrose, Chief Executive Officer of DCC; Zoe Hobson, Managing Director of Runaway Play; and Joy Liddicoat, Faculty of Law University of Otago.

Kim Dodds, Business Development Manager at Dunedin Venues Management Limited said, "Women You Can Bank On is a highlight of our event calendar. The event creates a platform to foster these vitally important discussions in Dunedin. It's also a great opportunity for Dunedin Venues to showcase its creative and innovative event expertise."

"We are thrilled to welcome our new exclusive naming rights sponsor Anderson Lloyd. We are excited to be working with Anderson Lloyd to bring this inspiring event to life once again. The evening will also be supported by media partner, MediaWorks."

Women You Can Bank On will take place at the Dunedin Town Hall on Thursday 20 June. Get your tickets now from ticketmaster.co.nz

Speaker Bios:

Alexia Hilbertidou

She's joked with the Queen, flown with NASA, had lunch with Jamie (Oliver), tea with Teresa (May) and rubbed shoulders with David (Beckham). Described by the NZ Herald as the Headmistress of Gen Z, 19 year old Alexia will captivate you with insights from her leadership journey as the founder of GirlBoss NZ - the school project which has become NZ's largest organisation for young women. Through her jaw dropping, name dropping stories Alexia proves that you are never too young (or too short) to create change.
Ian Taylor
Ian holds an LLB from the University of Otago and was inducted into the New Zealand Hi-Tech Hall of Fame in 2009. In 2010 he was named North & South magazine's New Zealander of the Year. Ian has been named an Honorary Fellowship of the New Zealand Computer Society, a Companion of the NZ Order of Merit for services to television and business. In 2013 Ian was also named Outstanding Maori Business Leader of the Year.
It may come as a surprise then that Ian claims to have no skills whatsoever – is at a loss to understand why anyone would want to hear his story and believes that the reason he has received the accolades he has is because he lives at the bottom of the world where no one has been able to check him out.
Chelsea Herbert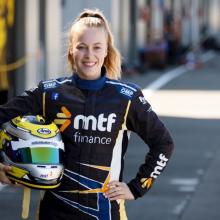 Chelsea started racing go karts when she was just seven years old and after nine years of competing at the top of NZ Karting and claiming many titles, she was put forward by Kartsport NZ as one of New Zealand's Top Twenty 'Young Guns' in NZ Motorsport.
In 2018, Chelsea shifted lanes into New Zealand's premier 'Tier One' class of the V8 Touring Car racing and hasn't looked back since. With a new car and some significant wins under her belt, she has proved that she has what it takes to make history in motorsport. Chelsea was the first ever female to win a NZ V8 Touring Car race and immediately backed up that accolade with a complete win of the following round, another New Zealand female first.
Panelist
Zoe Hobson
Zoe is the Managing Director of Runaway Play, an independent game developer and publisher making beautiful games inspired by the natural world. Runaway Play is located in Dunedin with 27 staff and makes games for players from all over the world - Runaway games are played by over a million people every month. Zoe has a strong background in the media industry.
Zoe was awarded the 'Future Business Leader' award at the 2014 Obiz Awards. She is a board member for NZGDA and is a key contributor to Runaway's #GirlsBehindTheGames campaign.
Joy Liddicoat
Joy is a barrister and solicitor whose primary research interest is human rights and technology. Prior to joining the Faculty of Law at the University of Otago, Joy was Assistant Commissioner (Policy and Operations) at the Office of the Privacy Commissioner, responsible for oversight of policy and technology related research and advice and managing the Commissioner's investigations into alleged interferences with privacy.
A Human Rights Commissioner for eight years, Joy was responsible for research on women's rights, national human rights institutions and led the Commission's 2010 inquiry into the experiences of transgender people in New Zealand.
Cheryl Adams
After graduating from Engineering School at Canterbury University with a Mechanical Engineering degree Cheryl spent time working at Manapouri, Roxburgh and Clyde Power stations. She then spent time as an Energy Consultant, including working with Sydney based Rand Merchant Bank in the area of energy performance contracting.
The call of the South Island's four wheel driving, camping and trout fishing was strong so Cheryl returned to Christchurch working as a Project Manager with Meridian Energy. It was here, in 1999/Y2k that she had her first taste of IT projects which led her to Dunedin and Animation Research.
Last year, she returned to Animation Research to be part of a joint venture with Methodist Mission South developing a Virtual Reality and tablet-based solution to deliver intensive literacy and numeracy training to inmates. This opportunity to make a difference to people's lives, while also being involved in delivering world leading sports graphics was too good to say no to!
Dr Sue Bidrose
Dr Sue Bidrose is the Chief Executive Officer of Dunedin City Council. She has a long career spanning the not-for-profit sector, central government, local government and IT in the private sector.
Dr Sue Bidrose completed her undergrad study at the University of Otago in 1992 and also attained her psychology doctorate here. Since being appointed Chief Executive Officer, she has completed a Post Graduate Diploma in Organisational Leadership (with Distinction) at the Saïd Business School, Oxford University.
Sue has a passion for local government, and for promoting the ethics of public service.