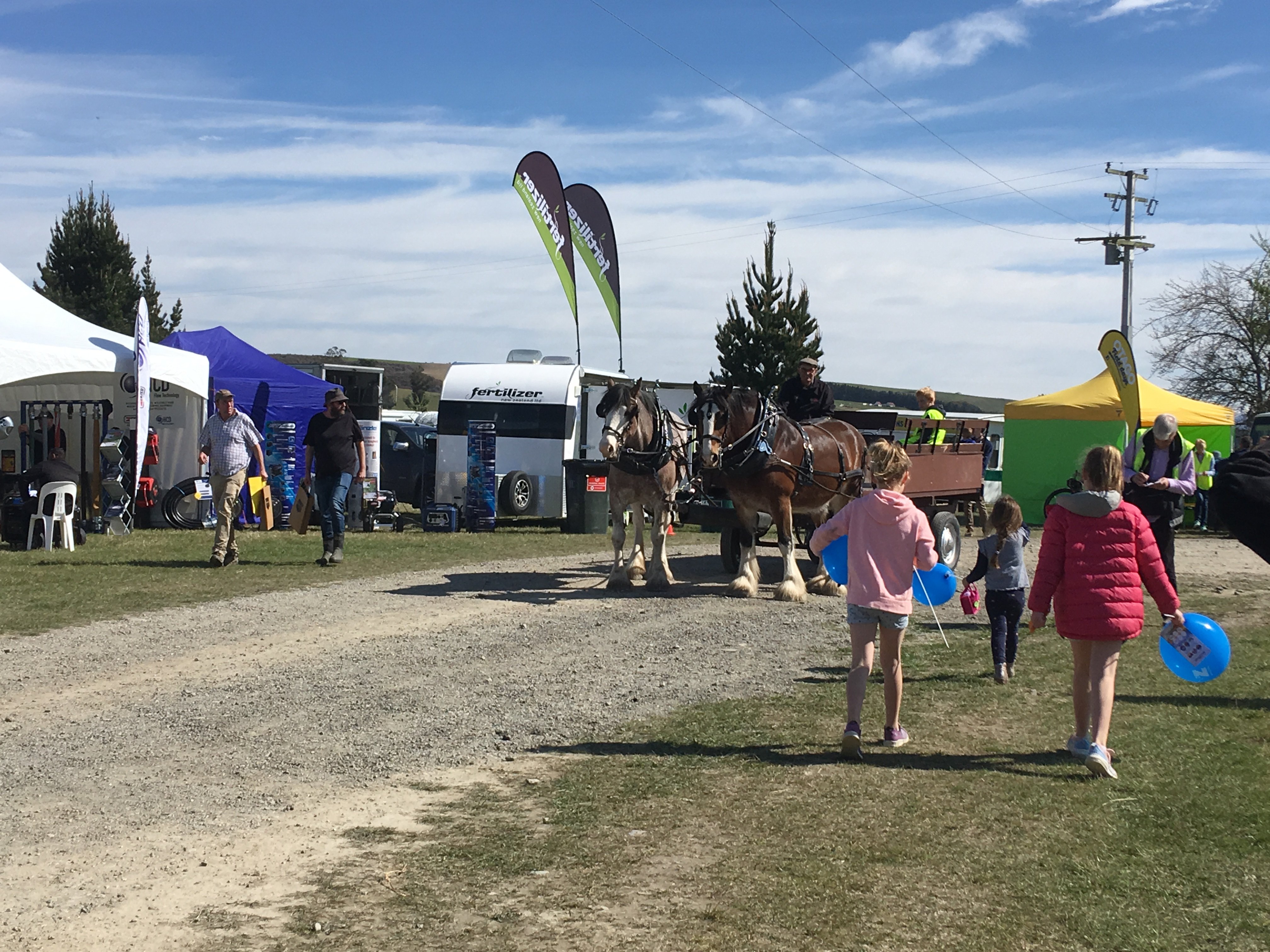 Otago Field Day's celebrates its fifth event on October 7 and 8 at the Palmerston Showgrounds.
The Field Days has transformed from purely industrial displays to include technologies and education in response to the demands of legislation and a more advanced and regenerative culture.
To do this we have introduced a speaker series whereby industry leaders and scientists will discuss the issues and legislation with land and water use. There will be opportunities to learn how to measure to manage our landscapes, including soil science.
Another focus builds on food waste and the processes that could be implemented to reduce this, thus enhancing productivity and giving a higher value.
Our exhibitors are bringing their expertise and knowledge to showcase products that feature energy efficiency — e.g. auto-steer on tractors reduces waste of seeding and fertiliser application. Also featuring are safe handling facilities with stock, the planning of good fencing, and specialised fertilisers.
Learn about carbon credit opportunities, the value of soil testing and interpretation, and productive tree crops.
Thank you to our committee and volunteers, our exhibitors and supporters — we couldn't do this without you.
COVID-19 studies have shown that community transmission is 20 times LESS likely in an outdoor situation. A QR code and sanitation points are provided. FREE entry with no queuing allows for easier social distancing.
The Otago Field Days provides a unique opportunity for a great day out — easy parking, buy a coffee, a burger, an ice cream, and sit on the terraces and enjoy the views, sun and company.
— Paul Mutch, Otago Field Days CEO
ENJOY THE DAYS...
Regenerative agriculture: Any system that improves soil condition, relieves compaction, enhances water infiltration, storage and aeration, becomes part of the regenerative process. Otago Field Days are promoting discussion on this subject at their guest speaker series.
Kids welcome! A special area has been set aside for kids' entertainment - bouncy castle, cricket, football, rugby, pole tennis, and astro balls, donuts and Mr Whippy icecreams!
Looking for an exciting future with purpose? Find out about career opportunities at the Education Hub, with Lincoln University, Telford, and Southern Institute of Technology.
Technologies to future proof your business: A variety of machinery, tools, information, and knowledgeable people are on site, so take advantage of all the know-how that's available.
SPEAKERS PROGRAMME:
WEDNESDAY OCTOBER 7:
10am: Official opening - Mayor Gary Kircher 10.30am Dr Peter Whigham, Associate Professor, University of Otago — 20 years on the use of GIS for ecological problems and modeling.
11am: Peter Barratt, BAgSci, regenerative farmer, Linnburn Station — will talk about his experience.
12 noon: Dr Henk Roodt — System design engineering — Easy access tools for measuring your farm — assisted by Neill Glover BSc — Measure to manage technologies.
1pm: Jason Harvey-Wills BRS, BSc, James Muwunganirwa NZIPIM — Environmental legislation and management.
2pm: Ken Algie Co-founder of Agwoolnz — Getting better wool prices at the farm gate. Kelvin Mansfield North Otago Pastoral — Products and technologies to improve productivity.
THURSDAY OCTOBER 8:
10am: Dr Henk Roodt — Intercepting intercontinental missiles to grass growth modelling and possibly everything inbetween!
10.30am: Dr Miranda Mirosa, Associate Professor, University of Otago — Food Waste Innovation Research Theme.
11am: Peter Barratt, BAgSci, regenerative farmer, Linnburn Station — will talk about his experience.
12 noon: Dr Peter Amer, AbacusBio — Genetics and animal breeding nationally and internationally.
12.30pm: Tony Pearse, MSc — Deer Industry NZ and his extensive international career; Murray Harris BSc, MNZFFA, MNZARM — Land & Forest Consultants — forestry opportunities.
1.30pm: Ken Algie, Co-founder of Agwoolnz — Getting better wool prices at the farm gate; Kelvin Mansfield, North Otago Pastoral — Products and technologies to improve productivity.
BREEN CONSTRUCTION:
BREEN Construction is always happy to support the Otago Field Days, and are excited to be involved in this great rural event for another year. They can't wait to set up and make the most of this opportunity to showcase their services, and show the community what they have to offer.
Breen Construction is a family-owned construction company based in Otago, and has been a leader in the construction industry since 1939. Their head office is in Alexandra, with branches also established in Cromwell, Wanaka, Dunedin, Twizel, and Oamaru. Now operated by fourth generation siblings, Breen Construction is committed to delivering high quality projects, from large-scale commercial developments through to heritage restoration work, various civil engineering projects, award-winning architectural homes, and large or small renovation projects.
They are excited to announce that Breen Construction are the new owners of Specialised Structures Central Otago, as well as three brand new Specialised Structures branches in the South Island - now fully covering North Otago from Oamaru to Dunedin and the Clutha-Gore regions.
Specialised Structures specialise in portal buildings, and constructing and supplying kitset buildings throughout New Zealand. They are 100% New Zealand owned and operated. So if you need a shed - habitable, rural, lifestyle, industrial, commercial, or community - you name it, Breen and Specialised Structures have got you covered.
Breenhomes is another division of Breen Construction. They have a dedicated team catering to residential customers looking to build great homes and are renowned for quality, attention to detail, and innovative thinking. Embracing the same values the business was founded on, Breenhomes applies them to every aspect of a diverse range of new build and refurbishment projects.
Make sure you come and say hi to the team - you will find them at sites 40 and 41. You can even get yourself in the draw to win a Weber Q Premium BBQ! See you there.