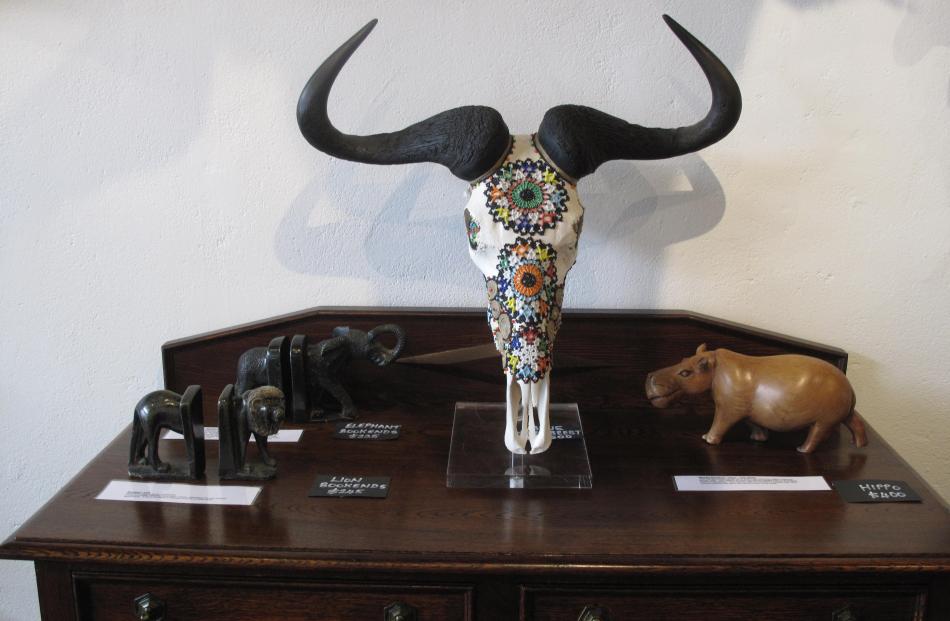 People have been coming to an abrupt stop outside 414 Princes St - and no wonder, as Out of Africa is certainly a traffic-stopping shop.
The gallery, recently opened by Clayton Ellis, stocks a literally jaw-dropping selection of African-sourced taxidermy, skulls, masks, artifacts, and art. It's an arresting sight that's been drawing in both people off the street, and many compliments.
Clayton has been interested in taxidermy since he was a child, and was always drawn to the animal section of museums he visited. As an adult, that interest grew into collecting, especially when he was living in New York.
Having returned with wife Franca Vallinoti in recent years to Dunedin, where he grew up, Clayton decided to open a business trading in taxidermy and other African items.
"I was lucky as I had some really good established contacts,'' he says. "I'd been to South Africa a number of times and visited Highveld Taxidermists in Pretoria, and African Wildlife Artistry in Somerset East, both in South Africa. I was able to reach out to them and say `are you able to supply me regularly with taxidermy?''
Currently Out of Africa has a range of stunning taxidermy including Cape Buffalo, Gemsbok, Nyala, Greater Kudu, Impala, Wildebeest, and Blesbok, with more ordered. None of these are endangered species, and many are harvested for their meat (a $7 billion rand industry annually in South Africa alone).
"This is Africa's venison,'' Clayton explains. "We hear a lot about rhinos and elephants being slaughtered which is terrible, but these animals are thriving because of the meat industry.''
Even so, the taxidermy is not easy to come by, and often stock will take nine months to arrive after Clayton's ordered it. The skins are carefully treated and all items are fumigated both in Africa and when they arrive in New Zealand to ensure no unwelcome visitors hitch a ride.
No other outlet in New Zealand has a selection of African taxidermy to match Out of Africa's, and it would hard to find anything similar even in large cities in the Northern Hemisphere. So it's no wonder that visitors to the shop are so awe-struck.
One thing people always comment on is how big they are,'' Clayton relates. "Most will spend 20-30 minutes in here just walking around, sometimes with their mouth open. They're overwhelmed by how much information there is to process around here.''
Often they're so fixated on the animals that the other items in the shop go relatively un-noticed. Those people are missing out on some other amazing art and artifacts.
Franca's cousin in Johannesburg is the buyer for the masks and other artifacts, and has negotiated good prices for the pieces. There are also mounted animals skulls, and even some skins in stock.
Then there is the featured art of Cape Town artist Junaid Sénéchal-Senekal, whose work sell all around the globe. Clayton and Franca bought work from him a decade ago, and maintained a relationship with the artist at his visits to the New York Art Expo.
Out of Africa has a particular focus on paintings featuring wildlife, but Junaid paints a wide selection of subject matter. This includes the amazing Mbanda portrait they have in stock, of a young Zambian man the artist befriended.
A portion of the sale proceeds will go towards the subjects university education. Similarly, sales of Junaid's animal works contribute to conservation in Africa. The taxidermy also supports industries that are ensuring the survival of the various species.
While there are some taxidermy collectors in Dunedin, it's envisaged the prime markets are in Queenstown, Wanaka, Auckland, and the hospitality industry for the bigger items.
``A restaurant or bar may want a point of differentiation, and we have that,'' Clayton says. ``You need space; you put them in a normal house and they're bigger than they look. Even the artwork is large, so you need a big feature wall. But people have the opportunity of having something really special in their home.''
Clayton emphasises that parents are welcome to bring children to Out of Africa to take in the amazing items and perhaps learn something.
The location at 414 Princes St is well worth a visit. As a destination shop, Clayton wanted to be somewhere a bit eclectic, and he's found the perfect spot. The space, which was once a knitting shop, is ideal for what Out of Africa is offering.
``We've got a good foundation, and every day someone says `thank you for opening it, it's good to have something down this end of town', Clayton says. ``We're excited at the opportunity; the acceptance has been so good and we're really encouraged by that.''

Out of Africa: 414 Princes St, Dunedin. Email info@outofafrica.nz or see outofafrica.nz for more information.
Out of Africa would like to thank the following businesses for their support: