Kim McCosker and Rachael Bermingham, the four-ingredients women, have now put out a new book to appeal to children,
4 Ingredients Kids
(Random House).
Children (or adults, of course) can make the recipes and they range from relatively healthy mains and snacks, to party treats. Four-ingredients fans will want this one.
---
Food Heroes: Celebrating New Zealand's artisan producers and growers by Simon Farrell-Green (Penguin) selects 22 producers and growers around the country, from pig and sheep farmers, to cheese makers, fishers, fruit and vegetable growers, olive oil and honey producers and preserve makers, to profile and photograph.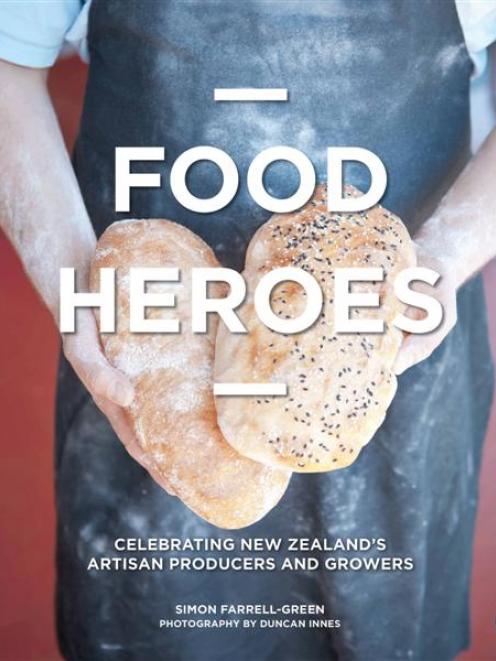 Farrell-Green is an Aucklander, so it's not surprising there's an emphasis on the North, but down here he profiles Goodies in the Gorge near Cromwell, Cardrona Merino, which is available at the Otago Farmers Market, and Southern Clams, which are harvested from Blueskin Bay or Otago Harbour. It's only a tiny selection of food heroes he could have chosen, but they all share a love of what they are doing and a passion to produce things in old-fashioned, sustainable ways without using masses of chemicals. Many of them have similar stories that spurred them to market their own products - despair at seeing their carefully raised produce getting lost in generic brands or being squeezed on price by supermarkets so they would be forced to compromise on quality, and of course there are stories of people wanting to leave cities or corporate life. A few recipes are included as well.
---
Londoners Rosie French and Ellie Grace started experimenting with food, sharing their experiences with the world on their Salad Club blog, which won the
Observer
Food Monthly award for best food blog; ran an underground restaurant in one of their flats; took to the road with a street stall; and opened a cafe in Brixton. Now their first cookbook,
Kitchen & Co.: Colourful home cooking through the seasons
(Kyle Books), has been published. Their recipes are simple but enticing, sometimes improvised from using what's in the fridge or pantry, sometimes born of trying to reproduce something they have eaten on their travels. It's seasonal (although the lamb kebabs cooked with cherries is in the autumn section), and many are designed as small plates to share.
There's an emphasis on the sharing of food. Instead of luscious close-ups of a dish, many of the photographs are of tables partway through a meal, evoking the enjoyment of eating together.
---
Australian restaurateur Bill Granger is a prolific writer with 10 cookbooks to his name, of which
Easy
(HarperCollins) is the most recent. Unlike many chefs, Granger's food is simple and contemporary rather than complicated, perhaps because he's self-taught. He worked in restaurants while studying art, but his interest strayed from art to food and he now has several restaurants not only in Australia but also in Japan and the United Kingdom.
His recipes range from dishes like merguez sausages with lentils and cavolo nero, chickpea, tomato and spinach cottage pie, slow-roasted leg of lamb with chili relish and paprika and coriander roasted chicken, to apple and vanilla turnovers.
---
Nicholas Brockelbank, a 10-year old with muscular dystrophy, has written
Nic's Cookbook: Tasty recipes for kids who love to cook
(Scholastic). This little book, a fundraiser for muscular dystrophy, is attractively and clearly laid out with instructions and photographs for recipes like apple and carrot salad, salmon sushi, couscous kedgeree, Spanish omelette, chocolate slice and raspberry lamingtons. A good book for aspiring young cooks.
---
Annie Bell, a British food writer who has gained a reputation for reliable, simple recipes, has published
Annie Bell's Baking Bible
(Kyle Cathie). It's a large collection of classic recipes, focusing on the flavours rather than decoration, although optional decoration suggestions are given. She covers biscuits, slices, muffins and cupcakes, meringues, sponge cakes, chocolate cakes, cheesecakes and fruit and ginger cakes, celebration cakes, tarts, pies, easy breads and a few French specialties. Enticing, but many are special treats only, given the amount of butter they use. 
---