This Easter loaf is a giant hot cross bun.  By making it in a loaf you not only save time and stress, you also end up with a softer, pull-apart-type hot cross bun.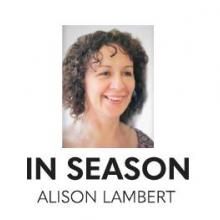 Perfect with lashings of butter.
SERVES 8
Ingredients 
100g sultanas
100g currants
50g mixed peel
juice of 1 orange
200 ml milk
3 tsp dried yeast
450g strong flour, plus 20g for paste
2 tsp ground cinnamon
1 tsp ground nutmeg
1 tsp mixed spice
½ tsp cloves
60g brown sugar
½ tsp salt
1 egg
60g butter, softened, plus extra for greasing tin

Glaze
150g sugar
juice of 1 orange
Method
Combine the sultanas, currants and mixed peel into a small saucepan along with the juice of 1 orange.  Warm through then let sit to soak.
Warm half the milk until just lukewarm, add the yeast and 1 tsp sugar. Stir and let sit for 5 minutes or until frothy.
In a mixing bowl (I used an electric mixer with a dough hook) place the flour, spices and sugar and combine.
Add the salt and mix through.
Add the yeast mixture, egg, butter and remaining milk.  Knead for 5 minutes.
Add the cooled fruit and continue kneading until the fruit is incorporated into the dough.
Place in a lightly-greased bowl and cover loosely with plastic wrap or a damp cloth.  Sit somewhere warm and until it has doubled in size.
Grease a 22cm x 12cm (approx) loaf tin with butter.
Knock back the dough by lightly pressing on it. Turn out on to a lightly-floured bench and knead lightly. Divide the dough into eight evenly-sized balls. Roll the dough into neat balls. Place two balls across and four balls down; they should fit snugly.
Allow the buns to prove in a warm place until doubled in size (approx 30 minutes).
To make the paste for the cross, mix together 20g flour with 40ml water and mix to a paste with no lumps.
Heat the oven to 180degC.
Once the buns have doubled in size, pipe on the crosses made from the flour paste.
Bake for 20-25 minutes or until golden.
While they are cooking, make the glaze by mixing the sugar and orange juice together in a small saucepan and heat gently until the sugar dissolves.
Brush over the cooked buns.  Allow to cool in the tin for 10 minutes.