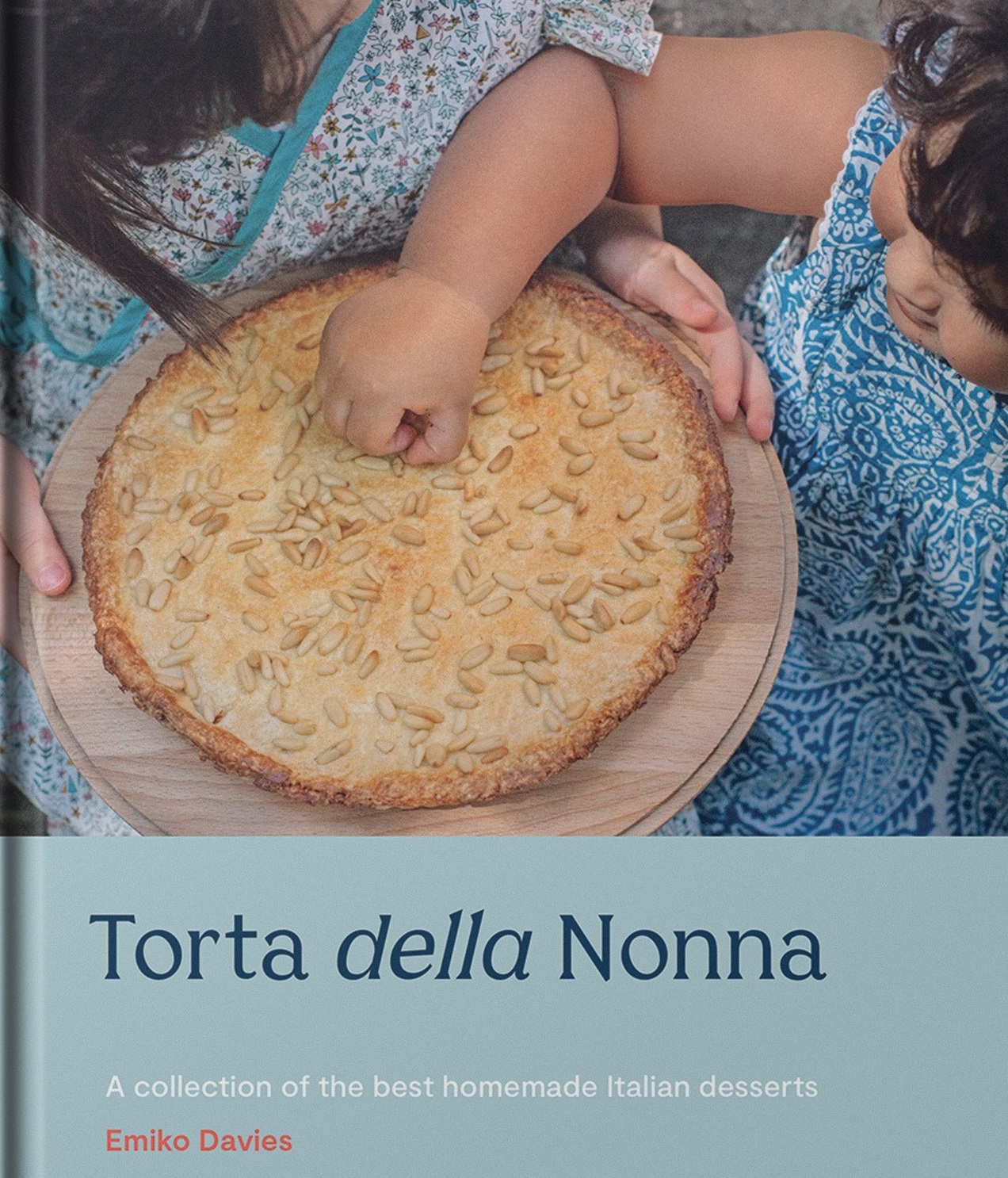 When looking for inspiration for some Easter baking, Emiko Davis' Torta della Nonna is hard to pass-by.

A collection of what she calls ''her beloved Italian classics'', it covers all the bases, from pastries and bread to biscotti and gelato.
''Many of which you could likely find on nonna's table for Sunday lunch, in a homely trattoria or one of Florence's best pastry shops.''
In this extract, she has shared her recipes for a rosemary bun, usually served at Easter, and a bread traditionally made around Christmas, but its chocolate, fruit and spice flavours fit Easter just as well.
Pandiramerino
(rosemary and sultana buns)
Shiny and delightfully sticky with decorative split, crisscrossed tops, pandiramerino  which means rosemary bread (ramerino is the charming Tuscan word for rosmarino or rosemary)  are fragrant with fresh rosemary and studded with sweet sultanas (golden raisins).
Traditionally these rustic buns were made for giovedì santo, the Thursday before Easter, and were without sultanas, hence their name.
Now you find them year round in bakeries all over Florence.
MAKES 8 BUNS
20g fresh yeast, or 7g (2 tsp) active dry yeast
1 Tbsp sugar
180ml (¾ cup) lukewarm water
300g (2 cups) plain (all-purpose) flour, sifted
70g sultanas (golden raisins)
2 rosemary sprigs, chopped (about 1 Tbsp)
60ml (¼ cup) extra-virgin olive oil, plus extra for brushing
pinch of salt
55g (¼ cup) sugar
Method
Combine the yeast, sugar and water in a mixing bowl and let it sit for 10 minutes until dissolved.
Pour over the sifted flour and combine to make a firm ball of dough.
Place the dough in a lightly-greased bowl, cover with plastic wrap or a tea towel (dish towel) and let it rise in a warm place away from draughts for 1 hour.
Meanwhile, put the sultanas, rosemary and oil together in a bowl - set aside to infuse until the dough has risen.
Combine the dough with the sultanas, rosemary, oil and salt. Work the ingredients together by kneading, and divide into eight small balls weighing approximately 70g-80g each.
Place the buns on a baking tray lined with baking paper and cover loosely with a tea towel. Allow the buns to rise for a further 30 minutes.
Heat the oven to 200degC.
Brush the tops with olive oil and slash a hash symbol over each one with a very sharp knife or razor.
Let them rest another 10-15 minutes, then bake in the oven for 20 minutes.
Meanwhile, prepare a sugar syrup by dissolving the sugar in 2 tablespoons of water in a small saucepan and bringing to the boil.
Remove from the heat and brush the hot buns with the hot syrup.
The buns are best eaten the day they are made, but will keep well for 12 days in an airtight container.
Pagnottella
(fig and chocolate bread)
This wonderful specialty of Porto Santo Stefano on Monte Argentario on Tuscany's south coast is halfway between a fruit cake and something dense and chocolaty, like brownies.
It's the kind of thing that you can't find in shops or restaurants or even in cookbooks - it's made at home by those who know the tradition best: mothers (nonnas).
I asked a few friends from Porto Santo Stefano if they had a good recipe for pagnottella that I could try and they all came back to me with cherished, handwritten family recipes from their nonna, each of them slightly different.
The one thing most recipes have in common is that the amount of flour called for is ''quanto basta'', or as much as is needed. This means enough to bring the sticky mixture together into a soft dough.
This recipe is inspired mostly by Alessandra's nonna's recipe. It's quite soft, decadent and fruity - not to mention chocolaty.
You only need a very thin slice of this, served with some dessert wine.
It's traditionally made around Christmas (these flavours and scents are particularly loved at this time of year) and, much like panforte or fruit cake, would make a nice gift for friends and family.
SERVES 12
250g (1 and 2/3 cups) dried figs, roughly chopped
500ml (2 cups) white wine
¼ apple, peeled, cored and grated
100g  dark chocolate (70% cocoa), chopped roughly
zest of 1 orange
50g  sultanas (golden raisins)
50g (1/3 cup) pine nuts
50g (½ cup) walnut kernels
50g (1/3 cup) whole almonds
50g  whole hazelnuts, peeled
2 Tbsp unsweetened cocoa powder
2 Tbsp plum jam
¼ tsp ground cinnamon
¼ tsp ground nutmeg
100g (2/3 cup) plain (all-purpose) flour or as needed, plus extra for dusting (see note)

Method
Soak the figs in the wine overnight. Put the soaked figs and all the liquid in a small saucepan and add the grated apple.
Bring to a simmer and cook over a low-medium heat until the fruit is soft and the liquid has reduced slightly, about 15 minutes.
Blend in a food processor or with a hand-held blender until paste-like. Allow to cool.
Transfer the fig mixture to a large bowl and add the rest of the ingredients, except for the flour, and combine.
Add the flour in a few stages until you have a soft and sticky mixture that has the consistency of bread dough - you may need to add a bit more or a bit less.
Heat the oven to 160degC, line a baking tray with baking paper and dust the top with flour.
Directly on the baking tray, use floured hands to shape the dough into a round loaf about 20cm wide and flatten it until it's about 5cm tall in the centre.
Dust liberally with flour on the top and blow off the excess.
Bake in the oven for 25-30 minutes, or until the flour on the tray turns a cappuccino-coloured brown and the bread feels firm.
This delicious bread lasts ages and ages and ages. It's best to keep it covered/wrapped in plastic wrap or in an airtight container, and stored somewhere cool and dry.
Note: I find 100g of flour is enough, but all flours are different, and all figs will likely be different, too, so use this as a guideline. You might find that your dough can take a lot more.
Variations:
If you don't have plum jam, you can use another dark jam such as grape or fig, or even substitute completely with honey.
I like this even mixture of different nuts, but you could cut it down to one or two kinds. Just choose 200g of any nuts - my friend Orestina likes to use just almonds, for example.
You can also use red wine for cooking the figs.
Sometimes you'll see this bread in a stick shape - a long loaf rather than a round one.