A new book looks at the world's best coffee experiences - including New Zealand's. Rebecca Fox discovers Dunedin misses the cut.
It is always amusing to see how our corner of the world is perceived by those not native to its shores.
Lonely Planet recently published a Global Coffee Tour book - a taster's guide to the world's best coffee experiences - New Zealand makes the cut in the Oceania section with Wellington and Auckland making up the top three coffee towns alongside Melbourne.
So we of course flick to the New Zealand pages to see who and where has made the cut. Unfortunately Dunedin, despite its top-notch caffeine offerings, only gets a mention for its music history.
On the positive side, this means the secret of Dunedin's great coffee is still safe with us and one of the top five roasteries does have an outlet in Dunedin, Allpress.
According to Lonely Planet, our signature coffee style is flat white and the thing to order with your coffee is Louise cake.
It also advises travellers not to say ''Let's meet at Starbucks''.
''Kiwi coffee-lovers will presume you're joking.''
The book is also a travel guide with tips on what to see and do close to the cafes or roasteries.
We all know how hard it can be to know where to find a good coffee while travelling so we hope this extract from Global Coffee Tour provides a few tips for your next road trip.
There's no denying it: little New Zealand, sitting in splendid isolation at the bottom of the South Pacific, has had a disproportionate impact on contemporary global coffee culture.
New Zealand's transformation from the ''Land of the Long White Cloud'' to the land of the flat white coffee is as surprising as it was sudden. The country was colonised by tea-supping Brits in the 19th century, and coffee was for a long time the preserve of Mediterranean immigrants.
It was in the 1980s that the seeds of the coming revolution were planted. While the jangly indie music of Flying Nun Records was percolating up from the southern city of Dunedin, bohemian cafes such as Auckland's Cafe DKD and Wellington's Midnight Espresso became the favoured haunts of indie musos, undergraduates and alternative-minded teens too young to hang out in pubs.
It was around this time that the term ''flat white'' was coined, referring to an espresso served in a small cup and topped with milk that's been gently heated to a silky smooth consistency. Cafe owners on both sides of the Tasman Sea claim the credit for its invention with those in the NZ camp arguing that its very name sounds Kiwi - right up there in terms of no-nonsense pragmatism with North Island and South Island.
In any case, the main difference between the Kiwi and Aussie versions is that NZ's flat whites are stronger; a double shot of espresso is standard. By the early 1990s, some of the architects of this new breed of cafe added roasteries to their operations and started supplying their competitors with beans.
These speciality roasters quickly realised that their reputation rested not just on the quality of their product but on the ability of their client cafes to know what to do with it. They started offering training in the dark arts to their customers, teaching them how to extract the perfect espresso and ''stretch'' milk to a flawless flat-white consistency. By the mid-1990s, there were quality cafes in all the main centres, followed rapidly by all the major towns and then pretty much every corner of the country.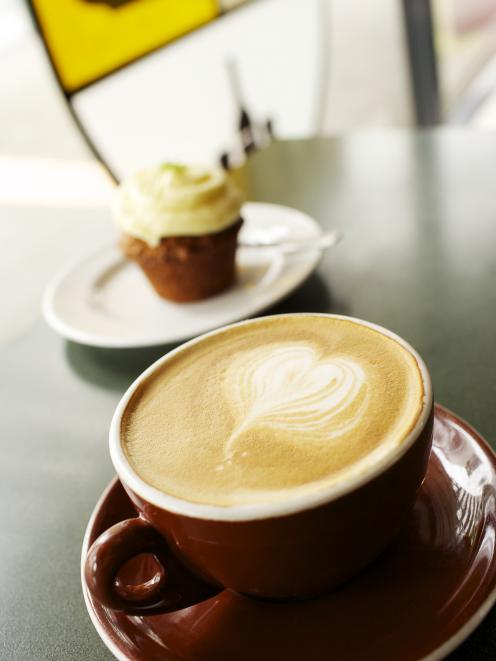 Cafe culture is now mainstream in NZ and a certain quality is taken for granted. By the time the big American chains tried to make inroads with their coffee-esque confections, Kiwis were already used to a far superior brew at their neighbourhood cafe.
However, it's not a pretentious scene: phrases such as ''third wave'' have little currency here, and while some cafes cater to connoisseurs with single origin cold-brews and siphons, most people would far prefer a high-quality espresso blend. New Zealanders are inveterate travellers and the ''Big OE (Overseas Experience)'' is a rite of passage for many.
Aside from the weather, the biggest complaint from young Kiwis and Aussies visiting the UK (the most common OE destination) was the paucity of decent cafes. Some took up the opportunity to open their own, transforming London's cafe scene in the process.
From Heathrow to Houston, Antipodean-trained baristas are now hot property and NZ-style cafes are bubbling up all over the place. Find one, and you'll find a guaranteed damn fine cup of coffee.
TOP 5 COFFEES
Coffee Supreme Supreme Blend
Havana Coffee Works Cuban Real Trade
Atomic Coffee Roasters Veloce Blend
Allpress Espresso Rangitoto Blend
Hummingbird Coffee Re:START Blend
ALLPRESS ESPRESSO
Freemans Bay, Auckland
One of the trailblazers of the New Zealand coffee scene, Allpress grew from a coffee cart operated by a young Michael Allpress in 1986, just around the corner in Victoria Park, to one of only a handful of independent roasters worldwide operating in multiple countries.
Although it has its own showcase roastery cafes in Auckland, Christchurch, Dunedin, Melbourne, Sydney, Byron Bay, Tokyo and London, the focus is on supplying independent cafe owners with a consistent quality of beans (roasted according to its own hot-air method) and barista training.
Allpress now supplies more than a thousand cafes in five countries, and even publishes a magazine, Press which shines a spotlight on some of the interesting artistic types working in Allpress-affiliated cafes worldwide. This Auckland roastery occupies an old warehouse tucked into a back lane on the city fringe, with its own small cafe and art gallery on the ground floor. Food is limited to simple stuff such as breakfast bowls, sandwiches, cakes and a delicious range of biscotti.
Coffee is the hero here and, while you can order a cold-brew, Allpress considers itself an espresso expert. Various blends are available, but Rangitoto (named after Auckland's iconic volcanic island) is the one to try.
ATOMIC COFFEE ROASTERS
Kingsland, Auckland
A pivotal player in the explosion of Auckland coffee culture in the early 1990s, Atomic is now something of an institution. However, it still manages to successfully compete with the young bucks: one of its baristas took the 2017 national latte art championship.
The Kingsland branch is the archetypal Auckland cafe, with an industrial-chic warehouse interior, a counter groaning with food and a window showcasing the shiny roasting machines at the back.
C1 ESPRESSO
High St, Christchurch
When the earthquakes of 2011 wiped out their original cafe, the determined young C1 crew stoically dusted themselves off and started again. By the following year they had secured the ground floor of an art-deco post office, one of a handful of buildings in Christchurch's city centre that had survived the cataclysm, and re-opened while most of the surrounding streets were still flattened.
Materials recycled from earthquake-wrecked buildings fill the interior, including Victorian oak panelling rescued from a convent and bulbous 1970s light fixtures from the Arts Centre. Other nifty features include a water fountain fashioned from a Singer sewing machine, a sliding bookcase that conceals the door to the toilets and pneumatic tubes that deliver burgers and beer directly to your table.
Sustainability is a big focus as well, with solar panels, a 5000L rainwater tank, an extensive kitchen garden out the front (tended by homeless people), and a development programme which works with families in Samoa to produce single-origin Kofe Samoa beans, Koko Samoa (a canned cold-brewed cocoa drink), fruit nectars and speciality teas, including cascara made from coffee cherries.
HUMMINGBIRD COFFEE
Addington, Christchurch
Hummingbird has notched up various firsts over the years: the first New Zealand roastery to import Fairtrade, organic beans; the first to be certified 100% organic. However, the people of Christchurch remember it most fondly as the first business to sign up for the Re:START Mall.
The opening of this open-air mall constructed from shipping containers gave the city a much-needed fillip when it sprung up among the ruins, eight months after the devastating 2011 earthquake. Its flagship cafe and roastery occupies the Oddfellows Hall, a Victorian-era structure that once held Suffragette meetings and hence played a part in another first: NZ becoming the first country to give women the vote in 1893.
DEVIL'S CUP
South Taranaki
Located on an isolated stretch of the North Island's west coast, Patea is best known in New Zealand for Poi E, a chart-topping track by the local Maori club which became 1984's highest selling single. That this town of 1140 people has its own organic fair-trade roastery speaks volumes about the all-pervasive, non-pretentious nature of New Zealand's coffee scene.
Operating out of an 1874 bank building which doubles as his home, Kevin Murrow roasts beans sourced through respected local fair-trade organisation, Trade Aid. He mainly sells his blends online, but the historic banking chamber has recently been converted into a cafe and art gallery, showcasing the work of his wife, printmaker Michaela Stoneman. Be sure to try the Bank Blend espresso.
CUSTOMS BY COFFEE SUPREME
Te Aro, Wellington
Coffee Supreme is one of the southern hemisphere's speciality coffee trailblazers, and the Customs Brew Bar is its flagship, its showcase and the best place to drink its brews in Wellington. Customs opened in 2010 with a lovely wood-panelled fit-out that evokes a mid-20th century Scandi domestic space to match the retro brew methods that are the focus here (much of the beautiful timber was recycled from an old farmhouse that was owned by founders Chris Dillon and Maggie Wells).
The aim at Customs Brew Bar is to reintroduce soft-brew methods to espresso-centric Wellingtonians, and there's a decent collection of filter gadgets - siphons, pots, percolators, Moccamasters - displayed on shelves around the walls.
On the coffee menu, nine single-origins are offered via Fetco batch brew, V60, Chemex, cold-brew and, of course, espresso. A batch brew of a Costa Rica La Cruz might be clean and juicy, with hints of chocolate and mandarin sweetness, while a Honduras Yire makes a savoury, complex V60 filter.
FLIGHT COFFEE HANGAR
Wellington
Flight Coffee Hangar is a buzzing timber and concrete space at the west end of Dixon Street, where it starts to climb one of downtown Wellington's steep surrounding hills.
With former NZ barista champ Nick Clark among the owners, plenty of attention is paid to getting the basics right (a battery of grinders is calibrated for black, white and filter brews), but the care starts at the source: Flight's Helena Project is transforming a coffee farm in Colombia into a speciality coffee producer, working on every aspect of production, from planting to processing.
The best way to sample Flight's wares is via, er, a coffee flight: perhaps a taste-test of a single-origin as a short black, a flat white and a cold drip; or three flat whites with different origins. The Bomber blend makes a classic Kiwi -espresso, with plenty of body and acidity; while a Fetco brew of Ethiopia Sidamo has honey sweetness and gentle floral flavours.
HAVANA COFFEE WORKS
Tory St, Wellington
Havana's startling green art-deco building - once the headquarters of Firestone Tyres - brings a slice of 1950s cafe glamour to Wellington: the roastery is styled like a Latin American courtyard house, and the cafe is all wood-panelled and bar-mirrored, with old-school cafe chairs and marble-topped tables.
Havana's philosophy is summed up as ''real trade'' - dealing directly with farmers to source the six tonnes of green beans they roast here every week. The go-to coffee is Five Star blend - a dark roast that makes a short black which is syrupy and toasty to its chocolate-toned end.