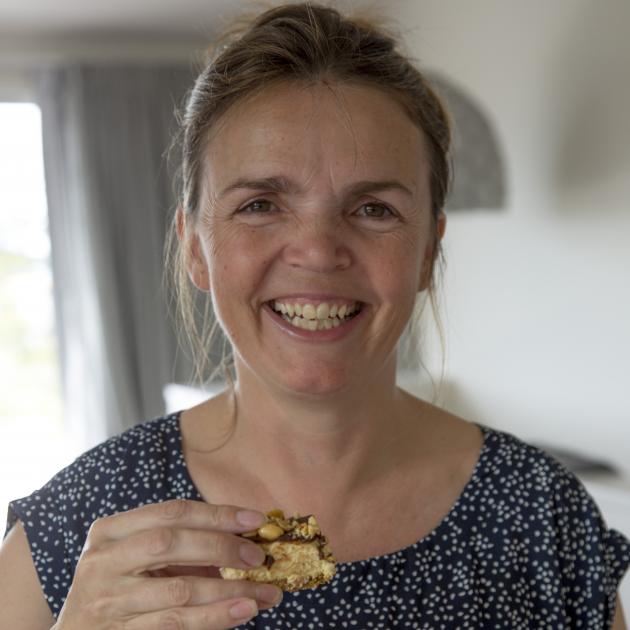 Christmas is a time for sharing, so we have selected a few recipes from Ripe - A Third Helping that are perfect for doing just that.
Sometimes finding the perfect gift can be too hard - this is where a handmade gift of something yummy can take the stress away.
A homemade gift can also be therapeutic for the giver. I find time in the kitchen puttering away provides the perfect oasis of calm during the silly season.
The book features plenty of Ripe's salads and baking (including vegan, dairy- and gluten-free), as well as quick-and-easy meals.
It has also included a section on abundant veges, to provide ideas for using produce when Mother Nature is plentiful.
Ripe was set up by Angela Redfern 15 years ago, and the book is a tribute to her staff and the community for their support over that time, she says.



Middle Eastern tahini and almond biscuits
Delightful little biscuits full of exotic flavours, which are vegan and gluten-free! You can find brown rice flour at health stores and some supermarkets; if you are not gluten-sensitive you can use plain flour instead.
Makes 20-25 Small biscuits
Dairy-free, gluten-free and vegan
Ingredients
Biscuits
1 cup (45g) pistachios, lightly toasted
1¾ cups (175g) ground almonds
3 Tbsp brown rice flour
½ cup (80g) soft brown sugar
1 tsp baking powder
½ tsp fennel seeds
zest of 1 lemon or lime plus 3 Tbsp of fresh lemon or lime juice
½ cup (125ml) olive oil
2 Tbsp tahini
seeds of ½ a vanilla pod or 1 tsp vanilla extract
Lemon and fennel icing
1 cup (150g) icing sugar
2 Tbsp fresh lemon or lime juice
¼ tsp fennel seeds
Method
Heat oven to 180degC. Grease and line a baking tray with baking paper. Lightly grind or finely chop ¼ cup (35g) of the pistachios.
Save the remaining pistachios for decorating the tops of the biscuits. In a mixing bowl combine the ground almonds, pistachios, rice flour, brown sugar, baking powder and fennel seeds.
Add the rest of the ingredients and mix for a few minutes until very well combined. Roll the mixture into small walnut sized balls and place on the prepared baking tray.
Press a pistachio on to the top of each ball. Place in the oven to bake for 10-12 minutes or until the cookies are firm to the touch but still soft in the middle.
Remove from the oven and set aside to cool. To prepare the lemon and fennel icing: mix all the ingredients together in a small bowl.
When the biscuits have cooled, dip one side of the biscuits into the icing or drizzle some over the top of each biscuit.
Jude's chocky rocky road
One of the best Christmas presents I have received the last couple of years is this rocky road from my friend Jude Mewburn.
I was stoked when she was happy to share the recipe, as I think it's a wonderful easy present to make for friends and family.
This slice is also a great idea for a school fair, or as a tasty after dinner treat. For best results use a good quality chocolate; we recommend Whittaker's chocolate.
You can make this with any combination of nuts & fruits, so here is a base recipe and some ideas from Jude for combinations, but by all means use your own creative ideas; it would be hard to go wrong.
Makes 16-20 small squares
Ingredients
Rocky road
2 250g blocks of good-quality chocolate, white, milk or dark, roughly chopped
1 Tbsp coconut oil
¾ cup of your favourite nuts
½ cup dried fruit or 1 cup natural Fruit Jubes or Turkish delight
½ cup dried shaved coconut or long thread coconut
150g marshmallows
1 cup shortbread or your favourite biscuit, broken into small pieces (optional)
Note: These are Jude's recommended combinations: 1. Dark chocolate, white marshmallows, hazelnuts (roasted and skins removed), Turkish delight and coconut; 2. White chocolate, pink marshmallow, macadamia nuts roughly chopped, shortbread, dried cranberries, and coconut; 3. Milk chocolate, marshmallows, whole almonds, natural berry bliss jubes, biscuits and coconut.
Method
Line a 20-30cm slice tin with baking paper.
Melt the chocolate in a heatproof bowl over a pan of simmering water. When melted, stir in the coconut oil. Set aside for 5 minutes to allow the chocolate to cool a little.
Add the nuts, dried fruits or jubes, coconut, marshmallows and shortbread (if using), into the melted chocolate and mix until well combined.
Pour into the tin, distributing the marshmallows evenly in the tray! Place in the refrigerator for 2-3 hours to set. Once set cut into small pieces or long strips. Store an airtight container in the refrigerator.
For gifts cut the rocky road slice into small blocks and place into cellophane bags. Tie the top of the bag with a pretty ribbon to seal it.
Crunchy orange, cinnamon and cacao granola
This crunchy golden maple granola is packed full of flavour and goodness. We used a selection of walnuts, pistachio and almonds, which can easily be substituted for a selection of your favourite nuts.
Serves/Makes 4
Dairy-free, and vegan
Ingredients
Granola
3 cups (300g) quickcook rolled oats
3 cups (300g) wholegrain oats
¼ cup (35g) sunflower seeds
¼ cup (40g) pumpkin seeds
2 Tbsp poppy seeds or sesame seeds
1 cup (100g) desiccated coconut
1 cup (140g) mixed nuts, roughly chopped
1 Tbsp cacao powder
3 tsp ground cinnamon
½ cup (125ml) melted coconut oil or vegetable oil
½ cup (125ml) maple syrup
zest and juice of 2 oranges
2 tsp vanilla extract
3 tsp fresh ginger, grated
1 tsp salt
5 Tbsp cacao nibs (add once the granola is cooked)
Method
Heat oven to 160degC.
In a large mixing bowl mix the oats, seeds, coconut, nuts, cacao powder and cinnamon together. In another bowl combine the oil, maple syrup, orange zest, juice, vanilla, ginger and salt.
Pour the wet ingredients over the dry ingredients. Mix really well to coat the grains and seeds in the oil and syrup. Spread the granola mixture out evenly on to 2 large baking trays.
Place in the oven to bake for 30-40 minutes or until the granola is nicely toasted. Stir the granola often to ensure it is evenly toasted.
Note: the granola will become crunchier once cold. Remove from the oven and stir through the cacao nibs while the granola is still warm. Once cool, store in an airtight container or a large jar with a tight fitting lid.
Japanese seaweed sprinkle - furikake
This little sprinkle will make your taste buds sing, and gives a delicious Japanese flavour to everything you sprinkle it on! Try it straight on avocado or on sushi rice.
Makes 1 cup
Dairy-free, gluten-free and vegan
Ingredients
3 sheets nori, toasted
½ cup (60g) sesame seeds, toasted
2 tsp flaky sea salt
1 tsp raw sugar
1-2 tsp chilli flakes
2 tsp crispy fried shallots
Method
To prepare the nori: using tongs, lightly toast it over a gas flame, or if you don't have gas you can toast them in a frying pan or in the oven - the nori will change colour slightly and become crispy. It only takes a few minutes.
To prepare the furikake: Break up the nori sheets with your hands and place in a food processor. Add the toasted sesame seeds, salt, sugar, chilli flakes and crispy shallots. Blend for a few minutes until well combined.
Store in a clean jar with a tight fitting lid in the cupboard for up to a month. We use this sprinkled on our salads.