From helping to pick pumpkins on her father's orchard to starting a new business, it has been a big year for Steph Peirce. Rebecca Fox talks to the Millers Flat girl who is wowing locals with fresh, flavoursome takeaways.
From being popped in a fruit crate as a toddler to watch her parents work in their Millers Flat orchard to dipping cherries in chocolate to sell to customers at the family's roadside stall, Steph Peirce credits her upbringing for her love of cooking.
The Peirce orchard, famous in Otago for its pumpkins, is where Peirce came home to after her OE with intentions of heading back overseas only for love to intervene.
She met her partner and decided to stay put. That meant figuring out what she was going to do with herself.
"I was ready to do my own thing. It's great putting a lot of passion into other peoples' businesses, but I just felt like there was so much I wanted to do."
Living in small-town New Zealand meant many more possibilities for starting her own business than she ever would have in Melbourne, where she had previously lived.
"It would be a lot harder, more expensive and with a lot more competition. I love what cities have to offer, so I thought I'd do what I'd do there, but here for the locals."
Peirce moved to Melbourne after finishing her culinary arts degree at Otago Polytechnic — she won the New Zealand final of the Proud to be a Chef in her second year with a dessert inspired by Cinderella and her upbringing, featuring a gold-dusted white chocolate sphere filled with a spiced pumpkin mousse.
"I loved it, learning not just about cooking but creating products, business and it was very creative, which is what I really liked."
So Melbourne, a renowned food hub, was the obvious choice as a place to start her food career.
"I wanted to push myself further and immerse myself in the food scene."
She found cafes were more her scene and enjoyed working in an atmosphere where she could connect with customers.
"I'm an early morning person and I love the casualness of a cafe. I often worked in open-plan kitchens. Customers would come in, we'd get chatting about the food and become friends. They sat and ate and you could tell them about their food, inspire them to cook."
Peirce gave that up to see the world, travelling through Europe taking notes and photos not so much about the scenery, but the food she tasted.
"Flavour combos and how food is such a culture over there. Seeing how family and fun revolved around food in France and Italy — it's totally how I feel about food."
So when she returned home she decided to draw on that experience by offering private dinner parties.
She comes in with all the food, cooks, serves, tidies up and disappears to let her clients enjoy the rest of the evening.
"They could have fun in the comfort of their own home. I can come in and cook great food and people can share it. It's not a stiff environment. People get to eat different things. I do all the work and leave."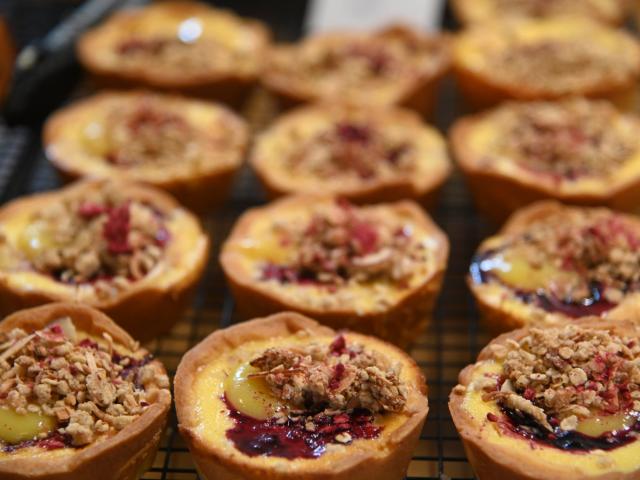 But when the Covid-19 lockdown hit, she joined the family harvesting pumpkins.
"It's a good workout."
When restrictions eased she returned to baking, taking 70 orders for cakes in the lead up to Mother's Day.
It was after lockdown when the idea for her latest venture — "Local and Friday" — came about.
She catered for a Pink Ribbon breakfast in Etterick and the "superpower" granola she made went down a treat.
"The ladies were asking if I would sell it."
When an opportunity to do a "pop up" arose she sold 40kg of the granola. That convinced her to open her own Friday shop selling all sorts of food.
"It's sort of grown organically from there. I love the idea of creating new things, giving people choices . It's more stimulating than making the same food every week to a set menu in a restaurant or cafe."
She posts a menu featuring a range of foods from sweet treats to salads, savoury dishes to granola on social media on Monday.
"I can try things. Draw inspiration from different areas, what I like, nothing too crazy. I go by what's in season, what's available, the salads are a huge hit. I like to keep them fresh and bold with a crunch."
People order what they like and then pick it up from her storefront in central Roxburgh on Friday. People are also able to pop in on the day and buy from the goodies on offer.
"It has to be things people aren't cooking every day themselves at home. A bit of a treat for the weekend."
The food is based on her philosophy of healthy eating — much of it inspired by the way she grew up.
"We grew up eating healthily. Mum and Dad are quite holistic in their approach. We'd go to a naturopath's rather than doctors. If we were sick, it was about why. Do you need more rest? What nutrients you need?"
Peirce and her siblings all worked on the orchard as they grew up.
"It was quite fun growing up, serving customers and my sister and I would chocolate dip cherries and sell them ... from a young age we've had this knack of wanting to make things and sell them to customers."
Over the years, she has tried to learn more about the role food plays in people's health.
"I'm really interested in food and how it makes you feel. Food needs to be fresh, colourful, full of nutrients, but also look beautiful and bring joy to your life, so I really focus on not only adding as much wholesome nutritious stuff into the food but also making it look beautiful.
"That's why having a Friday shop is so good. Once a week you can get your treat for the week and I hope to bring a bit of joy into people's Fridays."
Peirce's partner has recently secured a manager's role on a dairy farm, a position that comes with a house and large vegetable garden.
She already has rhubarb planted and raspberries and is busy planting herbs and other vegetables that will provide fresh produce for her to cook with.
That will supplement the produce she gets from her father, which she freezes or dehydrates for later use. The fruits go into her babycakes.
"With Dad's produce and me growing stuff we'll be able to make the most of it all."
She has already dried some apples, which she loves to use as decoration on her cakes.
Peirce plans to increase her product line as she can and also make the most of this year's fruit harvest by bottling fruit.
Banana oat pancakes
Serves 3-4
Pancakes
2 large bananas, peeled
3 free-range eggs
1½ cup oats
1½ tsp baking powder
light olive oil or coconut oil for cooking
Maple coconut crunch
1 Tbsp coconut oil
⅓ cup coconut chips
⅓ cup almonds, roughly chopped
2 Tbsp maple syrup
2 tsp vanilla extract
To serve (optional)
fresh fruit, yoghurt/coconut yoghurt, maple syrup, grilled banana, peanut butter, bacon
Method
Maple coconut crunch
Place a pan on medium heat, add coconut oil and scatter coconut chips and chopped almonds into the pan, stir occasionally until lightly toasted (3-5 minutes).
Pour maple syrup and vanilla extract over coconut mixture, stir for 1 minute then remove from the heat to cool.
Pancakes
Place all ingredients except oil into a blender and mix for 1 minute until well combined and slightly aerated.
Place a large pan on medium heat. Once hot, add 1 tsp oil to the pan and pour mixture into 3 small pancakes, cook until the pancakes start to slightly bubble in the centre (1-1½ minutes), flip and cook for another 30 seconds.
Repeat with remaining batter.
Serve with fresh fruit, yoghurt/coconut yoghurt, maple syrup and the maple coconut crunch on top.
"I grew up in the country, so it was normal for Mum and Grandma to preserve peaches and nectarines. If they caught a salmon in the river by the orchard it would be bottled. That was normal."
Peirce has also teamed up with a local yoga instructor to hold retreats around the region, providing people with the opportunity to learn about healthy food alongside yoga.
"I do a cooking demonstration showing that healthy food isn't too intimidating or overly hard."
Having her own business meant she was able to do what she loved the most and fit it all into one brand.
The increasing popularity of her Friday shop and the catering side of the business has meant she has hired her first part-time employee.
"People are so excited. New people stop in each week to see what I'm doing and say they'll be back next week. It's nice to have the support."
She hopes her Friday shop will also cater to those passing through on their way to the Queenstown Lakes district.
"In this time people are travelling more locally, so if they want a treat for their weekend they can stop in."
It is part of her mission to have balance in her life and keep healthy.
"It is still very full-on, but very rewarding. I need to remember I'm in control and I can do what makes it work."
Spiced cauliflower, lentil and sticky onion salad
Serves 6
½ cup currants
1 medium cauliflower, roughly chopped
6 Tbsp olive oil
1 tsp ground cumin
1 tsp ground coriander
½ tsp turmeric
½ tsp smoked paprika
1 can lentils (400g), washed and drained
1 brown onion, thinly sliced
2 Tbsp maple syrup
5 Tbsp apple cider vinegar
½ cup mixed seeds (pumpkin, sunflower, sesame,
flaxseeds)
large handful chopped greens (silver beet,
spinach, beetroot leaves, rocket)
large handful chopped herbs (parsley, coriander,
mint, dill)
Tahini yoghurt
½ cup plain or Greek yoghurt
1 large Tbsp tahini
squeeze lemon juice
pinch of salt
Dressing
¼ cup olive oil
3 Tbsp apple cider vinegar
1 tsp grainy mustard
pinch salt and pepper
1 tsp honey
Method
In a small bowl or jar, place currants, 3 tablespoons apple cider vinegar and 2 tablespoons hot water. Set aside to soak.
Heat oven to 180degC.
In a large bowl, mix together chopped cauliflower, 3 tablespoons olive oil, spices and a good grind of salt and pepper. Scatter over a large baking tray and bake for 25-30 minutes until starting to turn golden brown and tender. Remove from oven and allow to cool.
Place a pan on to low-medium heat with 3 tablespoons olive oil and the sliced onion. Cook for 15-20 minutes, stirring every few minutes so the onions don't burn. Once the onions are golden brown and soft, pour over maple syrup and 2 tablespoons apple cider vinegar. Season with salt and pepper and stir immediately. Transfer to a small bowl to cool.
With the same pan, give it a quick wash and place back on a medium heat. Place seeds in the pan to toast. Stir the seeds around every minute until they turn a light golden colour and start to crackle (3-5 minutes). Note, they can darken quickly. Remove from heat.
For the tahini yoghurt
Mix all ingredients together in a small bowl or glass jar.
Using a large bowl combine roasted cauliflower, three-quarters of the sticky onions, lentils, chopped greens and herbs, seeds, half of the pickled currants, a quarter cup ofo dressing and mix together.
To serve
Place half of the salad on a large bowl or serving plate. Dollop half of the tahini yoghurt on top, then repeat with the remaining salad and tahini yoghurt. Scatter remaining currants, sticky onions and a few extra herbs on top.