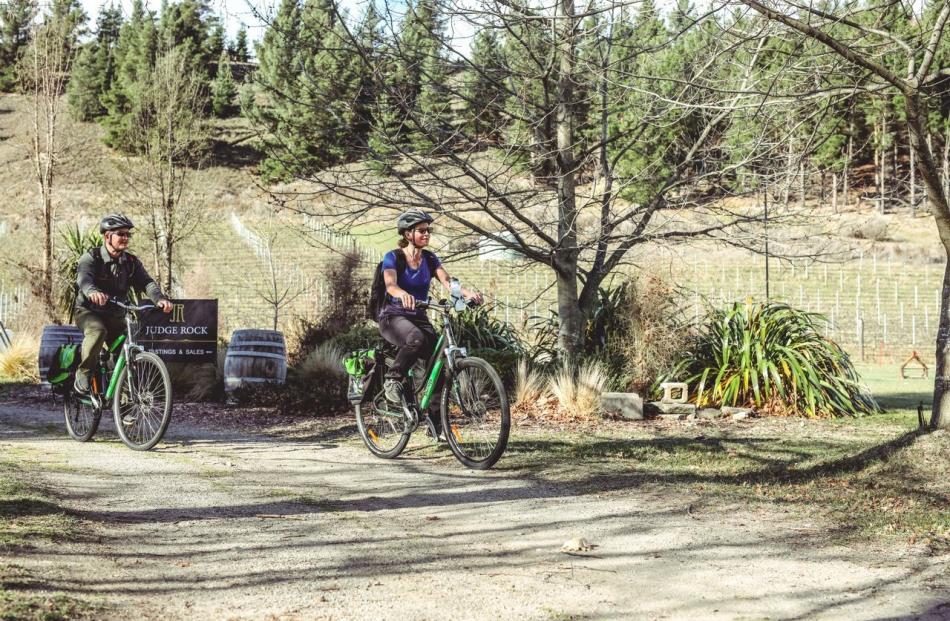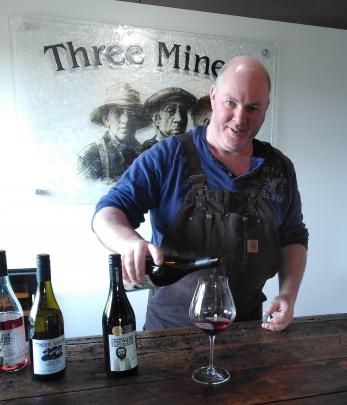 A new cycling trail opens up at the end of the month in Alexandra called Pedal for Pinot. Rebecca Fox took one for the team and volunteered to be the first to try it.
Dangle a few tastings of pinot noir in front of a girl and the fact you have to cycle 25km to get them does not really register.
When realisation strikes though, the words "electric bike" eases the worry.
In reality, cycling from Clyde to Alexandra and back via the Otago Central Rail Trail and Alexandra river track is not onerous, especially when stopping regularly for a tasty tipple.
It is estimated to take about four to five hours depending on how long you spend at each spot.
We picked up our bikes from Simon at Trail Journeys and after a quick tutorial — "turbo" sounded good to me — we were off.
Our first visit was at Dunstan Road Winery, a tiny 2ha vineyard run by Marc Hatfield and Sarah Reynolds.
The majority of the vineyard is pinot noir with individual rows of each, pinot gris, gewurztraminer and riesling.
Reynolds is the brain behind Pedal for Pinot, having always thought given the winery is on the rail trail it would be good to give visitors to Alexandra the information for a different activity.
She joined up with Ruru's Lucienne van der Wal, whose vineyard is just down the rail trail, who agreed it was a great idea.
It took a few years to come to fruition, as van der Wal and her husband were building a new home, which is just completed.
They will be hosting tastings in their open plan living, dining and kitchen area which overlooks a pond.
They named their wines, which are made by a local winemaker, after a morepork they heard one night and then saw on a post the next day.
Next up, we headed down the rail trail toward Alexandra, diverting up Hillview Rd to visit Judge Rock's Paul Jacobson and Angela Chaironi's boutique vineyard.
Otago Farmers' Market visitors might recognise the label from their stall at the market. Tucked away up a lane, the pair host on their veranda, if the weather is nice.
Their point of difference is that along with their pinots and rose they grow the St Laurent grape which they imported in 2001 and produced New Zealand's first St Laurent wine in 2009. More recently they have been making the grape into a moreish port.
They also make the less well known pet nat, a natural sparkling wine, and blanc de noir, a white pinot noir.
By this time lunch is called for and we are right on Alexandra's doorstep with choices including Eat, Taste Central participants Ferris Rd Brewery and the Courthouse Cafe.
Then it is over the Alexandra bridge and down to Legacy. It pays to keep a very close eye out for the marker to find this tiny 1ha vineyard of pinot noir vines.
Unfortunately we missed the marker and sailed passed on our turbocharged electric bikes down (or should I say up as it is a steep hill to the winery from the track) to Three Miners where we were met by owner Paul Wright.
We tasted his riesling, pinot gris and pinot noir as he told us about buying the rundown vineyard in 2014 with wife Kristin, who has a PhD in plant pathology and turning it around.
He showed off their new wine labels featuring bearded locals dressed as miners.
The river track provides plenty of shade or shelter depending on what the weather is doing opening up as you reach Clyde and the end of the ride.
Afternoon tea beckons at Dunstan House Cafe where we treat ourselves to some of owner Meredith Kerrisk's raspberry and cacoa raw slice feeling rather virtuous. A strong coffee provides us with the energy required to deliver the bikes back to base.