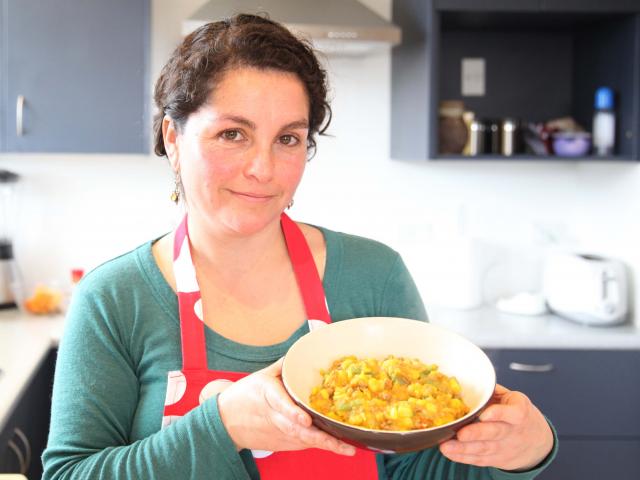 Flavours of home is a series of recipes from around the world cooked by people at home in Otago. This week, Carolina Gomez, of Chile, shows us how to make charquican.
Carolina Gomez came to New Zealand four and a-half years ago with her husband who is a geologist at the University of Otago.
Charquican is originally from the southern part of Chile but it is cooked throughout the country.
Carolina's mother and grandmother used to cook charquican often in winter as it is a warm, comforting dish, she says.
The indigenous Mapuches made charquican with dried meat (charqui) using guanaco, a type of llama that lives in the Andes, but now any meat can be used - here Carolina uses beef mince.
In Chile it is also made with chochayuyo, or bull kelp, which is widely eaten in southern Chile.
The vegetables she uses originated in the Americas: potatoes, pumpkin, capsicum, corn and beans.
Merkén is a Chilean spice made from dried peppers with other ingredients such as cumin. It is not a hot spice.
If you cannot find it, substitute smoked paprika or a little chilli powder.
Charquican does not have to be hot, but it should be tasty, she says.
Charquican (Chilean stew with potatoes and pumpkin)
Serves 4-5
1-2 Tbsp oil
1 onion, peeled and chopped
500g mince
1 large clove garlic, peeled and chopped
1/3 red capsicum, chopped
1-2 tsp ground cumin
1-2 tsp paprika
1-2 tsp merkén (or substitute smoked paprika or a little chilli powder)
1-2 tsp oregano
salt to taste
6-8 potatoes, peeled and chopped
250g pumpkin, peeled and chopped
2 cups corn kernels (fresh or frozen)
2 cups sliced green beans (fresh or frozen)
Heat a little oil in a large pot.
Add the chopped onion and stir until slightly coloured.
Add the mince and stir to break it up.
Add garlic, capsicum, spices and salt.
Stir and leave to simmer.
Put the corn and beans in a little water to cook (or you can add them directly to the stew when the pumpkin and potato are half-cooked).
Cut the potatoes and pumpkin into chunks and add to the stew, along with a couple of cups of water.
Cook until the potato and pumpkin are soft and the water absorbed, 20-30 minutes.
Add the cooked corn and beans.
With a fork, break up the potato and pumpkin so you have a slightly chunky mash.
Serve in a large bowl, sprinkled with chopped parsley if you have some.
This dish is even better the day after it is made as the flavours mellow and develop.
Thanks to Afife Harris.