Very many years ago, I helped friends plant out their vineyard.
The bare vines were in bundles of 25, the only clue as to their identity the tag that enclosed them.
It was only when they first bore fruit that it became apparent that there were a number of "rogue vines''.
In a predominantly pinot noir and chardonnay vineyard, the random gewurztraminer and pinot gris vines stood out like sore thumbs.
"Gris'' means grey in French and pinot gris has a peachy grey hue that is quite distinctive.
Next time you're at a winery near harvest time, look out for them.
2019 Putangi
Central Otago
Pinot Gris
Price: $24
Rating: Very good
Perfumed with talc, musk & fruit blossom shifting to pear and stonefruits. Racy entry, toffee-apple notes mingle with ripe pear, the lively acidity giving this freshness and zest. A crisper, structured style that looks a perfect foil for food. Aeration sees this fatten up and flesh out, suggesting the best may be yet to come.
2018 Valli
Gibbston Vineyard
Pinot Gris
Price: $32
Rating: Excellent
A smoky nuance leads, with pears, spices and a deeper, guava-like note, honeysuckle with aeration. Delightfully creamy entry, a fatness and richness to this framed by spiced apple and pear. A
citrusy line of acidity runs through this adding freshness to the long and zesty finish. Lovely balance and depth here.
2019 Hawkshead
Central Otago
Pinot Gris
Price: $28.99
Rating: Good to very good
An appealingly perfumed nose with rosewater and lychee at first, shifting to ripe pear. A rush of sweet pear and spice on the palate is leavened by the bright acidity and a little grainy element to the texture, closing relatively dry. Aeration emphasises its gangly youthfulness with a little sweet and sour interplay making this quite zesty.
2018 Kono
Nelson
Pinot Gris
Price: $17.99
Rating: Very good
A fragrant yet somewhat subtle nose of talc and dry honey at first, builds with aeration. Anise, clotted cream, and pear initially, some riper pear-cordial notes with time. This is light to medium-weight, understated and not a showstopper style yet has appealing flavours and is nicely done. Easy drinking here.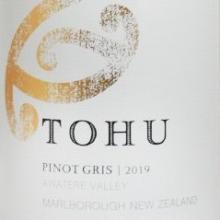 2019 Tohu 
Awatere Valley 
Pinot Gris
Price: $17.95 
Rating: Very good to excellent
Enticing nose of pear, fruit blossom, apple, dried pineapple evolving. Those flavours continue on the palate, the fruit sweetness reminiscent of ripe summer fruits. Good intensity and texture flowing to a long, fruit filled, relatively dry finish. Lovely balance and integration offer very appealing drinkability.
2019 Te Kano
Central Otago
Pinot Gris
Price: $27
Rating: Very good
Engaging nose of mixed stonefruits, apricot and savoury nuances with honey and blossom appearing over time. Some apple and cider notes add a tart zinginess to the palate, crisp acidity keeping it fresh. This softens and shows its sweeter fruited side as the palate fleshes out, hints of baguette and bread dough joining in. Get some air into this to open it up.