The Muscat grape comes in many guises, possibly best known here in a number of fizzy, Asti Spumante-style wines from Italy and similar still and fizzy wines from Australia. These tend to be low in alcohol, sweet due to retaining their natural grape sugars and bursting with their fragrant, juicy, grapey characters.
While I wouldn't go as far as calling Muscat typecast, this penchant for sweetness does seem to suit the variety brilliantly, becoming somewhat of a calling card across a raft of dessert-style wines, often involving a degree of fortification and extended barrel ageing, or sun drying to reduce moisture content and build concentration. Preferring a warm climate, we see these dessert-style wines coming from France, Spain, Italy, South Africa and Australia.
One example is the Liqueur Muscat wines that we see from Australia. Technically similar to a type of sherry, the Muscat juice is only briefly fermented before the addition of fortifying spirit kills the yeast, retaining the natural grape sugars. The wine is kept in barrels where it slowly loses volume by evaporation through the wood, becoming deeper brown in colour and ever more concentrated.
When bottling, these wines are often a blend of ages with small portions of very aged material providing concentration and complexity, while younger components add freshness. The very top examples are almost painfully intense, but across the board these are wines where a small glass is normally enough. Thankfully, their extended oxidative maturation in barrel makes these wines incredibly robust, so once opened they can be kept for months (not in my house) without fear.
With their intense flavours of raisins, spices, figs, dates, toffee and caramel these are a dessert in themselves, or can work well with cheeses, nuts, dried figs and the like. Decadent poured over ice cream as well.
Chambers
Rosewood Vineyards
Rutherglen Muscat
Price: $32-$34 (375ml)
Rating: Excellent to outstanding
Wonderfully fragrant, raisins, 
bergamot/earl grey tea, bush 
honey, florals, rancio, 
mandarin with time. Richness 
and density yet not overt 
heaviness with toffee, 
nougat, figs and liquidised 
raisins, adding rancio and 
umami notes as it opens 
up. Layers of flavour here, 
compelling complexity, 
neatly marrying the 
sweetness of the style 
with freshness.
De Bortoli Show
Liqueur Muscat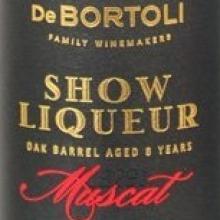 Price: $33-$35 (500ml)
Rating: Excellent
Burnt toffee, then a delightful 
honeysuckle-like florality, 
caramel and orange citrus; 
Marmite and truffle later. Super 
dense palate, viscous with 
burnt toffee, black tea and nuts, 
adding a bittersweet note and a 
whisper of salinity which 
neatly counters the intense 
sweetness. Growing on me, 
managing concentration yet 
crispness. Value in the 
500ml format. 
Yalumba
Antique Muscat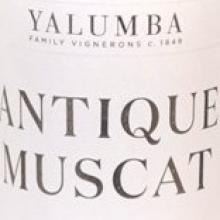 Price: $38.99 (375ml)
Rating: Very good to excellent
Caramel, licorice, liquidised raisins, spirit 
and a growing fragrance, a hint 
of camphor with time. This 
doesn't so much pour into the 
glass as ooze, incredibly lush 
and dense and intensely sweet 
with fruit cake, citrus peel and 
caramel, before a 
butterscotch note hangs on 
the close. A little goes a 
long way and would be 
amazing poured over ice 
cream.