Many years ago, I attended a trade tasting hosted by John Hancock, then chief winemaker for Trinity Hill in Hawke's Bay.
Among their portfolio, John was showcasing their (at that stage rare for New Zealand) tempranillo. When I asked him about their focus on such an uncommon variety, he replied, ''We could be No 27 in the country with chardonnay, but we can be No 1 with tempranillo.''
Fast forward to 2019, and a family road trip holiday saw me visit Hawke's Bay. Staying nearby, with very limited free time, I managed to arrange a visit to Trinity Hill, now 68% owned by Terroir Capital, meeting winemaker Damian Fischer.
The scribbled message on the whiteboard, ''Goal: to be number 1 in syrah'', was a clear indication that under the direction of Damian and chief winemaker Warren Gibson, the emphasis has shifted.
With it being their most widely planted red grape they now have four tiers of syrah: the accessible and price-friendly Hawke's Bay range, the new Lost Garden collection, the stylish GG series and flagship Hommage, with volumes set to increase as vine age increases.
Chardonnay is also set for a larger focus as this tends to be one of the strengths of Hawke's Bay. While this may sound like marginalising their Bordeaux blend, I can safely report that their The Gimblett red remains a star, and excellent value for money.
Trinity Hill still champions the lesser-known varieties, too: its marsanne-viognier white blend, montepulciano and tempranillo remaining benchmarks for the varieties. More marsanne and roussanne are due to be planted, in fact, replacing some virus-affected malbec.
Oh, and did I mention their ''port'' styles? No? Well, that will have to wait for another time.
2015 Trinity Hill The Gimblett
Price: $39
Rating: Outstanding
A primal quality, young intense fruit in the plum and blueberry spectrum with earth and forest floor. Tighter palate with powerful tannins giving structure. This blossoms in the glass with blackcurrant, blackberry, earth and leaf, brightness and lift, the fruit caressing the palate.
Balance, depth and fantastic length in a wine with great potential too.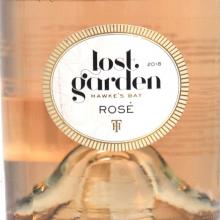 2018 Lost Garden by Trinity Hill Hawke's Bay Rose
Price: $29
Rating: Very good
Pale onion-skin colour. Mixed flowers, stony/minerally notes, a balsamic touch. Redcurrant and cranberry lead the palate, shifting to appley notes with a creamy texture growing on the palate with aeration. There's a sweet and sour quality to this, almost a salinity to it, that tanginess running through the wine. This one quietly creeps up on me.
Refreshing.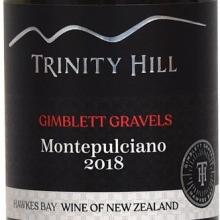 2018 Trinity Hills Gimblett Gravels Montepulciano
Price: $39
Rating: Very good
Impressions of richness with blueberry and red fruits, bramble, perfume and licorice-like savoury notes. The palate mid to full- bodied with fine-grained tannins adding chewy richness. There's an almost sweet and sour tanginess to the fruit, edging to raspberry as the tannins begin to melt into the wine.
A rare local example of this variety.