In putting together today's column, I was struck by the similarity in my scores.
Now, before someone accuses me of cut-and-pasting the same score on to all the wines and skiving off early for lunch, I must say in my defence that these wines were compiled from a series of pinot noir tastings involving different South Island regions and vastly different price points.
The glue that binds them together in this column is that they all come in under the $30 mark, which in the world of pinot noir makes these value offerings.
There's certainly bang for buck to be had here.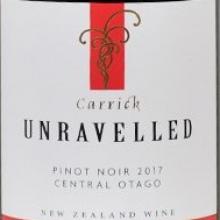 2017 Carrick Unravelled Central Otago Pinot Noir
Price: $28
Rating: Excellent
Invitingly juicy nose of crunchy berries, raspberry and subtle oak. Red and dark fruits fill the palate, with hints of graphite and stony minerality framed by fine tannins and tangy acidity: the whole having a structured, fresh feel to it. Time sees the nose becoming more subtle, while the palate grows and blossoms adding notes of wild herb.
A nice example.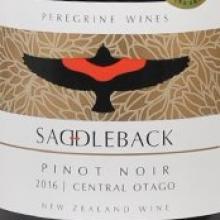 2016 Peregrine Saddleback Central Otago Pinot Noir
Price: $28.99
Rating: Very good to excellent
Subtle nose offering notes of raspberry and red fruits. The palate belies the nose with a rush of sweet fruit, balanced by tannic grip. Nicely supple, juicy, and with the fruits moving into a darker spectrum. Aeration brings a super-ripe, liqueur fruits element that threatens the balance, before fresh acidity pulls this back from the brink.
A real crowd pleaser.
2016 Framingham Marlborough Pinot Noir
Price: $29.99
Rating: Very good to excellent
A whisper of struck match, oak spice and fragrant fruit notes. Excellent intensity to the fruit while retaining elegance, showing earth and spice nuances. Mouthfilling, showing some youthful edginess, which will meld into the wine with time. 
Already, a delightful fruit expression flowing to a long, fragrant finish, which has lovely, zesty freshness.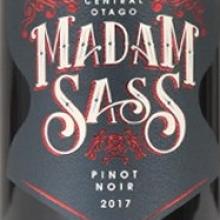 2017 Madam Sass Central Otago Pinot Noir
Price: $24.99 
Rating: Very good to excellent
Powerfully fruit driven nose led by raspberry and blackberry, earth, toffee and dried herb notes follow. A cooler feel to the palate with lifted cranberry, red fruits and pencil lead, echoing the power on the nose. Chewy tannins, lively and real energy to this with a fresh, lip- smacking salivating close that leaves you wanting more. 
Good bang for your buck.
2017 Framingham Nobody's Hero Marlborough Pinot Noir
Price: $24.99
Rating: Very good to excellent
Subtle yet attractive nose with darker fruits, dustiness and an alluring florality. Good intensity to the mixed fruits, with a firmness to the tannins that should resolve nicely with time. Has youthfulness and while not at all a fruit bomb, there is good fruit depth waiting to strut its stuff.
All the components are there to shine with a little more time in bottle.
2017 Thornbury Central Otago Pinot Noir
Price: $24.95
Rating: Very good to excellent
Youthful nose of plums and dusty stones, with a sweet cherry liqueur top note. Juicy mixed berry fruits bound on to the palate, spice and oak notes too, with blackberry and boysenberry accentuated with aeration. Fine tannins add appropriate grip and this all flows through to a long, spicy, fruit driven close.
Young, but already very drinkable