In this week's Wine Times, Mark Henderson recommends some books about wine and wine makers, and tries out three chardonnays.
NEW ZEALAND WINE: THE LAND, THE VINES, THE PEOPLE
Warren Moran - $69.99
Auckland University Press
This is a scholarly history of the NZ wine industry. Emeritus Prof Moran, a geographer at the University of Auckland, has clearly been a keen observer and passionate follower of the burgeoning NZ wine industry and brings his lifetime of study to light in this immensely readable book.
He explores the history of the modern NZ industry from the 1950s onwards through the lens of the people and businesses who shaped its development, the evolving varietal make-up of its vineyards as the focus shifted to quality rather than quantity, and the soils and climates that dictated the wine regions we know today, succinctly informed by charts, tables and diagrams.
I see myself returning again and again to its pages.
NEW ZEALAND WINES 2017 - MICHAEL COOPER'S BUYING GUIDE
Michael Cooper - $39.99
Upstart Press
Debuting with the 1992 edition, this marks the 25th anniversary of this benchmark reference book, growing from 800 wines reviewed to 3000.
It follows past editions with its Vintage Guide and Reports, Best Buys, 25 Not to be Missed Wines, Classic Wines and Cellar Guidelines.
The meat of the book is in the 3000 or so wine reviews, classified by grape variety, from Albarino to Zweigelt, covering the gamut of NZ wines. An informative and indispensable guide to NZ wine.
LABOR OF LOVE: WINE FAMILY WOMEN OF PIEMONTE*
Suzanne Hoffman - $US55
Under Discovered Publishing LLC
American lawyer and freelance journalist Suzanne Hoffmann fell in love with the Piemonte region of northwest Italy while living in Switzerland.
Regular visits to the region's wineries led to her building friendships with many of the wine families and recognising that the stories of the women behind these famous labels was little known.
Countless hours of interviews have led to the stories of 22 wineries being told through the voices and the histories of their womenfolk, with particular poignancy given the generational shift that now sees daughters taking on the mantle of leadership from their fathers. Packed with beautiful photography, their stories draw you in.
*NB: Not able to be shipped internationally by the author or Amazon, but accessible using the NZ Post YouShop service.
2015 Domain Road Defiance Chardonnay 
Price: $28
Rating: Excellent
This opens to grilled nuts, subtle stonefruit notes and oak nuances. Lovely creamy texture, tropical fruit and pineapple, with nuttiness and the barest hint of oak. Well balanced, crisp acidity gives appealing freshness before the long, spice-accented finish.
A really nice package this, not overworked and drinking very well now.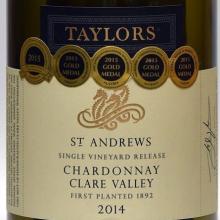 2014 Taylors St Andrews Single Vineyard Clare Valley Chardonnay 
Price: $44.99
Rating: Excellent to outstanding
Hints of funk and matchstick at first with a ripe stonefruit backdrop. The palate offers a minerally undercurrent, oatmeal, nuts, white peach and stonefruit with a surge of acidity.  At first edgy and youthful, flirting with knife-edge ripeness, this grows, building richness, intensity, complexity and grip.
Delightful.
2015 Collaboration Wines Aurelent Chardonnay 
Price (cellar door): $35
Rating: Excellent
Funk and burnt match on opening with peach and hints of char. Fruit intensity, butterscotch and oak before the bracing acidity rushes in. Time brings this nicely together adding spicy, nutty elements, hints of citrus and a flavour reminiscent of French vanilla ice cream.
Aeration brings rewards here.