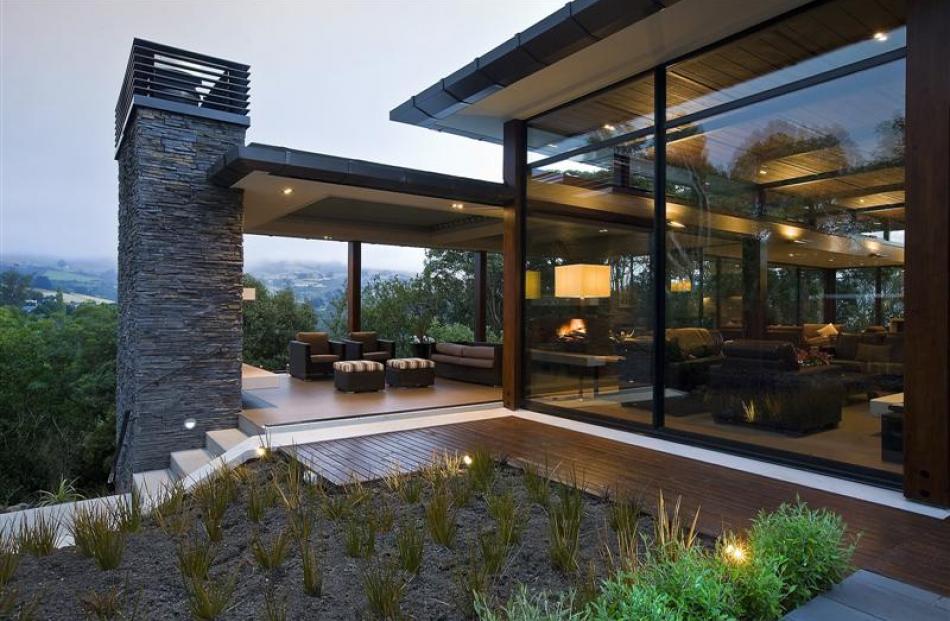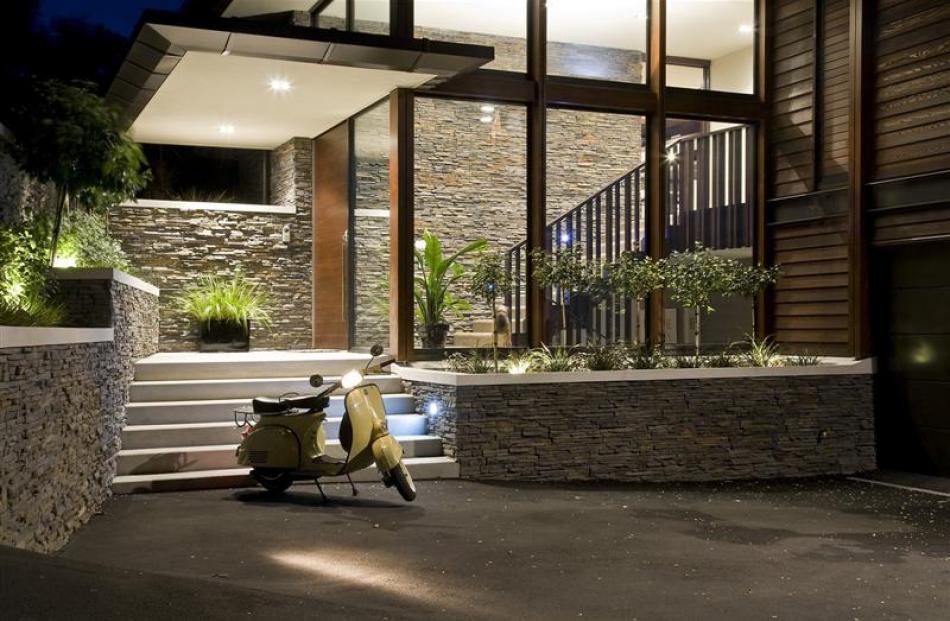 Contemporary in design and robust in character, this Dunedin house sits high above an expanse of protected forest. Kim Dungey reports.Step inside this Dunedin home and it feels as if you are floating on a raised platform among the treetops.
Indoor and outdoor areas merge seamlessly, with the layered effect of stone, timber and glass reflecting surrounding landforms.
The Maori Hill home sits on the edge of a cliff, overhanging the Ross Creek native reserve about 100m below.
"For an inner-city site, it's very special to have such outstanding natural features," says architect Francis Whitaker.
"It presented an exceptional opportunity to have a building which related more strongly to its natural environment than you would normally have so close to an urban area."
Given this setting, the clients wanted a house that was both exotic and natural - the kind they might stay in if they went to a tropical island or a beautiful resort.
Whitaker's design placed a three-car garage, two bedrooms, two bathrooms and a sitting area beneath the upper ground floor, which contains the main living and bedroom areas and a study.
The front entrance is on a landing between the two floors, which are connected by a staircase and an internal lift.
Using natural materials and responding powerfully to the site, the construction is in many ways in the spirit of American architect Frank Lloyd Wright.
A stone base and large stone chimneys ground the building on the rocky outcrops of the clifftop while continuous glass walls, framed by tall external timber columns, enclose and suspend the interior spaces within the bush setting.
Extending out from the living room, the terrace offers an unencumbered view across the Ross Creek reservoir and has an adjustable louvred roof for sun and weather protection.
Interior finishes such as timber ceilings and architraves, and stone cladding around the main chimney breast, reinforce the link with the natural surroundings.
The main ensuite bathroom is placed in a dramatic corner of the house high up in the tree canopy. With floor-to-ceiling windows, it enjoys morning sun, privacy and an outstanding connection to the bush.
Although elegant and spacious, the home is also practical. The flexible spaces cater for the changing nature of modern family life - the study can be used as a guest bedroom while the lower ground floor can serve as separate accommodation for teenage children or elderly relatives.
A winner in the Southern Architecture Awards, the home was praised for its simple horizontal lines and vertical divisions of space.
These gave it a serene connection to the outside world in a delightful and uncomplicated way, judges said.
The clever use of natural light and materials, including wood, textured concrete, steel and glass, was seen as lending an ethereal quality.
This was the third house Mason and Wales had designed for the clients, who modelled a previous dwelling on Whitaker's own home nearby.
With the Braeview Cres property sold, the firm has been commissioned to design the next home on the upper part of the same site.
Some in the property business have suggested it is wiser to invest in a new house in Central Otago where residential property may command higher values, Whitaker notes. He, however, applauds clients who choose to build their main home where they live and work and where they spend the greatest amount of time with their families.
"We've started to see in the last decade an increasing number of slightly larger and more significant high-quality dwellings being constructed, which shows confidence and the value of living in Dunedin. After all, many of the city's older and more stately homes were constructed with this attitude in mind."
---
The specs: 
Floor area: 450sq m.
Bedrooms: 4.
Bathrooms: 4.
Exterior materials: Western red cedar from Herman Pacific, alpine stone, laminated timber posts, Nuplex double-layer roofing.
Interior: Alpine stone, cedar and American oak joinery.
Heating: Escea gas fire, Jetmaster outdoor fire, ducted heatpump and passive solar.
Architects: Francis Whitaker and Regan Johnston, Mason and Wales Architects, Dunedin.
Builder: Colin Thom.
---