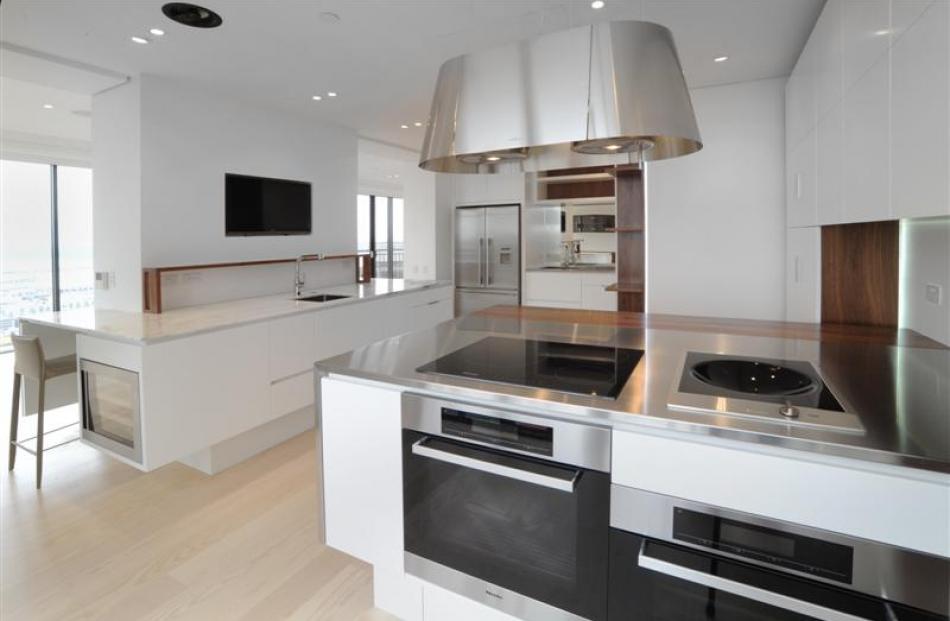 Getting the kitchen right has never been more important, writes Kim Dungey.
Building a new kitchen? Those soft-touch drawers and that six-burner cook-top may be enticing but the most essential ingredient, the experts say, is good planning.
''The kitchen has evolved so much over the last 20 years,'' says Wanaka's Melanie Craig, the 2011 New Zealand kitchen designer of the year.
''It's now the hub of the home. Everything from office duties and homework to socialising is done in the kitchen space and if it's not well designed, it impacts on your entire lifestyle.''
With that in mind, we asked the director of Melanie Craig Design and two other certified kitchen designers - Sian Gillanders, of SG Design, and Annemarie Mains, who chairs the Certified Designers Society - about how to get this complex area right.
I'm planning a new kitchen. Where do I start?
SG: Everyone starts differently . . . The earliest you can get involved with the project, the better as often windows, walls or doors may need to be moved. Often I am seeing plans [for a new home] before they have even been submitted for council consent.
AM: Most home owners get overwhelmed when thinking about all the aspects to designing their new kitchen.
Kitchen designers are knowledgeable about products, lay-outs and trends and their experience is invaluable in guiding during the design . . . Gather information by saving photos, magazines etc that you like.
Study layouts to determine what would work best for your family's lifestyle. Ask friends what they like or dislike about their kitchens. Kitchens are about creating a workplace that reflects your individual personality and style and . . . how you really live.
What rules should I follow? Is the work triangle still relevant?
AM: When planning your kitchen, it is important to first determine your personal style. Then you can decide which cabinetry and accessories to incorporate. Select a layout that suits your needs and lifestyle.
For example, will there be a primary cook or more people working in the kitchen? Do you want to incorporate informal seating areas? Bench-tops set the tone for the whole room and should be aesthetically pleasing.
Consider using hidden storage, drawers and utensil inserts to maximise your organisational space. There should be sufficient storage space handy for your most frequently used items. Make good use of awkward corners with corner drawers or pull-out options.
Make sure the five zones - cooking, cleaning, preparation, consumables and non-consumables - fit your requirements. Choose the right sink, appliances and flooring to fit your needs.
Just as in your other rooms, make sure that you have a combination of general, task and mood lighting to create a mix of diffused and directed light.
And future-proof your kitchen . . . Appliance technology and refrigeration change so you should think ahead when you plan your kitchen. Make sure it's wired for today's world and tomorrow's advancements and that appliances and electronics can work together and work with your home network.
MC: The work triangle is no longer relevant. With new technology in kitchen designs and appliances and with open living spaces, we now use the working star, allowing the kitchen to function for the entire family. This comes into play when there are two sinks and the cook-top and the oven are separated. Another factor is the scullery position.
Short of tearing down walls, how do I make a small kitchen seem bigger?
SG: I faced this challenge with my own apartment kitchen (which won ''best use of small space'' at the National Kitchen and Bathroom Association awards), but it can be overcome with smart design.
Storage has to provide maximum efficiency. It is always better to use light colours in small spaces but this doesn't mean you have to forfeit colour - just be creative with how you incorporate it.
I used colour on the inside of my joinery rather than the outside, which gives a great effect and creates a feature. I also used the latest technology in hydraulic lifting hardware to allow my kitchen bench-top to be lowered and used as a table when required.
I'm on a limited budget. What should my priorities be?
SG: Design. If you have a great floor plan and layout, the finishes are not as important ... A good designer will use materials and finishes in the best possible way to achieve the most from your budget.
MC: Make sure you invest in the internal workings of the kitchen, great hardware, and a well-designed layout. You can always reface the drawers and resurface the bench down the track. Great hardware will last a lifetime.
What's new?
MC: Zoned workspaces . . . Different heights, allowing all tasks to be carried out in an ergonomically designed space. Colour ... we are moving away from stark, one-colour kitchens and seeing colour brought into the entire kitchen cabinetry.
Also texture is huge, with matt fronts being offset by high gloss areas and hatched timber (which has small lines running over the face of the timber, giving it a very textured look).
SG: I am seeing lots of new house plans with walk-in pantries but I always ensure they have natural light.
This is most important. At the Eurocucina [exhibition] in Milan last year, I saw that colour was starting to come back, and boldly.
Contrasting textures and finishes were incorporated, along with the latest German hardware. LED lighting is also being used in lots of interesting and innovative ways.
What's out?
SG: Colourful glass splash-backs and aluminium strip handles.
MC: Red splash-backs. Kitchens without personality, like all-white.
What's the one product used consistently in your kitchens?
SG: Joinery carcasses manufactured by a high-quality, reputable joiner to ensure that your German hardware and accessories operate as designed.
MC: Compressed stainless steel. It's a 5mm-thick square-edge stainless that has the appeal of strength with the elegance of slimness. Stunning!
What products do you try to avoid?
SG: Anything imitation or not from a well-known supplier.
MC: The square, coloured-glass splash-back sitting on the wall behind the cooker. Why would you want to draw attention to a square shape in your kitchen?
What's a clever idea you've recently used or seen?
SG: Hydraulics are being used extensively in Europe for bench-tops/breakfast bars/tables and . . . work well in specialist areas, especially small or apartment kitchens.
MC: Until now, ovens have been in towers or under the bench. We were the first to have them protruding [above] the bench-top roughly 150mm, allowing the kitchen to have a higher working surface and ovens to be at an ergonomic height.
When you have finished baking in the oven, you simply open the oven door, then rest your dish on the stainless-steel frame above - no more running around the kitchen with hot dishes and no more cluttered work-space around your hob.
What are the tricks to successfully merging kitchens and outdoor spaces?
SG: To retain the ''flow'', the finish and style of joinery used inside and out should be the same or similar.
MC: Natural light plays an important part in merging the kitchen with the outdoors. Also think about carrying the line of the bench outdoors to create your BBQ area. This lengthens the kitchen and enhances the function for food prep in and out.